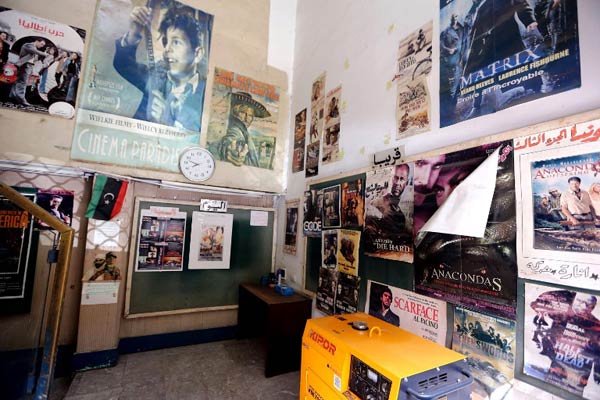 The Libyan capital once boasted grand movie houses that packed in smartly dressed couples for a special night out, but how times have changed.
Today, the sole major cinema left in Tripoli is a men-only zone stripped of glamour, offering a diet of violence-packed films and blunt warnings that women are not welcome.
And the city's old epithet, "Mermaid of the Mediterranean", jars sharply with what has become a mainly Islamist-run capital of a country plagued by conflict and political chaos.
The rot started even before the 2011 revolution that ousted longtime dictator Moamer Kadhafi, and has since seen movie houses bolt their doors one after the other.
Today's lone silver screen is the Omar al-Khayyam, where a sign tells women to stay away: "Access is formally banned because there are people who indulge in acts contrary to customs and religion."
Films full of blood and violence like "Scarface" and "Die Hard" pass muster with the militias that have controlled the city since August 2014, driving Libya's elected parliament and internationally recognised government to take refuge in the far east of the country.
It was not always so, Tripoli residents insist, recalling the city's former cultural diversity.
In the pre-Kadhafi glory days for cinema-goers, there were no less than 20 movie theatres — and some live on in the memory of locals.
'Elegant and majestic'
"In the 1960s, we used to live near the Arena Giardino (outdoor cinema) and all I had to do was lean on the window on the second floor to watch the films," said Abdelmonem Sbeta, a geologist and active member of a post-Kadhafi civil society group.
"Cinema was the reward at the end of the week, but we all had to get dressed to the hilt. That was the rule for everyone, for Muslim and Jewish Libyans, Italians, Europeans and Americans."
"My best memories of cinemas in Tripoli go back to 1974 when my parents took me to watch 'The Tamarind Seed' (a British-US film with Julie Andrews and Omar Sharif).
"I don't believe I've ever seen such a beautiful theatre, not even in Europe," said Karima Leguel, an Anglo-Libyan who was an impressionable nine-year-old at the time, now a mother-of-two.
"Everything was so elegant and majestic: the velvet seats, the decorated curtains and the precious wood-panelling."
In 1969, the bloodless coup which overthrew Libya's monarchy and brought Colonel Kadhafi to power swept away the old order.
Under his rule, the cinema was seen as both frivolous and superfluous. Businesses were nationalised and foreign movies were equivalent to a "cultural invasion".
"Tripoli without cinemas was the beginning of the end for us because it was on a par with the decline of Libya," said Leguel.
'Bruce Lee was our hero'
The Royal cinema, renamed Al-Shaab (The People) during Kadhafi's initial drive toward his brand of Arab nationalism in the North African state, used to stand near Martyrs' Square in downtown Tripoli. Now it is empty, waiting to be converted into a parking lot.
"For people in the area, the cinema was all we had for distraction," recalled Mohamed Kamel, owner of a busy local coffee shop.
"When we were children, we would wait eagerly to go see an Indian or karate movie. Bruce Lee was our hero," he said, harking back to the days of Kadhafi's Libya when such movies were all that were on offer — driving many to DVDs and satellite channels.
Others, like 39-year-old graphic artist Wael Garamalli, have less fond memories.
"I went to a cinema on December 24 Street in the 80s to see a karate movie. I felt so uncomfortable, it was like being locked up with a bunch of yobs. Nothing like the audiences of my parents' time."
But for Leguel, whatever the films on offer, "a city without cinemas is inconceivable".
In a country whose troubles appear far from over, geologist Sbeta, meanwhile, remains optimistic.
"No one can take away this city's joie de vivre, its elegance and its desire to move forward," he said. "It's part of the DNA in all of us in Tripoli."