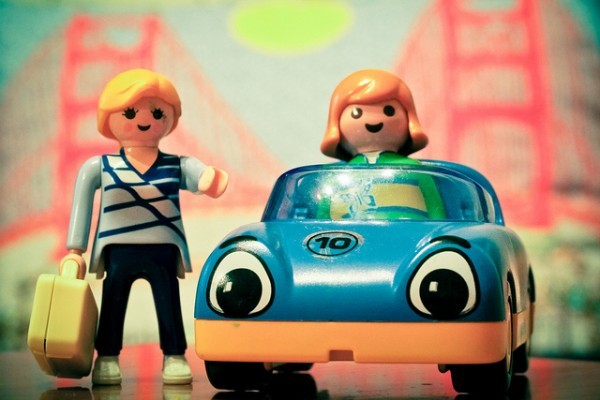 We've picked out six African novels about travel guaranteed to delight any wide-eyed traveler like yourself looking for adventure. No matter how classic or unconventional your taste in fiction might be, you'll find something on the list to comfort your travel-weary soul or tease out your inner adventurer.
1. Traveller To The East  by Thomas Mofolo
Thomas Mofolo's turn of the century classic is a petite, purse-size novella, but it chronicles the larger-than-life experience of a man called Fekisi, who abandons family and land and heads east to a mythical land where he hopes to encounter God.
Mofolo's first novel is a travel story made alluring and exotic with the intensity of poetry and myth.
2. My Life in the Bush of Ghosts by Amos Tutuola
Who wouldn't want to get enveloped in a fog of magical delight?
Tutuola's second novel is what Alice in Wonderland could have been if Lewis Carroll had enough grit and gumption to imagine a world haunted by outrageous beasts and ghouls.
The novel charts the adventures of a little boy lost in an enchanted forest. His search for the way back home seem to take him deeper and deeper into secret colonies of creatures living in a plane of reality at odds with human life.
3. The Shining Girls by Lauren Beukes
Reading a novel this good can be good or bad – good because it blows your socks off, bad because it's a once-in-a-life-time experience.
There is literally nothing out there like Beukes' time-traveling serial-killer romp of a novel.
Harper is a creepy slime of a man who travels through time to kill women. Kirby is his only failed attempt. She survives his assault and commits her life to finding Harper and putting a stop to his murderous hatred for women.
For the lover of crime thrillers, this quirky time travel novel is a gift straight from the god of fiction.
4. Nigerians in Space by Deji Olukotun
Wale is a Nigerian lunar geologist. He is under the spell of a life-long dream to traveling out to the moon when the mysterious Mr. Bello offers him the chance to man a Nigerian space-exploration mission. But like most dreams, what starts out as the magical fulfillment of desire quickly slips into the realm of nightmare. Wale is caught within the complicated web of an African political illuminati. His attempt to piece the puzzle of his ever crumbling reality takes him on a nomadic jaunt through Houston, Stockholm, Basel, Paris, Abuja, Bulawayo, Lagos, Capetown, Johannesburg and Paris.
An exquisite blend of unpredictable twists and lightening-speed plot.
5. Our Sister Killjoy by Ama Ata Aidoo
Ama Ata Aidoo's quirky novel is a tourist adventure set in Germany and London. It charts the journey of Sissie, a bright and self-assured Ghanaian student who wins a European travel scholarship. Like any good explorer, she is very aware of her surroundings—an awareness that she conveys in a blend of poetic and prose expressions. In novels like this, travel through space easily becomes a journey into the self.
6. The Moor's Account by Laila Lalami
Step aside Marco Polo! Estebanico, a Moroccan survivor of a doomed Spanish expedition, is our latest guide through the alluring enigma of unknown lands and peoples.
It is 1527 when a ship with a 600-man crew and a calvary of 600 horses leave Spain and heads out to the gulf coast of the United States. Ravaged by a series of misfortunes, their great number is decimated, but Estabanico lives to tell the story of their subsequent travels across America and how their dream of becoming wealthy conquistadors becomes a humbling journey in search of self-discovery and redemption.
Give yourself a priceless gift. Get Laila Lalami's new novel.
Brittle Paper is an African literary blog featuring book reviews, news, interviews, original work and in-depth coverage of the African literary scene. It is curated by Ainehi Edoro and was recently named a 'go-to book blog' by Publisher's Weekly.