Luanda: a city where everyone seems to have money, kids drive better cars than some senior execs in New York do and attending a mundane New Year's Eve party costs at least $100. For the past few years now, the Angolan capital I call home has had the dubious distinction of being ranked as one of the most expensive, if not the most expensive, city in the world for expats. The latest reports by Mercer and ECA International rank Luanda second on the list.
Many an article about exorbitant prices has been written by a foreign correspondent while sipping on a $10 latte in one of the city's $482-a-night hotel rooms. At the notoriously pricey Casa dos Frescos, a supermarket that caters to expats, a melon can cost almost $100 (Luandans jokingly call it melão de ouro or the golden melon), while a rather small burger at the Epic Sana hotel will set you back a cool $25.
Excessive, right? Especially so in a city where an estimated two-thirds of the population live on less than $2 a day. As Lula Ahrens explains in this excellent post, there are two main reasons behind these exorbitant prices: a crippling civil war and general corruption. After three decades of sustained civil war that lasted until 2002, the country's infrastructure was decimated and important industries such as agriculture and manufacturing never had a chance to develop in an independent Angola. As a result, almost everything has to be imported. Corruption and an entrenched bureaucracy further drive up the price of goods, as does the high demand for limited supply of housing, foodstuffs, and luxury items. Luanda is a booming oil town that attracts expats; they, in turn, demand certain products and services that are in short supply in the country.
If you're visiting Luanda and want a good time, you'll need cash – lots of it, preferably in US dollars. Conventional wisdom will tell you that when visiting a foreign city it's always better to go out with a local, and this could not be truer in Angola. Locals will help you navigate the fluid Luandan nightlife scene and keep the notoriously unfriendly bouncers at bay. The savvy ones will also show you how to party without breaking the bank.
Visitors will quickly realise that there are two Luandas: the formal, established Luanda frequented by expats and the local elites, and the vast, informal, sprawling Luanda of musseques (slums) where the majority of residents live. This divide will immediately become apparent when you notice the sheer number of unemployed street sellers snaking their way through traffic. The streets are Luanda's true marketplace where many citizens buy their wares. They also shop at open air markets which sell everything from fresh meat to shoes to vacuum cleaners to mirrors.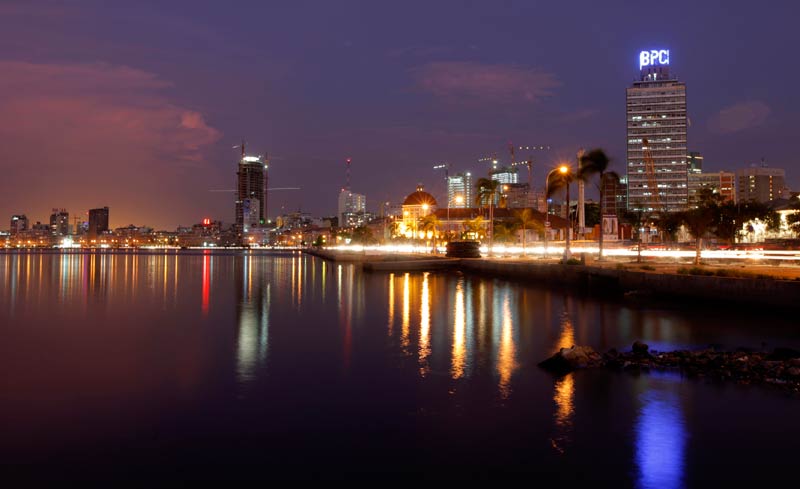 As any great night always does, yours should begin with food. On my blog Luanda Nightlife you'll find many restaurant reviews which are organised by price so you won't be shocked when your bill arrives. Alternatively, you can always ask locals for restaurant options. The good ones will point you to places where all the foreigners hang out; the best ones will give you the option of eating with Angolans or foreigners. If they decide on the latter, your destination will most likely be the Ilha (Island) area, a peninsula jutting out towards the Atlantic Ocean with one side facing the Luanda Bay and the other facing the Atlantic.
The Ilha is the perfect microcosm of Luanda's reality: opulence coexisting with abject poverty. For first-time visitors, this juxtaposition of wealth and poverty can be jarring. Porsche Cayennes and BMW X6s compete for space with the city's ubiquitous candongueiros (taxi vans). You'll find women in colourful traditional dress on the side streets grilling fish their husbands caught, while down the same street posh restaurants will be serving the same dish to patrons for much, more more.
It is on this strip that you will find some of Luanda's best restaurants: Cais de Quatro, renowned for its international cuisine and fantastic views of the city from across the bay; Vais e Cais, a bay-side restaurant specialising in fresh seafood; and Luanda's own Chimarrão, which borrows the rodízio concept from Brazil and turns into an open air club at night. A meal at any of these restaurants costs an average of $60; add about $30 if you plan on having drinks.
Further down the Ilha, past the mansions standing side-by-side with slums, past what was once the zoo, past 'billionaire' Isabel dos Santos's Miami Beach restaurant, you will find Chill Out, Coconuts and Lookal, which are all rated among the city's best restaurants. At trendy, cosmopolitan Chill Out don't expect to pay less than $100 for your full meal. Stay a bit longer and the place will turn into a house-heavy open-air ocean-side club full of expats and ladies of the night. Coconuts is more understated; it's a favourite among locals and expats alike. Despite its beach-side location there is no party after dinner.
Lookal currently seems to be everyone's favourite spot. It's a bar, lounge, restaurant, club and beach all rolled into one; the seafood is fantastic, the beer is cold and the music is loud. Your wallet will be about $70 lighter after a meal here. At night, all the girls and their cash-wielding boyfriends come out and several DJs compete for influence over its vast dance floor. There are regular live shows as well. Last year Taboo from Black Eyed Peas made an appearance; a couple of years before that house DJ Erick Morillo played to a sold-out venue.
If your Angolan guide chooses a restaurant favoured by locals – as a true guide should – you're in luck and so is your wallet. You see, Angolans are inherently extroverted people who love a good meal and a good party; we've been enjoying fantastic food in reasonably priced restaurants well before Luanda made it onto Mercer's ratings. Among the more down-to-earth restaurants in Luanda is La Vigia, a type of Angolan open-air 'bistro' that's frequented by locals and visitors alike. It's famous for its massive grilled grouper or any other fish really. A meal here costs about $35.
If you end up on the Ilha anyway, Casa do Peixa da Bela has what many have called the best mufete in town.  This traditional Angolan dish consists of grilled fish accompanied by beans stewed in a palm oil sauce, boiled plantains and a delicious onion and parsley vinaigrette to baste your fish with. In nearby Quintal do Tio Jorge, you can enjoy traditional Angolan cuisine while listening to live Cape Verdean music. It's in a backyard, it's not the cleanest, you will probably encounter the local drunkard, but a cold Cuca (the local beer) costs $1.50, the delicious fried squid starter is $10 and a heaped plate of fish with potatoes, palm oil beans and banana won't cost you more than $15-$20.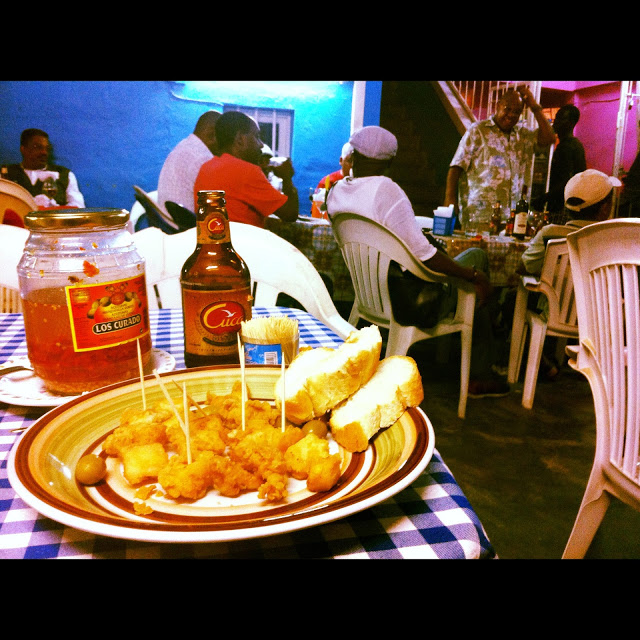 To get your dance on, head to Maiombe instead of Lookal. It's a genuine Luandan club with booming kizomba, zouk, kuduro and Congolese music. $20 will get you entry and several drinks. W Klub and Brasília are two other local favourites where you can have a decidedly local experience for very reasonable prices. But the best, of course, is to get invited to a proper Angolan party in a resident's backyard. Those are free and invariably more fun.
Claudio Silva is an Angolan living in New York City. He has also spent time in Washington DC, Lisbon, Reading (UK) and attended university in Boston. In 2009, he started Caipirinha Lounge, a music blog dedicated to Lusophone music. Claudio contributes to several other blogs including Africa is a Country and Central Angola 7311. Connect with him on Twitter.