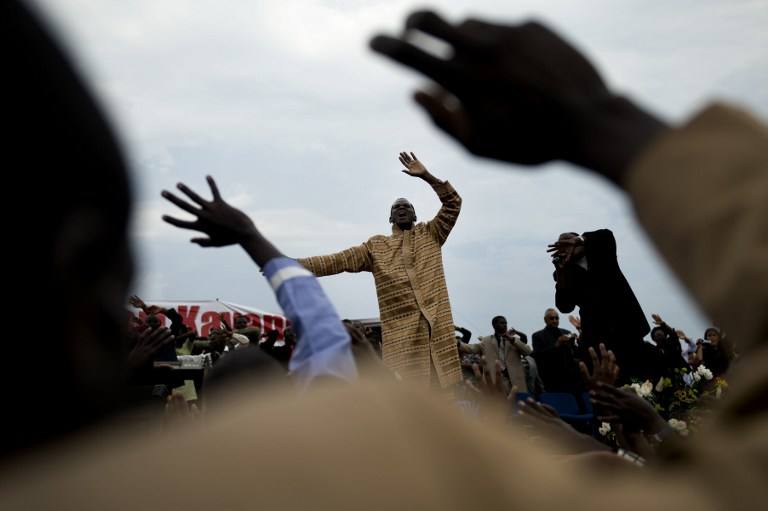 At a South African church rightly called "Incredible Happenings", the pastor believes that he can exorcise demons from his female followers by sticking his fingers in their private parts in full view of his congregation.
In a popular church based in Nigeria – where 84 people died after the collapse of one of the church buildings – the presiding pastor has convinced many followers that the tragedy was the devil's work, a manifestation of a spiritual warfare between God and Satan.
The sighting of a plane on the overfly ahead was offered as justification, even as an official (if earthly) probe found the building flouted basic construction standards. Many followers agree with this rationale, and back the thinking that those who died needlessly are martyrs.
In Pretoria, at the aptly-named "End Times Disciple ministries", the pastor regularly serves up snakes to his congregants to eat, pledging they will turn into chocolate. Many oblige and lap it up. In Kenya a flashy "pastor" on national television admitted swindling his congregation, with the defence that they were not coerced. He is now a celebrity of sorts.
Such happenings are to be found all over Africa, where congregations often blindly act on the leadership's instructions, few challenging them. They faithfully queue to buy miracle oils, and the women even sleep with pastors so that they may be impregnated with the Holy Spirit.
Desperate for miracles
Have we Africans become so desperate for miracles, that any odd John can introduce himself as a "man of God", patent it and have no one question him or her at all?
Religious and spiritual beliefs on these shores tend to be personal and very subjective, which should be no surprise. It is one of those topics that most give a wide berth, for fear of offending people or the deities they feel they owe their existence and good fortune to.
Like the rest of the world, Africa has seen its beliefs systems and religious practices evolve over time, be it African spirituality in the form of ancestral beliefs and worship, to Islam, Christianity and many others.
In many instances, though not in all, the church has contributed in building healthy societies, including through advancing education for both the young and old, offering  healthcare and in developing skills.
They have also supported community building and social cohesion in many African countries, where they tend to be big players. The church is further seen as the custodian of morality, ensuring that human conduct remains on the straight and narrow.
But there is the downside. Human rights have been, and continue to be, abused in the name of religion. One example is the marginalisation or abuse of women, children and homosexuals, with Bible scriptures invoked as justification of such injustices.
It is interesting to watch how the structure and the function of the church has changed so dramatically over the past few years, especially within black communities. The Catholic, Anglican, and Apostolic faith-based churches historically enjoyed a large following within African communities. That has to some degree changed, with an explosion of evangelical churches across the continent.
"Born Again" eruptions
Evangelical or "Born Again" churches have sprouted everywhere in Africa, some well structured and headed by solid leadership, others run as highly profitable enterprises by self-proclaimed prophets, who to their congregations still qualify as "Men and Women of God". Many are run almost as if they were insurance companies owning sanctimonious spiritual powers, playing on the hopes and fears of their followers, in exchange for generous tithes.
It would be wrong to tar all with the same brush, but some of the practices their followers are subjected to in the search for miraculous healing and prosperity pose the question: Are their adherents still able to independently think for themselves outside of the indoctrination that goes on in some of these churches?
The evidence is that the greatest beneficiaries of these miracles are the owners, who get richer as their poor and desperate congregations continue to await the promise of healing, prosperity, and blessings, in forms ranging from husbands to miraculous conceptions.
Question then is, at what point does it all end? Where exactly does God feature? Has strife and suffering reduced we Africans to a people that willingly abandon all logic and sense, and allow ourselves to be stripped of our dignity by our "Brothers and Sisters in Christ", all in the name of miracles and quick fixes to life's challenges?
It is overly simplistic and patronising to assume that the suffering and poor are lazy and only seek quick fixes – on the contrary, people of all inclinations toil daily to put some put bread on the table.
But let's face it, life is tough and can be cruel. And the real reason people suffer is due to the myriad of social ills and the venal leadership of many of our governments. Africans have lost faith in many of our religious and political structures and are now seeking solutions from alternative sources. Those that claim to be connected directly to God are very conscious of this fact, capitalising on the increased hopelessness.
How can we see this manipulation for what it is, and stop the perpetuation of our own misery? For those that believe in a God, at what point do we do a one-on-one conversation to get the answers we seek, or does He only hear the prayers of a select few?
The truth is that self-proclaimed "prophets" or "men and women of God" also want better lives for themselves and will continue to happily milk people's hopes and fears.
Religion alone will not lift us. We need to build educational and financial institutions that will allow us to reach our true potential individually and collectively. Maybe in this way we can have faith in ourselves and stop looking to others to intervene on our behalf.
Palesa Thinane-Epondo for M&G Africa