The first and only time I had been in Kigali before was in 2009 and I saw only a little of it. I remember that I was unable to complete my tour of the holocaust memorial for the emotion that overtook me; successive rooms of shelves stacked with hacked and broken skulls, the skulls getting smaller as you progressed through the dark display. My tour didn't last long and I left there quickly, only to be shown the bridge from which mothers were forced to throw their children into the river far below. The place left an impression on me.
This time it was different…
The last 50 kilometres of Ugandan road, to the border with Rwanda, is hardly a road at all. The potholes are huge and our vehicle jolts and shudders with the unremitting impact of those potholes we fail to avoid. My back starts to hurt and I'm very irritable by time we reach Katuna, a small border town on the verge of Rwanda.
It takes standing in a queue for half an hour to exit Uganda. Then, after a short walk to the Rwandan side, there's no one at all to delay us. The stamp on my South African passport is simply routine and the customs declaration for our car is handled efficiently. Our journey continues. The machine gun-toting policeman checks our passports, swings the boom and politely ushers us into Rwanda. Immediately we change to drive on the right hand side.
Suddenly the road is impeccable, although it is still being cut out of the Virunga mountainside. It is wide, newly surfaced, perfectly cambered, and winds easily down into the nation's capital, Kigali.
Two hours later, in Kigali, I am first struck by the fact that the city is spotless and inhabited only by well-dressed people going about their business. Shoppers are carrying big brown paper packets and I am told that no plastic packets are allowed. It's midday and there's no sign of a traffic jam anywhere. The dual-lane bypass sweeps through the city, out and on.
Unlike Kampala, where simply everywhere is a trading zone, Kigali is highly ordered, zoning regulations clearly in force. There's no one selling cooked chicken pieces on dusty sidewalks. In fact, there are no dusty sidewalks; on the sides there's paving, and at the centre of the dual carriageways are well trimmed lawns and palm trees.
While Kampala might have the highest per capita number of motorbike taxis in Africa, Kigali must come a close second. But again, Kigali is different. Whereas riding a motorbike taxi ('boda-boda') in the vehicular mayhem of Kampala poses threats to life and limb (especially without a helmet), Kigali riders are sedate, controlled, everyone wearing protective headgear, colour-coded according to the mobile service provider that sponsored it; green for MTN and blue for Tigo.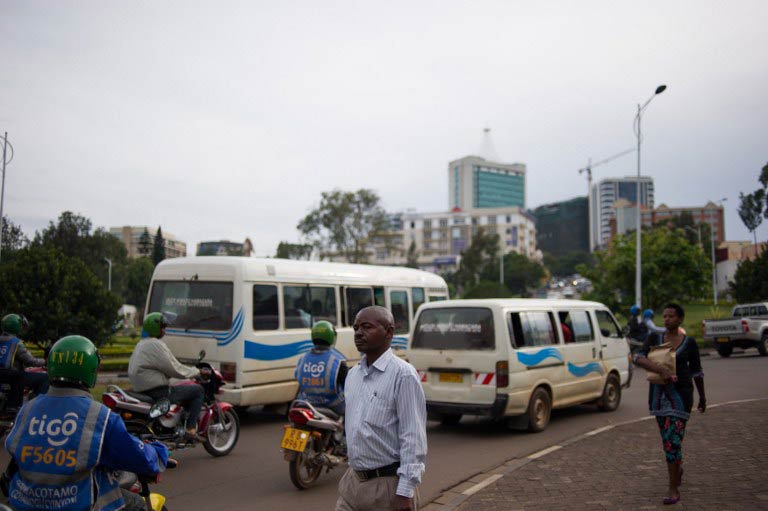 Both Kampala and Kigali are cities built on hills and both cities are widely spread out. Large sections of Kigali's hilly suburban areas are beautiful, the older parts very reminiscent of the older parts of suburban Cape Town; narrow, meandering roads wind around the hills and you even find the occasional cobbled street.
During my week-long stay, the Rwandans I meet speak their own language (Kinyarwanda) and although almost everyone is fluent in French, the language is seldom used despite the fact that the locals I meet have names like Jean-Baptiste, Philippe and Patrice among them.
Kinyarwanda sounds a bit like a Bantu language mixed with Russian. It is not an easy language at all, but that the colloquial version is infused with variations on many Swahili words makes it a little easier for me to understand. Some of it I get, at least. And many Rwandans are fluent in Swahili too.
"English is problem," I am repeatedly told.
On Saturday night I am taken out to see the Kigali night-life. It is sedate by comparison to Nairobi and Kampala too. People are well dressed and well behaved and I hear smatterings of French being spoken around me. People drink cognac and expensive whiskies more than beer. Around midnight the place starts to empty and by 1am we are heading home.
Patrice, my host, is a connoisseur of fine spirit liquors and we stop at Kigali's only 24-hour liquor store. Instead of the cheap liquor one might expect to find in a store that services the needs of the all-night drinker, this one stocks mainly Hennessy, Johnny Walker Black Label, Chivas Regal and Jack Daniels.
"This place will finish me," Patrice says as he hands over more than $100 for a bottle of Johnny Walker.
That there is a lot of money in Kigali is obvious from this store alone.
My visit coincides with Rwanda marking 20 years since the genocide that happened in the country.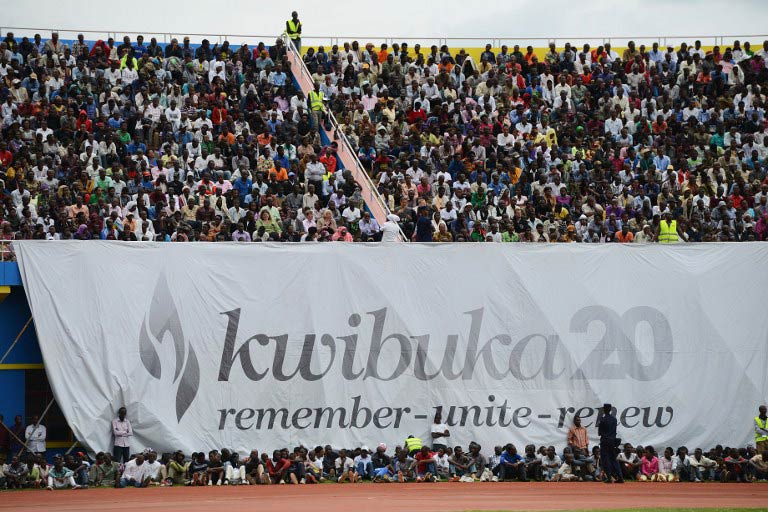 'Kwibuka' is to remember. Remember, Unite, Renew. The Rwandese are not about to forget what happened in 1994. Everywhere around Kigali are large corporate banners with the logo and in the week that I'm there, spending time among Rwandans, I don't hear the words 'Hutu' or 'Tutsi' even once. The genocide is remembered but is obviously not up for discussion any longer.
I fly from Kigali International Airport on a RwandAir flight direct to Nairobi. My departure is handled efficiently and we take off only a few minutes late because passengers connecting from Burundi arrive late. The flight takes just over an hour as the pilot makes up for lost time. We land exactly at the expected time of arrival.
Things change immediately. At Jomo Kenyatta International Airport it takes nearly an hour to clear Immigration and get my luggage. Nairobi's perfunctory traffic jam starts at the airport parking area where the pay station has no change. The boom rises as we are told to proceed to the next pay station, outside the parking area. Here the ticketing machine is not working and we have to wait for a half hour for the jam to build enough for a supervisor to let us all go, scot-free.
I am left with the impression that Africa can indeed work as the west might expect. From what I saw, Kigali has achieved it. For now, we'll leave the contentious subject of there being a dictatorship in Rwanda, even if somewhat benevolent. We'll leave the subject of restrictions on mobility imposed on the local population. We'll leave the fact that you can't ride a bicycle into the city, or be void of shoes when you walk there. And, we'll leave the contention that Paul Kagame is "eating" as much as any other despot in Africa. So too will we leave the contention that Kigali is packed with Kagame's spies, tracking down any likely suspect.
Africa can work, even if its operation is conditional and enforced.
Brian Rath was born and raised in Cape Town. He now lives and writes in Kenya, and recently had a novel published.