Like any other nation, Nigerians differ on politics, sport and taste in music but when it comes to food, there's a consensus: no one makes a better jollof than we do. I can't pinpoint the exact age I learned to cook but what really peaked my interest was the amount of time my mother spent in the kitchen. She could go from making breakfast to cooking supper without doing much of anything else. I knew there had to be more efficient ways. My mother's habit got me interested in prepping, and I later fell in love with agriculture and eventually all things Nigerian food.
Simply put, Nigerian food is  flavourful and spicy. The typical Nigerian dish has a flavour profile containing salt, chili pepper, bouillon cubes (Maggi and Knorr stock cubes) and other herbs and spices. Due to international influences on Nigerian food culture, we use both local and foreign spices. Some common herbs and spices include thyme, curry powder, grains of paradise, ginger, allspice, African blue basil, nutmeg and cloves.
Typical Nigerian dishes take a while to cook. The average cooking time ranges from one hour to five, depending on the meal and ingredients. As with all dishes, there are a few tricks to save time – the most beneficial being prepping. Prepping and freezing commonly used items like meat, pureed pepper and beans will cut cooking time in half. Tasks like peeling beans for local favourites like moi-moi (steamed beans pudding) and akara  (bean cake) take an average of four hours.
Typical cooking ingredients include Maggi/Knorr stock cubes, chili peppers, crayfish and palm oil. For those who live outside Nigeria, sourcing ingredients can be a challenge when it comes to preparing authentic Nigerian food. Most ingredients can be found in local African grocery stores, and close substitutes are usually available in other ethnic grocery stores.
Jollof rice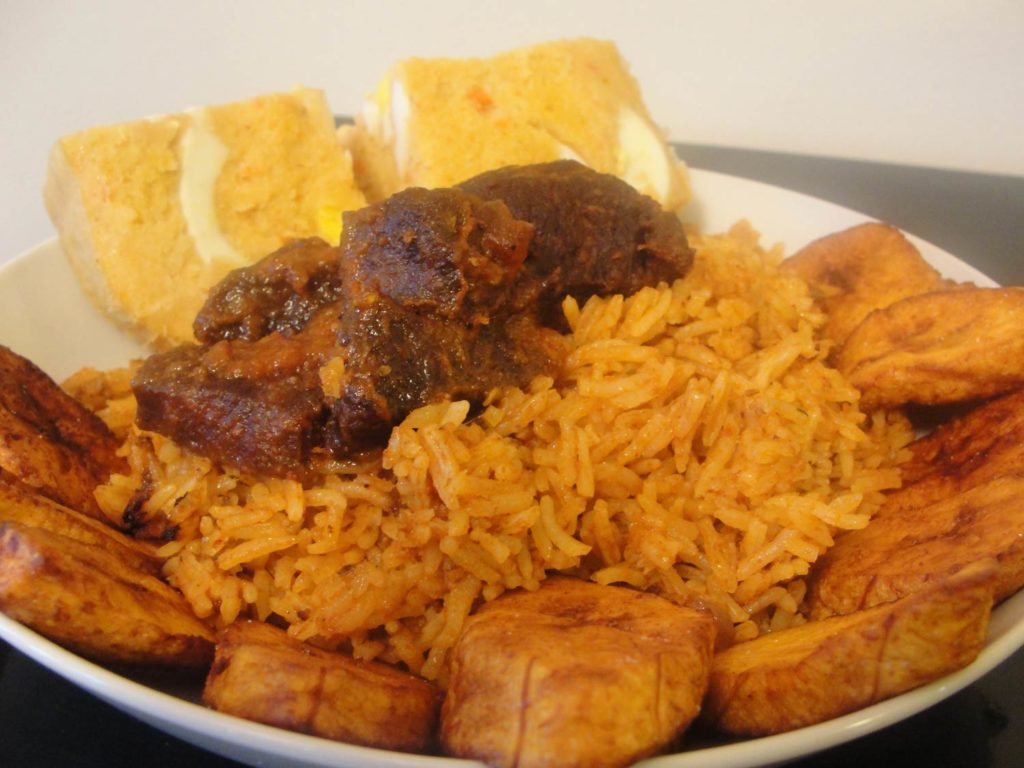 According to most Nigerians, jollof originated from Nigeria but this has been a topic of many debates. Different countries in Africa have different versions of jollof rice. The Nigerian jollof is made from a combination of pureed red bell pepper and tomatoes, curry powder, thyme leave, bouillon cubes, oil, salt and bay leaves. Jollof is consumed all over the country and is served at most celebratory occasions. Below is my easy, budget-friendly recipe. Follow these step-by-step instructions to get it right.
Ingredients:
1/3 cup pure groundnut oil (a substitute for vegetable oil)
1/4 of a large onion (sliced)
1 small can tomato paste
2 Maggi stock cubes
1/2 teaspoon each of thyme, curry powder, chili powder
1 teaspoon salt
4 bay leaves
2.5 cups basmati rice
Sheet of foil
Directions:
1) Place a pot with a tight-fitting lead on medium heat and heat up the oil in it. Add the chopped onions and fry until they've browned.
2) Then add in the tomato paste; fry the onions and paste for 3 minutes. Then add in the Maggi cubes, thyme, curry, chilli powder and salt, and combine.
3)  Add 2.5 cups of water and the bay leaves to the pot. Cover and bring to a boil.
4) Reduce the heat to minimum.  Add in the rice. Cover the pot with the foil and then the lid. (It's extremely important that the pot is well covered as we are trying to infuse each grain of rice.)
5) Leave to cook on minimum heat for 35 minutes.
6) Remove the pot from heat and stir the contents. If the texture of the rice isn't to your liking at this point, simply cover the pot tightly for another 6 minutes. (There is no need to return the pot back to the heat, the retained heat is enough to continue to cook the rice). Otherwise the rice is ready to serve.
7) Remove the bay leafs and serve the  jollof rice with your choice of protein. I recently fell in love with jollof rice and poached eggs, it is the best combination.
Egusi soup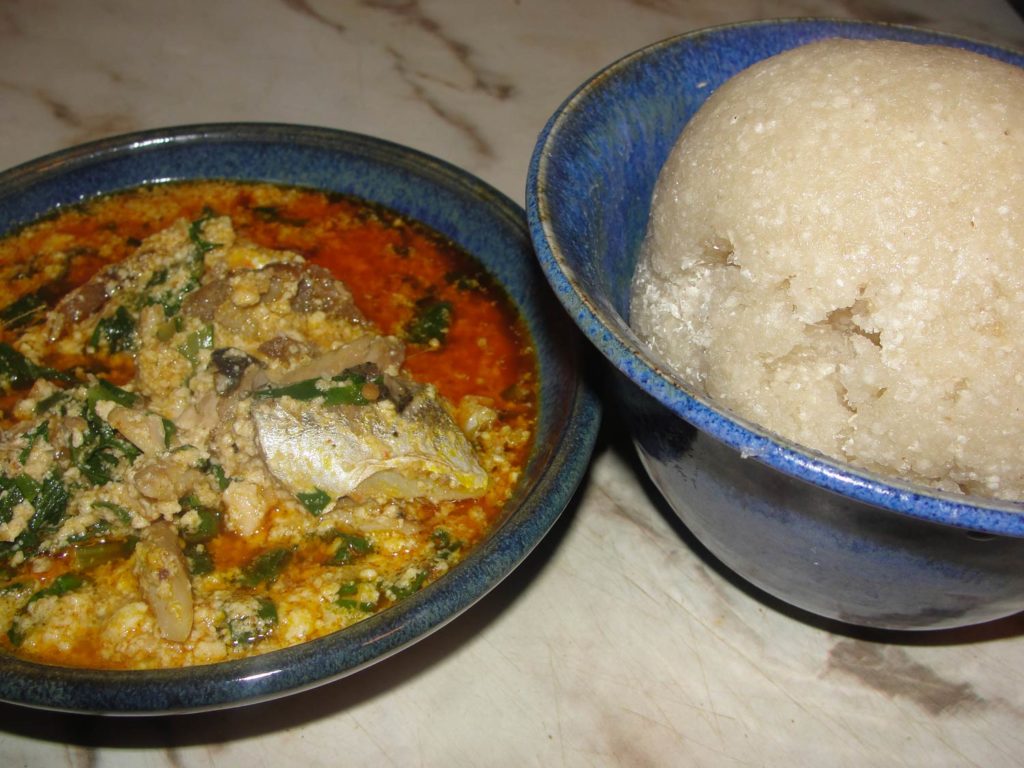 Made from a combination of shelled and blended melon seed, palm oil and vegetable leaves, egusi is easily the most popular soup in Nigeria. It is served as an accompaniment to fufu-like starches and it's often eaten as lunch. The soup is prepared with a range of meat and fish; the popular belief is that the more variety of meat present in the soup, the better it tastes. Follow this recipe to make your own.
Suya
This is a special spice mix of chili powder and de-oiled peanut blend that originated from northern Nigeria. The spice mix is used as a rub on proteins like beef, lamb, chicken and fish. Suya meat, as the end product is called, is cooked over an open barbeque pit. These barbeques only happen at night and the meat from street vendors is usually better than that from specialised upscale restaurants. To make your own, this is all you need to do.
Ronke S. Adeyemi is the creative administrator of 9jafoodie.com, a popular Nigerian food blog.