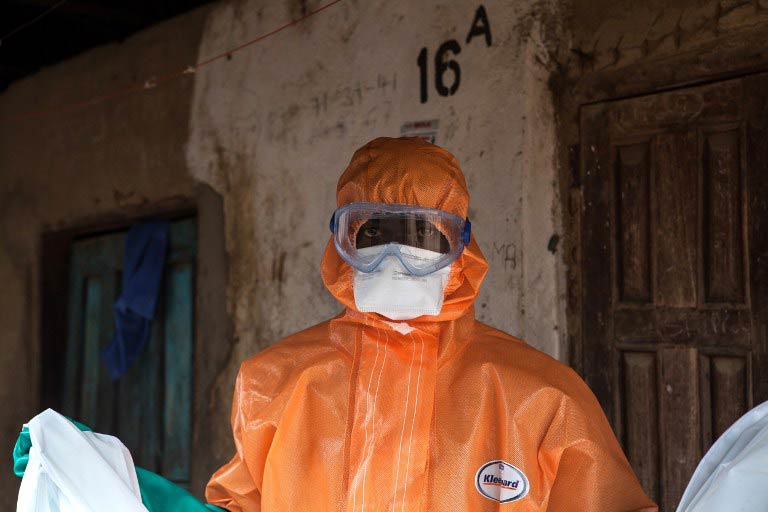 For the last 13 years, Sierra Leone has seen a dramatic decrease in its maternal mortality rate, due in large part to the introduction of free health care for pregnant women. One of the most devastating and yet rarely acknowledged impacts of the Ebola epidemic is that it threatens to undo all this good work.
It's not just the loss of more than 220 health workers, including many midwives, to the virus, with little training or wiggle-room in the fragile health system to replace those skills. It's also the lingering fear of hospitals and doctors among the local population, which remains traumatised by an outbreak that has claimed almost 4 000 lives and still sees new infections each week, albeit small numbers.
A World Bank report in July – Healthcare Worker Mortality and the Legacy of the Ebola Epidemic – estimated that Sierra Leone's maternity mortality rate could increase because of the current crisis by 74 percent, to levels not seen since the end of the civil war in 2002.
"During the Ebola outbreak, there were many challenges that we encountered that led to many pregnant women not coming to the hospital and this may have led to the [recent] increase in death rates [among pregnant women]," A.P. Koroma, medical superintendent at the PCMH (Cottage) Hospital in Freetown, told IRIN.
The hospital has lost 85 mothers since the outbreak was first reported in May 2014, which Koroma said is "definitely a sharp increase compared to previous years."
"People were, and are [still], afraid," he added.
Before Ebola came, an average of 10 700 women each year gave birth at Cottage Hospital. Since the outbreak, this number has dropped to 6 723.
The most recent maternal mortality rate is not yet available at the national level, but given the hospital attendance records and the risks of at-home childbirth in Sierra Leone, it is expected to rise.
"During the Ebola outbreak, people had the impression that when they come to the hospital, they may be infected," Koroma explained. "For those coming to the hospital, we did our best… but some of them came to the hospital late because they were told that if you have bleeding, which is one of the symptoms of Ebola, no nurse or doctor will want to touch a patient until an Ebola test is done, which can take up to three days."
Others, who did come, died while waiting for the Ebola test results.
The hospital now has access to a rapid diagnostic test, which can give results in less than three hours.
Despite this, and better safety measures generally, many hospital staff are still afraid to tend to pregnant women, given the fact that childbirth puts them in direct contact with bodily fluids.
"When we started hearing of our colleagues dying, everybody was afraid and nobody wanted to even touch a patient," Koroma explained.
But not all women are staying away.
"Some of my friends said that if I came to the hospital I would get Ebola… so I became afraid," said 22-year-old Mary Conteh, from Freetown, who gave birth earlier this month. "But later I decided to come to Cottage Hospital…. I thank God I had a safe delivery."
Shortage of health workers
Sierra Leone lost an estimated seven percent of its nurses and midwives to Ebola, according to the World Bank report – a devastating loss for a country that had just over 1 000 to begin with.
"This is just a terrible shock to an already weak healthcare system," said David Evans, Senior Economist at the World Bank Group. "And if one were to put this [loss of health care workers] into actual numbers, that's an additional 1,850 women dying per year [in Sierra Leone] just as a result that we've lost health care workers due to the Ebola epidemic."
If Sierra Leone is to prevent its maternal mortality rate rising further, experts say more investment is drastically needed to plug the gap in maternal healthcare.
"In terms of response, it's not rocket science," Evans said. "These countries and the international communities supporting them need to hire more health workers and provide resources so they are well paid and want to be in Sierra Leone working there. And, as the Ebola epidemic wanes, as it continues, making sure they have protective equipment."
In the short-term, to avoid a further increase in maternal mortality, Evans suggested a "stop-gap measure" of employing foreign healthcare workers and birth attendants, allowing local capacity to be built up over the longer term.
Women in Sierra Leone say they are praying for just that.
"All I want is to have a healthy baby," said 25-year-old Frances Tucker, who is five months pregnant. "I don't want to have problems like other pregnant women have had by staying at home, afraid of coming to the hospital… putting you and your baby's life at risk."
Jennifer Lazuta and John Sahr Sahid for IRIN