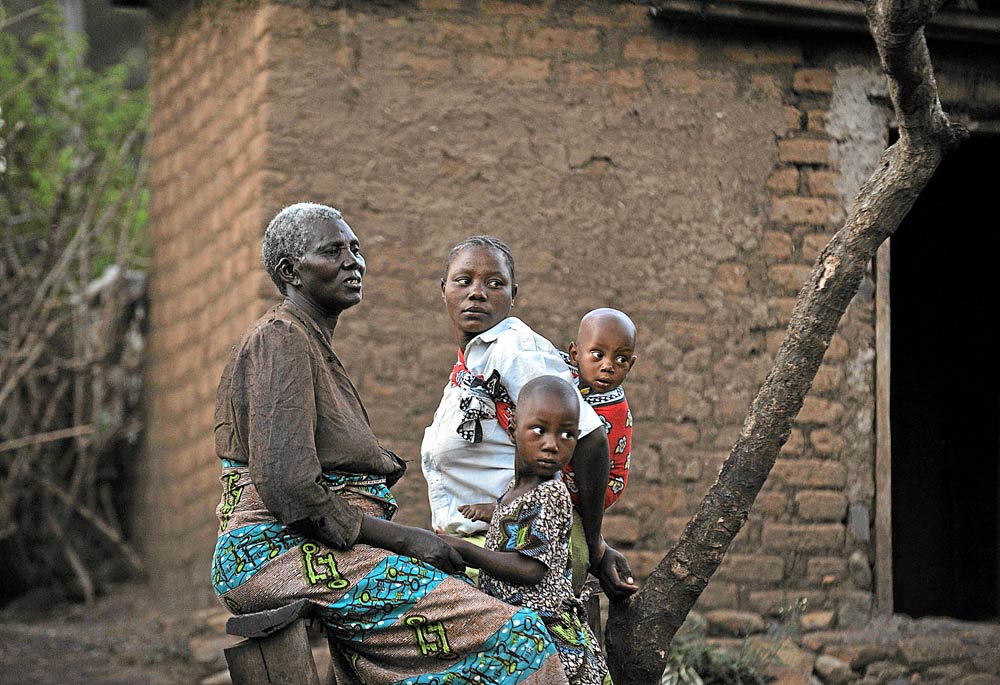 It is 12.30pm and an older woman emerges from her tiny mud house. A younger woman is making some porridge outside.
These two women are husband and wife: they are traditionally married and they have children.
This practice is called nyumba ntobhu in western Tanzania. It is a traditional form of same-sex marriage. The two women share a bed as a couple, they live together, bear children in their union; they do everything a married couple would, except have sex.
In the Mara region, nyumba ntobhu allows older women to marry younger women in order to have children of their own and assist with the household chores. Women say nyumba ntobhu also helps them overcome problems of gender-based domestic violence.
Mtongori Chacha (56), who is married to a woman, Gati Buraya (30), says the traditional practice arose as a result of male violence against women.
It is also an alternative family structure for older women who do not have sons to inherit their property and whose daughters have moved away to their husbands' villages. It offers a form of security for elderly women so they do not live on their own.
Chacha and Buraya have three children. Chacha says she decided to marry Buraya because she was unable to have children in her previous marriage to a man, who she says physically abused and tortured her.
To bear children, women who are married under nyumba ntobhu usually hire a man and pay him when the younger woman falls pregnant.
The hired man will also enter into an agreement with both women that he will not demand paternal rights to any children born out of the agreement.
The older woman is the guardian of the children and they usually take her surname.
Chacha says the man who impregnates the younger woman is paid with food or a goat.
In some rare cases, a man may return to claim a child, but Chacha says this can be avoided by choosing a man who is not known in the village or who is known to be irresponsible. These men are known as "street men".
"I decided to run away from my marriage as I was humiliated and sometimes beaten nearly dead. At 45 I was not able to have children and I had to look for a new family to give me an heir to my property," Chacha says while she feeds two of her children.
She says she could not accept the fact that she would die without children of her own. Her parents were rich and had many cattle so she chose to marry another woman who would give her children.
"Here, a woman will pay a lobola like any system of marriage in African culture, and the 'wife' is supposed to obey and live under the rules of her 'husband'. Nyumba ntobhu is blessed by all the family members and accepted by the society," says Chacha.
Agnes Robi (61) says she decided to pay six cattle to marry Sophia Bhoke Alex (25) after her six daughters moved away.
"She has given me one baby girl already, while we are still praying for her to get a baby boy who would take over this compound when I die," Robi says.
It's not uncommon for women to be prohibited from inheriting property in Tanzania. Initially, the culture of women marrying women was practised as an option for barren women. It enabled them to claim the children borne by the other woman as their own. This was a way of providing security for their old age.
But now it's not only for those unable to have children. Some women choose not to marry a man because they say they want to avoid domestic violence.
Bupe Matambalya says she witnessed her older sisters "beaten nearly dead" by their husbands and decided that she would never marry a man.
Some villagers discourage the practice, saying it leads to an increase in the spread of HIV.
In some cases, nyumba ntobhu can be a polygamous marriage. The older woman will marry two younger women, who will both bear her children.
But nyumba ntobhu does not always save women from domestic violence. Take the case of Jesca Peter (25). She experienced domestic violence and humiliation even from her nyumba ntobhu husband.
"I was married to Nyambura, a 63-year-old woman. She had paid a dowry of six cattle and I moved into her compound. Within a few years of that marriage, Nyambura demanded that I have to look for my own food," she says.
She says her union with Nyambura was unhappy and she was used "as a slave to just work and produce on her farm and look after her cattle".
"She wanted children from me, which I bore her, but the relationship was unfriendly.
"We lived like a cat and dog. I was simply a slave for her," says Peter.
She fled from the marriage and her parents had to return the cattle paid as a dowry.
Tanzania's Minister of Information and Culture Fenela Mukandara says gender violence is prevalent in the Mara region, which is why nyumba ntobhu is becoming more common.
"When women decide to marry each other and live by themselves, it means there are extremely violent acts in that place."
Florence Majani for the Mail & Guardian.