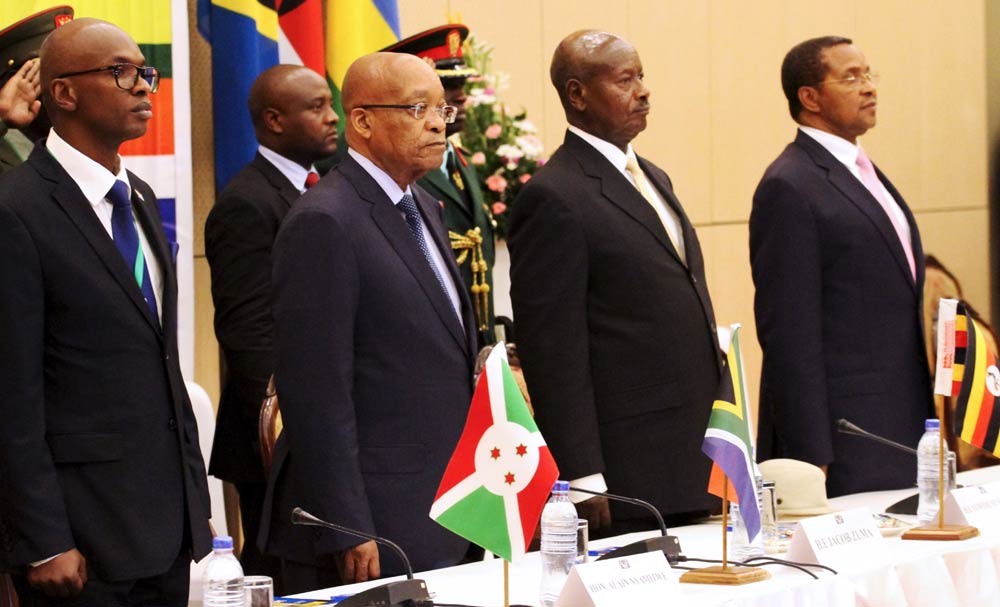 Aspiring politician Asha Salum is busy trying to convince people in her area of Dar Es Salaam to support her candidacy for a council position at elections later this year, one of a growing number of women seeking political office in Tanzania.
The softly-spoken politician, who at the age of 31 is the youngest candidate for this post in Tegeta in Kawe constituency in 20 years, is one of a new generation of women being groomed to muscle into the male-dominated political world.
The East African nation of about 50 million people has had few women in top leadership positions since adopting a multi-party system in 1992 but female campaigners are hoping to change this at the nation's fifth general election on Oct. 25.
Salum is one of 2 600 aspiring female politicians to receive training which started this week from a coalition of non-governmental organisations (NGOs) in Tanzania on how to improve their campaigning skills and avoid the sexual pitfalls often faced by Tanzanian women in any bid to advance a career.
"Some women are easily tempted to offer sexual corruption to officials so their names are considered for nomination," Salum told the Thomson Reuters Foundation, adorned in the traditional green and yellow of the ruling Chama Cha Mapinduzi (CCM) party.
"How many men you will need to sleep with to win a parliamentary or councillorship seat? I think now is the time to say enough is enough to 'sextortion'".
The training, organised by the Tanzania Women Cross Party (TWCP), aims to equip female candidates vying in October for presidential, parliamentary and council positions with political skills and techniques.
According to training organisers, the candidates will receive training about topical political issues surrounding the elections, the role of parliament and local councils, and relevant election law rules and regulations.
Presidential hopes
Four female candidates have expressed interest in running for president on the CCM ticket, including the former Deputy Secretary-General of the United Nations, Asha-Rose Migiro.
This is the first time in Tanzania that women have come forward seeking nomination for the presidential job.
"By implementing the party's manifesto I will build an independent and modern economy to benefit all Tanzanians," said Migiro on collecting her nomination form this week.
Migiro, a lawyer by profession, worked at the United Nations under Ban Ki-moon from 2007 to 2012 and has become the 12th Tanzania cabinet minister to express interest in succeeding President Jakaya Kikwete who is due to retire later this year.
Tanzania has tried to ensure substantial political representation of women with a quota system defining 30 percent of the 357 seats in Parliament as "special seats" reserved for women. Political parties that gain at least 5 percent of the vote in the general election nominate these women.
But women's rights campaigners are concerned most of the women in Parliament are in quota seats and not elected directly from constituencies which limits their support for the top jobs.
Campaigners are concerned that women lack the skills, education and experience to carve out a successful career in politics and many lack the financial security to be able to focus on politics rather than the basic needs of their families.
A recent Afrobarometer survey also found that violence in African politics may discourage female participation.
"There's no democracy in the political parties. Female candidates are often ignored in the nomination process and that's why we need to train them to reverse that unfair trend," Ave Maria Semakafu, the chairwoman of TWCP told the Thomson Reuters Foundation.
Although the number of female legislators rose to 35 percent at the 2010 election from 21.5 percent in 2000, rights groups says it not enough as only 17 were elected from constituencies.
Willibrod Slaa from the opposition Chadema party and vice-chair of Tanzania Centre for Democracy, said action was needed.
"No serious party can any longer ignore that women constitute 51 percent of this country and we simply need to be much better at including them in politics," he told the centre's annual conference earlier this year.
Despite the challenges, women's participation in politics has improved in most African countries in the past two decades.
Malawi recently swore in its first female president, Joyce Banda, and Liberia's President Ellen Johnson Sirleaf has occupied her country's highest office since 2006.
Rwanda leads the world in the share of female legislators at 63.8 per cent of the seats, according to United Nations data.
Senegal, the Seychelles and South Africa have more than 40 percent, and Mozambique, Angola, Tanzania and Uganda are not far behind with women in about 35 percent of parliamentary seats.
Salum said she was confident the training would boost her chances to win a seat in October on her own merits.
"I have what it takes to serve my people and solve their problems as existing leaders have failed to do so," she said.