Salma is tired of running her mitumba (pre-owned) clothing stall in Umoja, Nairobi. She says business isn't what it used to be and she spends too much time chasing the credit deals she has with her regular clients. They love the clothes, she says, but they never want to pay.
And when it rains, she has to go to the clients, through the endless traffic jam, rather than wait for them because they are reluctant to venture into the mud and sludge of the rickety market where her jua kali (informal) stall stands. And it's been raining a lot again.
Salma's clothes come from the huge bales offloaded at Mombasa, dispatched by Oxfam and similar charities around the world. The bales are transported from Mombasa and emptied by the mamas at the Kikomba market, near town, where Salma is a regular.
At Kikomba, most of the clothes are sold for a hundred shillings (R10) or slightly more. But then there are the numbers that the mamas know will sell at five times the 1 000 shillings that Salma's willing to pay. These are mostly from design-house job lots. Burberry, Guess and Next are common, and lots of Italian names she doesn't even know. Among the shoes, she sometimes finds Prada. In Nairobi, Salma is one of few sources for prêt-à-porter clothes from Paris! Her clients know it. And her clients will pay. In time.
In the afternoons, Salma usually leaves her stall in the care of three unemployed youngsters whom she pays 100 bob each (R10) for the shift. They tolerate the afternoon teens who come to the stall, try everything on, but never buy a thing.
But Salma will be back in Umoja in time to meet her regular clients as they come past in the evening. She knows her clients well, and knows who to call when she's found what. And she's usually right. But once she's agreed on a bargain price with a client, she'll often be told, "Sina pesa saa hii!" (I don't have money now!). And this usually happens after Salma has packed the garment. So she gets tied into another credit deal that runs for a month at least. Salma says that business isn't what it used to be.
"Maisha ni ngumu!" (Life is hard!) she exclaims. "I work for my small money."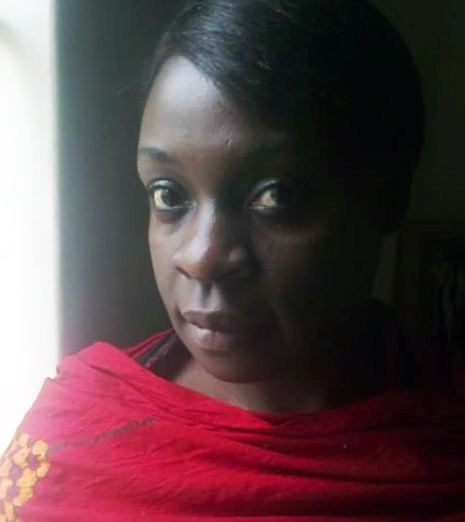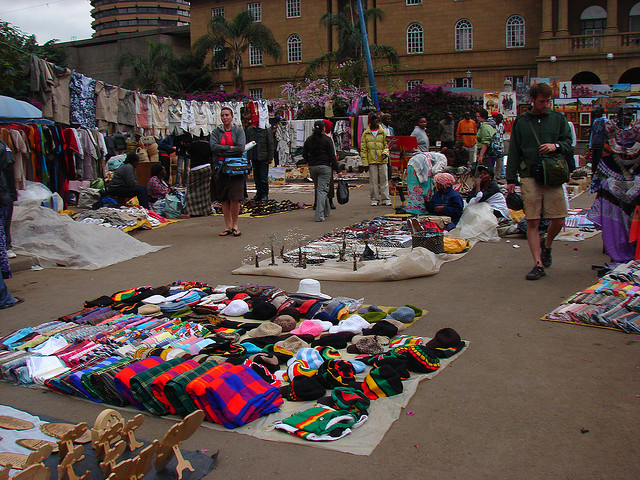 Her stall opens at 7am. It stays open till 7pm. After packing up and paying the guy to take her stock to the store, she'll go shopping for fresh vegetables and groceries, and get home by 8pm. She'll cook and eat, and by 9.30pm will have fallen asleep in front of the TV. She'll maybe wake around 2am and drag herself off to bed. And she'll be up before 5am again.
She says she can't carry on doing this for little return. Business is not what it used to be.
Ultimately, Salma wants to settle near the sea and she wants to learn to swim. She loves the beach and she swears she would quickly lose the extra 10kg just because of the 'coasto' lifestyle.
She's Muslim, so she's salama (at peace) among the Swahilis at the coast and she's thought of opening a mitumba stall in Mombasa, where there are few stalls. But her ideal business would be to sell African print-couture in the upmarket coastal town of Malindi. If she could get enough money for Malindi, she would concentrate on her own designs.
She knows she could do well because every time she gets the cash to buy fabrics, and the time to guide the sewing fundi in making up the dresses, she sells them within a day, before her bigger clients have even seen them. She could make her eclectic African necklaces in Malindi too, but she just doesn't have the time in Nairobi.
Salma has a sister living in the States, another in South Africa, and both are doing well. But her dad is old and he wants her nearby, so Salma is struggling in Kenya. Still, she enjoys her life. When the clients have paid, usually in the first week of the new month, she goes out to have fun with her late-twenties and 30-something friends. They're a mixed bunch, Muslims and Christians alike, a few with kids but most not. One or two of them are married. They usually go clubbing and might dance to house or R&B at some place in the hip suburb of Westlands. Salma prefers drinking spirits to beer –  Napoleon brandy and Sprite.
Even if Salma drinks and doesn't ever wear the austere black abaya (popularly, the 'bui bui') or veil when out, she's an otherwise devoted Muslim: She's up every morning before five in her 'bui-bui' and a thick red scarf that she wraps around her head in the style of a Tuareg nomad. She puts her red Maasai blanket on the floor as her prayer mat and she reads passages from Qur'an for an hour, daily before daybreak.
Salma tells me that during the holy month of Ramadan, she was at the head-grinding blender from 4am so she could make her fresh vegetable 'smoothie' and eat a chapatti before the sun was out. She cooks many dishes but admits that she lacks the patience to make good chapattis. And she laughs a bit when relating how the noise of the blender drove her neighbours nuts before sunrise. It was only the Somali sisters in the flat upstairs who understood.
On the advent of Eid ul Adha in October last year, she cooked the customary pilau rice and goat meat as a special treat for a few invited friends. It was an honour to be invited but I could see she had battled to provide. With no alcohol present, she bought Coke and Sprite, warm, from the shop across the dusty road. But afterwards, tired and stressed, she admitted that "a Guinness would be great".
Salma is tired of running her mitumba stall in Umoja, just outside Nairobi.  "It's time to leave this place," she says. Business is not what it used to be.
Brian Rath was born and raised in Cape Town. He now lives and writes in Kenya, and has a novel due to be published shortly.