Twitter was recently ablaze with criticism over Madonna posting a photo of her adopted black Malawian children, David Ritchie and Mercy James, rubbing her feet.
In the image which she posted on Instagram, Madonna is lying on the floor with the children kneeling on the ground in front of her, as they each rub a foot. The caption reads, "#motherlove… how I'm gonna get through the day. Mercy and David give the best foot rubs!! #rebelhearts."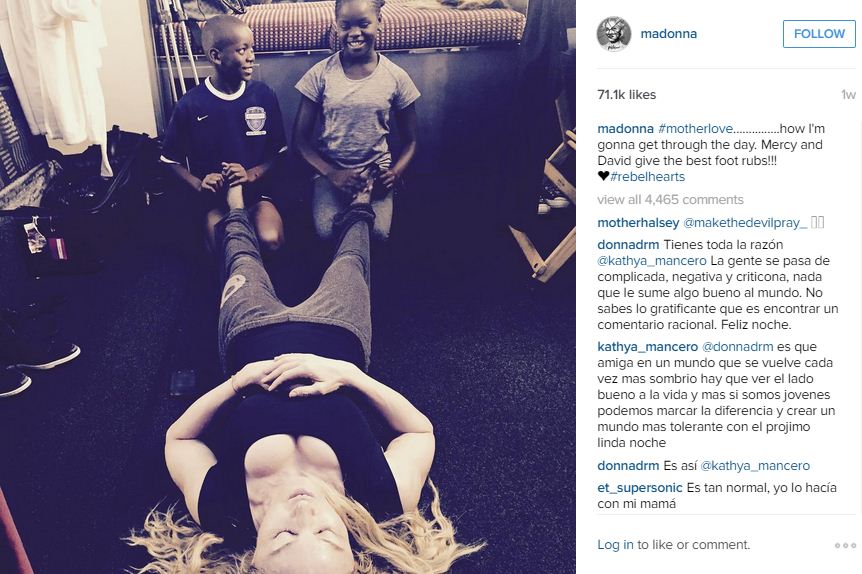 Regardless of the fact that Madonna has been raising these children as her own since 2009, some of Madonna's fans and the general public found it offensive that she would post the pic of them massaging her feet. The photo sparked outrage on Twitter with where the argument was made that she is treating them as slaves.
On the other hand, there were also Black and Latino women who were not offended by the photo, responding that this is a "normal" act of love that occurs between a mother and her children, stating that they only saw an innocent expression of love by both Madonna and her children. Such a seemingly "innocent" act is by no means uncomplicated when it comes to Madonna.
Her preferred method of making the headlines lately, seems to focus on stirring racial tensions in order to get publicity. Last year, she caused similar controversy by posting an Instagram photo of her white son, Rocco Ritchie, in the boxing ring with a caption reading, "No one messes with Dirty Soap! Mama said knock you out! #disnigga." In doing so, many of her critics wondered how then, was she addressing her black son, David? Her response was to brush them off as "haters".
Given such a response, either the pop star is a racist or she is oblivious to historical and contemporary race relations or she is simply insensitive about them – all which are problematic for a parent raising black children in a world where racial hierarchies are still prevalent.
Another and perhaps more plausible reason was that she is doing it for publicity. Madonna – never one to shy from controversy – was very aware of the message, meaning and reaction she would get by posting both of these photos.
Why this photo angered so many
When a rich white woman from the Global North adopts poor black kids from the Global South, one needs to consider what the historical structures that lead to this situation are. This includes the inequality in global racial, social, political and economic relationships. When critics saw this photo it reminded them of these historical injustices that are still permeate our societies.
Although some who saw the photo commented that 'racism' is a part of the past, it is not and shouldn't be treated as a relic in the backdrop of a world where black churches are target of hate crimes in the country of Madonna's birth.
Colonialism is also not a relic of the past because neo-colonial relationships exist in this new global world order that keeps "Third world" countries poor and in need of interventions such as "aid" and "adoption" whilst protecting the interests of the Global North and its businesses.  To some, Madonna's actions are a simple extension of the colonial processes. She is an epitome of the "Great White Savior complex" in which a white savior comes to "save" Africans from themselves, their land, but causes damage to Africans along the way.
Madonna in Malawi
Since the day she set foot in Malawi, her entire involvement there, including the adoption of the children and the building of the schools has been controversial at worst and deceptive at best. Madonna has caused her fair share of damage in Malawi in her attempts to "save" Malawi. This has been covered by the media, including Malawian journalist Mabvuto Banda, who meticulously chronicles Madonna's involvement there.
The star circumvented the country's adoption laws due to her position as a rich celebrity from the U.S, the Kabbalah center which was affiliated with her charity was being investigated for tax fraud by the U.S. Internal Revenue Service (IRS); she hired a PR company who scapegoated Malawian employees for being "corrupt" when her money for her academy went missing. Prior to this, she had colluded with the Malawi government to displace villagers for the school that never materialised; and she then said she would build smaller scale schools but built a handful of structures, most of which were classrooms which she called "schools". Many of her actions involving Malawi speak to a rich celebrity who feels very much entitled in her transactions with Malawian people.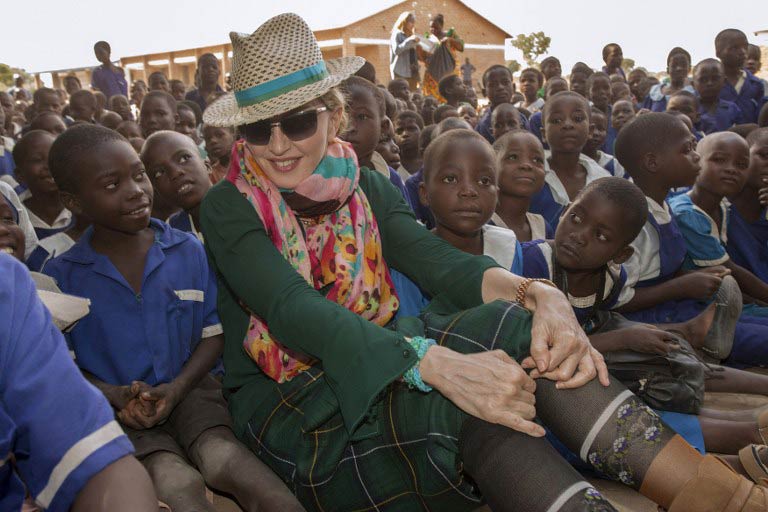 Not that every single international adoptions involving rich white celebrities from the global north adopting poor African children is problematic. Madonna did not have a seamless Angelina Jolie-style adoption. It was a Madonna-style one – filled with controversy. In light of the aforementioned controversies in Malawi, when pictures of her using Malawian kids to rub her feet surfaced, it was likely to make some people uncomfortable. The photo was a commentary on much larger issues surrounding Madonna's involvement in Malawi, and more specifically international adoptions there.
International adoptions
Rather than being quick to celebrate that someone has come and "saved" children who would otherwise have lived a life of squalour, we need to look at the larger implications of international adoptions for Malawi. There are "bigger issues" such as consideration for the welfare of adopted children.
Malawi has a real problem with international child trafficking where children are sold as sex slaves, sex workers or otherwise are exploited for their labour.  Therefore, in a country susceptible to such dealings, when a seemingly 'innocent' foot rub surfaces, it may very well remind some people of the thousands of adopted children from African nations who are exploited for their labour under the guise of 'adoption'.
Of course, many have argued that Madonna can afford to hire workers in the service industry to provide services such as massages to her. However, exploitation and abuse of children is not an invention of the poor, nor limited to them – it can happen anywhere and in many forms. The abuses suffered by MacKenzie Phillips at the hand of her own celebrity father is one example of how money is not a determinant of parental abuse.
To argue that it is impossible for a rich celebrity to abuse the labour or services of a child is simply absurd – particularly a child that they adopted. The whole situation was strangely reminiscent of Cinderella – with Madonna in the role of the evil step mother who works her adopted step child to the bone. Although unlikely, one can only hope that David and Mercy are not secretly living a life of service to the material girl.
Madonna's actions are not benign. She knew what controversy she would stir by posting it. She has never posted such photos showing her biological children doing this. Most likely, the sole purpose for posting the photo was for publicity.  The Instagram photo made reference to the hashtag "#rebelhearts" – the name of her new album. This speaks to an attempt by a celebrity to shamefully use race and privilege in order to get some attention.
Sitinga Kachipande is a blogger and PhD student in Sociology at Virginia Tech with an African Studies concentration. Her research interests include tourism, development, global political economy, women's studies, identity and representation. Follow her on Twitter: @MsTingaK