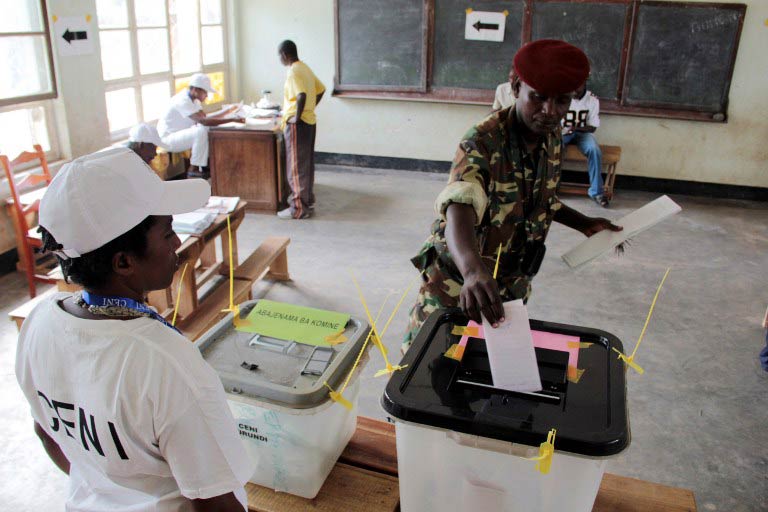 The small, landlocked African country of Burundi holds parliamentary and local elections on Monday after weeks of unrest, recalling its long history of conflict and ethnic massacres.
Opposition parties are boycotting elections – including a presidential vote due July 15 – saying that it is not possible to hold a fair vote.
The African Union has said it will not act as observer to the elections over fears the polls will not be credible.
Over 70 people have been killed in weeks of street protests that erupted after President Pierre Nkurunziza decided to seek a third term in office.
Those protests were brutally suppressed, triggering an exodus of around 127,000 into neighbouring countries.
Ethnic divisions
Tensions between Burundi's ethnic Hutu majority – some 85 percent of the 10 million population – and the Tutsi minority have boiled over repeatedly since independence from colonial ruler Belgium in 1962.
In 1972, a failed Hutu-led uprising against Tutsi-dominated rulers sparked a wave of massacres.
Later, the 1993 assassination of the first Hutu president, Melchior Ndadaye, triggered a civil war between the Tutsi-dominated army and Hutu rebels that lasted until 2006 despite several peace deals.
Today, the fault lines are no longer simply ethnic – both Nkurunziza and his main rival Agathon Rwasa are Hutus. However, old divisions remain.
Economic frustration
Burundi – which lies in the Great Lakes region – is one of Africa's most densely populated nations. Farming forms the backbone of the economy, with key exports of coffee and tea.
Manufacturing is underdeveloped, and the country suffers from a poor transportation network and government corruption that stifles the private sector.
The nation is green and fertile, but more than two thirds of the population live below the poverty line, with a gross average national income of just $260 (240 euros).
World Bank data put 2013 gross domestic product at $2.7 billion.
Constitutional challenge
Nkurunziza was first voted in by parliament in 2005, as part of the peace process to end the 1993-2006 civil war. In 2010 he was re-elected, this time by the people.
Opponents say a third term would violate the constitution and jeopardise deals that ended civil war that stipulated presidents cannot rule for more than a decade.
Nkurunziza's supporters refute that, saying the constitution overrules earlier agreements, and states leaders can rule for two terms after elections by "direct universal suffrage".
Militia forces
The international community has repeatedly warned of a risk of violence, with rival parties growing increasingly radical.
The United Nations has said is particularly worried about the ruling party's youth wing, the Imbonerakure, a fearsome group whose name means "The Watchmen" or, literally, "Those Who See Far".
The Imbonerakure are accused of being a militia force by the UN, carrying out a string of attacks.