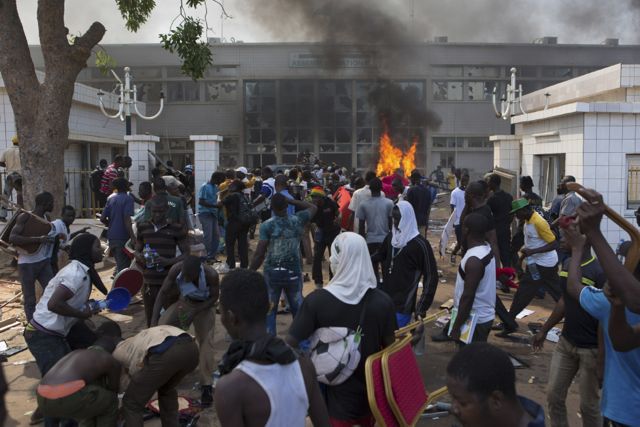 Burkina Faso's President Blaise Compaore on Thursday refused to give up power but called off a state of emergency imposed after a violent uprising against his 27-year rule that saw Parliament set ablaze.
Opposition figures said around 30 people had been killed and 100 injured as tens of thousands took to the streets in protest against plans to allow Compaore to extend his long reign.
Hundreds stormed Parliament and other public buildings including the national television headquarters in the capital Ougadougou, ransacking offices and setting fire to cars despite a heavy police and army presence.
Compaore initially called a state of emergency but appeared on television just a few hours later to say it had been called off.
"I have heard the message," the president said.
But he refused to step down, saying instead that he was "available" for talks on "a period of transition after which power will be transferred to a democratically elected president".
It remained unclear on Thursday night who was in charge of the country.
Earlier in the day, the army had announced it was seizing power and putting in place a transitional government.
It imposed a dusk-to-dawn curfew and pledged to restore constitutional order within 12 months.
The communique, read out by an officer, was signed by the army chief of staff Nabere Honore Traore.
Departure 'non-negotiable'
A leading opposition member, Benewende Sankara, described the army's move as a "coup". He also said protesters would accept nothing less than the president's immediate resignation.
Compaore "is again in the process of duping the people," said Sankara. "We have been saying for a long time that he must hand in his resignation. His departure is non-negotiable."
Sankara and another opposition leader gave the death toll from the violence as "around 30". AFP was only able to confirm four deaths and six seriously injured, based partly on reports from the capital's main hospital.
The United States said it was "deeply concerned" about the crisis in the west African nation and criticised Compaore's attempts to alter the constitution to extend his rule. Former colonial power France appealed for calm and said it "deplored" the violence.
UN chief Ban Ki-moon dispatched a special envoy to help restore calm and the European Union called for an end to the violence.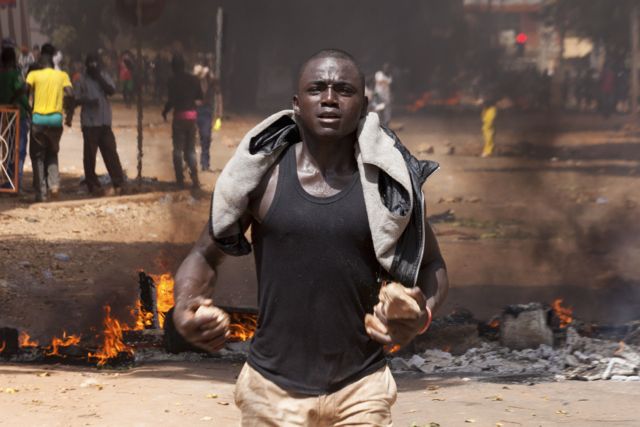 Many of the tens of thousands massed on the streets of the capital called for a retired general and former defence minister, Kouame Lougue, to take control, shouting "Lougue in power!"
There were reports that army chief Traore had met with Lougue earlier in the day to discuss the crisis.
Crisis
The chaos erupted this week as lawmakers prepared to vote on legislation that would allow 63-year-old Compaore – who himself took power in a 1987 coup – to contest elections in November 2015.
The lawmakers called off the vote, but not before Burkina Faso plunged into its worst crisis since a wave of mutinies shook the country in 2011.
Black smoke billowed out of smashed windows at the parliament building on Thursday, where several offices were ravaged by flames.
Several hundred protesters also broke into the headquarters of the national television station RTB, pillaging equipment and smashing cars, AFP correspondents said.
The ruling party headquarters in the second city of Bobo Dioulasso and the city hall were also torched by protesters, witnesses said.
Compaore's bid to cling to power has angered many, particularly young people, in a country where 60 percent of the population of almost 17 million is under 25.
Many have spent their entire lives under the leadership of one man and, with Burkina Faso stagnating at 183rd out of 186 countries on the UN human development index, many have had enough.
The situation is being closely watched across Africa where at least four heads of state are preparing or considering similar changes to stay in power, from Burundi to Benin.
Compaore was only 36 when he seized power in the coup in which his former friend and one of Africa's most loved leaders, Thomas Sankara, was ousted and assassinated.
He has remained in power since, re-elected president four times since 1991 – to two seven-year and two five-year terms.
Known in colonial times as Upper Volta, the landlocked country became independent from France in 1960 and its name was changed to Burkina Faso ("the land of upright men") in 1984.