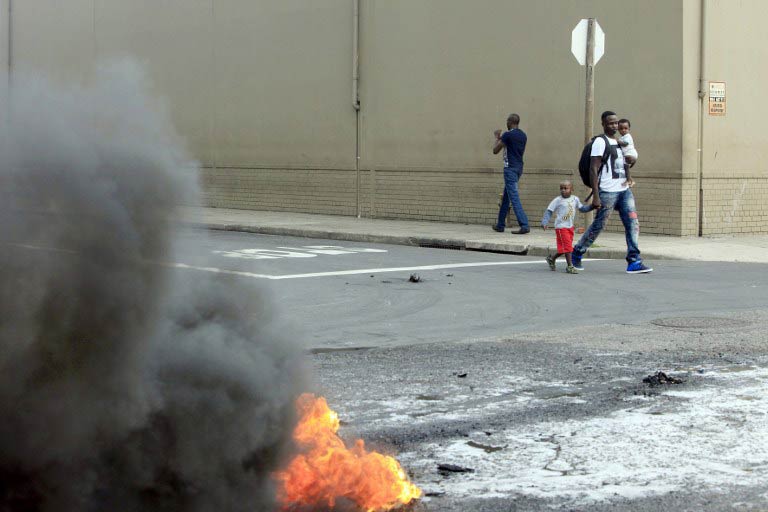 This week, media screens have flashed images of black South Africans executing violent acts on other blacks who are not South Africans. I have seen people petrol bombed in their shops. I have seen images of bloodied heads and faces. I have seen images of angry mobs walking through the streets, mpangas and other weapons in tow, ready to lash out at any foreigner. But more so the black foreigner.
These people have come to South Africa for a number of reasons – school, work, business, economic opportunity, refuge. They came to South Africa to live their lives, but are now being punished for making such a decision.
It's black on black crime like we've never seen before. Actually, we've seen this before. In 2008, 2011, oh, 2014 and 2015. It happens year after year in South Africa with no end to this horrific attitude in sight.
It appears that black South Africans are angry because other Africans have come to South Africa to take away opportunities that rightfully 'belong' to them. This latest upsurge in violence is as a result of King Goodwill Zwelithini's comments that foreigners must go back to their homelands. Of course, the Zulu king has denied it, claiming his comments have been distorted but the damage has been done, and one cannot deny that even if his comments have been taken wrongly, there is an amount of anti-foreign sentiment there.
Why? Why can a country like South Africa resort to these awful acts? In apartheid days, black South Africans were harboured in many African countries – Zambia, Zimbabwe, Malawi, Kenya. All the countries rallied together, sometimes at the peril of their own stability, to ensure South Africa's freedom. Lives were lost in South Africa, fighting apartheid. Lives were lost outside of South Africa, too. And yet, these people, who have their political freedom because of us, are now beating and battering us as though none of that happened, but also as though it's okay to treat humans like that. Black South Africans are attacking foreigners, burning their homes and businesses to make a point. And their point is this:
You are taking over our country.
You are taking our jobs.
You are taking what should be ours.
South Africans have found themselves competing with foreign nationals on a number of fronts and with the history of marginalisation, perhaps it was all too much. The government wasn't protecting their jobs, houses or opportunities but bringing in even more foreigners. They took matters into their own hands. Regardless, it's shocking. And I don't understand it.
What I do know is this should not be accepted. Governments are not taking a large enough stand against xenophobic attacks against their nationals, probably because the region depends so heavily on South African goods and investment that boycotting SA investments and products would cripple their own economies.
These are human rights violations on a grand scale and I would like to see South Africa penalised for this. I would also like to see the foreigners repatriated to their own countries. Get out. Malawi has begun bussing its people back to Nyasaland. Good. I hope they stay home.
Next should be Zambia, or Zimbabwe. And let all other African countries follow suit. Then we'll see who's left in South Africa. We'll see how well their economy would run, how well their services will be managed and delivered.
And then we'll see who will be targeted next.
Because it seems to me, these are just angry people who have the residues of apartheid left in their souls and cannot be freed from that grip.
But they don't see it.
Mali Kambandu-Nkhoma is a writer living and working in Lusaka, Zambia. She writes on development issues, and creatively on films.  She blogs at malikambandu.wordpress.com