"You can take the girl out of South Sudan but you can't take South Sudan out of the girl."
These were the words of international model Alek Wek when Mercedes-Benz Fashion Week chairperson Dr Precious Moloi-Motsepe described her as a "child of the soil" this past weekend.
"Alek's story is a story that excites all of us. A girl from the continent who was a refugee that went onto conquer the world," said Moloi-Motsepe.
Wek was in Johannesburg to attend Mercedes-Benz Fashion Week Africa and to also serve as a guest judge at the African Fashion International Africa Fashion Awards.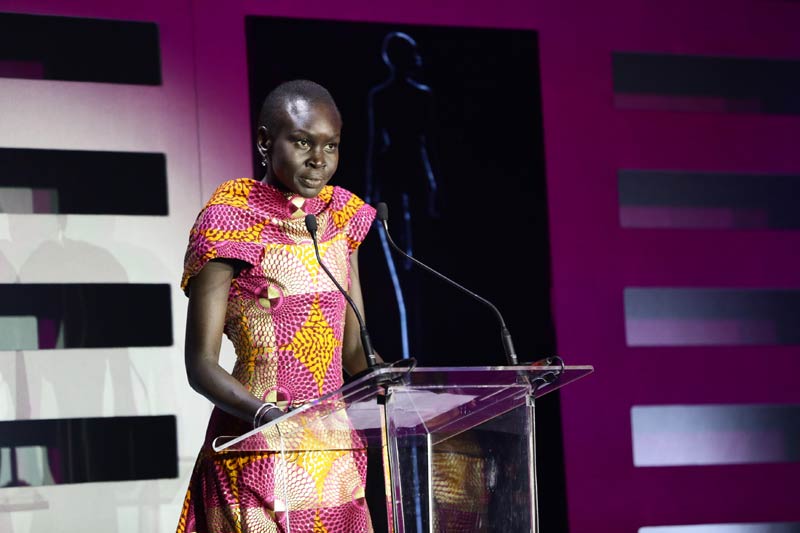 Speaking at a press conference on Saturday afternoon, Wek, who made her modelling debut in 1995, said that African fashion can change the global fashion industry – and the time for this is now.
"Together we can make a profound change. It gives me chills when I think about it."
"If I can help in terms of wearing these wonderful designs and by connecting designers so that they have the opportunity to be creative and the international market can have the chance to place an order and see how much talent there is on this continent, then I will be happy to," Wek said. It was no surprise, then, that she was wearing a dress by South African designer Bongiwe Walaza.
Wek is from the Dinka ethnic group in South Sudan but fled the country for Britain along with her family in 1991 to escape the civil war. She later moved to the United States.
Wek admitted that it wasn't easy breaking into the fashion industry. People constantly referred to her looks as "bizarre, weird and different" while she has never felt anything but normal.
"From a very early age, my mother embedded in us that as a woman it is not the makeup, the dress or the shoes that makes you the woman that you are. It's truly who you are inside and if I didn't have that I don't know if I would have had the capacity to be able to believe in myself and embrace myself."
Wek said her mother always told her that as women, one has to respect one another because respect is love.
"We all have different qualities and that is what makes us gorgeous as women. In the end, fashion draws so much inspiration from this continent so why not celebrate the women from Africa?"  Wek asked.
"Once I was out there spreading my wings and having to make my own decisions, everything my strict mother had taught me started to come into place and make sense.
"And whoever said I was weird I could say to them, 'You're weird! You're bizzare!' There is room for every kind of woman within the fashion industry."
During her brief talk, she also touched on the importance of education, saying that every young person, regardless of the field they go into, should educate themselves.
Rhodé Marshall is the Mail & Guardian Online's project manager and unofficial entertainment reporter. She started as a radio reporter and producer in Cape Town, before jumping into online news. With one hand glued to her phone and the other to a can of Coca-Cola, she is a pop culture junkie. Connect with her on Twitter.