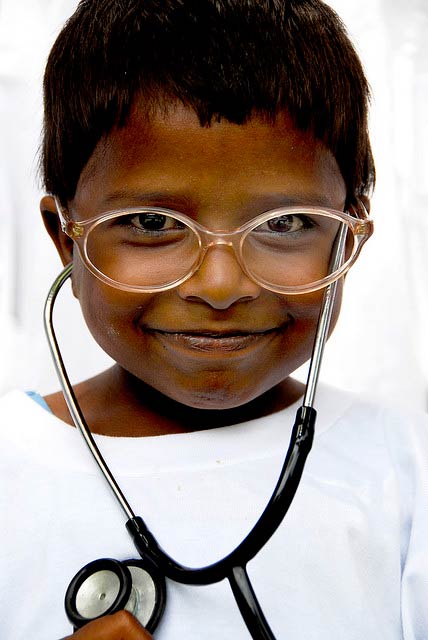 I'm an optimist.
I have hope. If there's an opportunity to look at something humorously, I'll take it. That's why I wrote "16 Things Black People Wish They Could Explain to Their White Friends". It's good not to take ourselves too seriously.
But every optimist needs to cross over to the dark side now and again. Every optimist needs to stop and realise that, "Whoa! The world is really, really messed up!" Every optimist needs to turn off the Kardashians and get a dose of reality.
On a long-distance bus ride from Johannesburg to Bulawayo I eavesdropped on a conversation between two women sitting behind me. Both of them were well-dressed black women. They were gossiping about some of the other passengers, talking about their families and work.
One of them was a domestic worker. She spoke fondly about the little white babies who called her Mama and her white "Mrs" who loved pap. And how the little boy who adored her interrogated her about who she was: "Are you my aunt? No, you can't be my aunt because you're black!"
I chuckled inwardly.
And then reality struck: this forty-something-year-old woman sitting behind me was a domestic worker. She probably didn't finish high school. She never went to university or had the opportunity to choose a career. She spends most of her days with little ones who call her "Mama" but aren't her children. Hers are somewhere in Zimbabwe, being raised by a grandmother or aunt.
She'll endure hours at the border, as they search she'll pray that they don't look too deeply for the stuff she didn't declare. Back at home the children will be waiting. Her oldest girl will have supper ready for the family, and her little boy will be in for a scolding because he got into a fight at school. She'll check their reports, help them say their evening prayers, take a quick bath and collapse into bed. Exhausted. At the end of the weekend she'll hug them goodbye and say hello to her other children.
No child dreams of being a domestic worker when they grow up. Or a car guard. Or a waiter at Spur. Little girls dream of being doctors and pilots and social workers. Little boys want to be lawyers and musicians and engineers. Most parents can't afford to take their children to 'O' Level and if they can, they're educated children will enter a market where their education is worth nothing and they're forced to do what's available.
They may never pursue a diploma or degree or even technical training. The pilot will be a car guard; the engineer a cleaner; and the doctor a domestic worker. Their dreams will be extinguished by the harsh reality of a poor education system and economic inequality.
I'm still an optimist.
Because there is dignity in all work. The idea of 'menial' jobs is false because all work is worthy of respect. My grandmother and that woman on the bus, the people you call your 'sisi' or 'Mama'- they do important work. And the fact that their careers were constrained by their circumstances doesn't change the fact that their work matters.
I still have hope.
Because there is a man in Soshanguve who was born into poverty. So poor that he couldn't stay in school and became a gardener instead. That same man worked at his job and raised enough money to finish school, study towards a Bachelor of Arts, his Masters and finally his PhD. Read Fannie Sebolela's story.
Crazy, right?
Not if you're an optimist. Not if you have hope.
Zola Ndlovu is a blogger whose aim is to encourage women with her writing. She blogs at realmukoko.wordpress.com