For his first solo series Ghosts, South African filmmaker and artist Ralph Ziman photographed Zimbabwean street vendors wielding handmade replicas of AK-47s which are adorned in traditional Shona-style beading. The multimedia project aims to highlight the international arms trade and its devastating influence.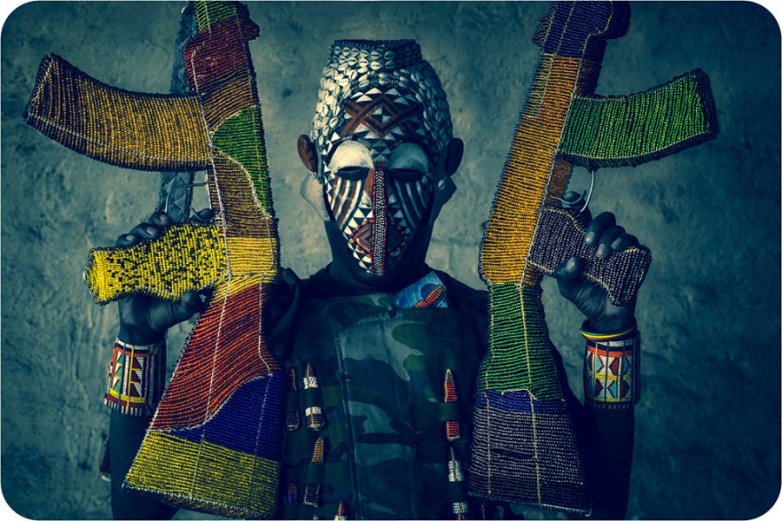 Ziman explains:
I had six Zimbabwean artists use traditional African beads and wire to manufacture several hundred replica bead/guns like AK-47s, as well as several replica bead/general purpose machine guns (GPMGs), along with the ammunition. In response to the guns sent into that culture, the mural represents an aesthetic, anti-lethal cultural response, a visual export out of Africa.  And the bead/guns themselves, manufactured in Africa, are currently being shipped to the USA and Europe.This bead/arms project provided six months full-time work for half a dozen craftsman who got well deserved break from making wire animals for tourists.

The completed bead/guns were the subject of a photo-shoot in crime ridden downtown Johannesburg.  The subjects were the artists who made the guns, several construction workers who happened to witness the shoot, and a member of the South African Police Services who just wanted his picture taken. The mural is mixed media, wheat paste, dye, acrylic spray-paint and ink on wood. This mural is the first in a series to be put up in LA.
In 2008, Ziman wrote and directed 
Jerusalema.
 The film was submitted to the Academy Awards as a nominee for Best Foreign Language Film. He has also produced 
murals
 in Venice Beach, California where he lives with his family.
Ghosts will be on display at C.A.V.E Gallery in Los Angeles from February 8 to March 2.