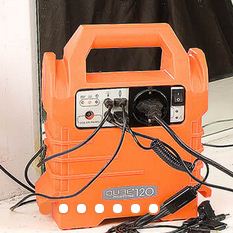 A motorbike accident two years ago in the Cape Town suburb of Milnerton left Pascal Kassongo with a leg fracture, multiple cuts and a written-off bike, crippling his courier business.
Two weeks in hospital, followed by several more of physiotherapy and recovery, drove the father of four into near destitution.
Too weak to buy and deliver goods to clients, his opportunity to earn R300-R400 ($24.40-$32.60) a day was gone.
Originally from Uvira in eastern Democratic Republic of Congo, Kassongo fled the war there in 2007, and had only a few friends he could call on for help in South Africa.
One of them was a pastor who took him to Scalabrini, a centre that helps migrants settle and find an economic foothold in South Africa.
As well as receiving regular food parcels, Kassongo was recruited for the "Amandla!" Project, whose name means "power" in the Xhosa and Zulu languages.
The scheme trains unemployed people, especially migrants, to run small businesses using a solar-powered kit called Ecoboxx.
Inside the box
The Ecoboxx is a lightweight, portable power supply, charged with two solar panels, that can provide 50 hours of power. It comes with two LED lights, a USB-driven fan, hair clippers and a charging cable for cell phones and other devices.
The kit was designed for the Amandla Project, with the intention of giving entrepreneurs a tool to power their activities, said Merle Mills of Community Chest, the organisation that came up with the project.
Using the kit, an individual can make up to R1 600 per month cutting hair five days a week, or at least R1 400 by charging up to seven cell phones at once with the device, Mills added.
Community Chest CEO Lorenzo Davids said a Dutch investor had backed the Ecoboxx as a way of helping Africans access economic opportunities.
"Getting into green or solar technology is the ideal platform to ensure we give our people low-cost and sustainable resources so they can develop the economy for themselves," Davids told the Thomson Reuters Foundation.
Community Chest started Amandla in January after getting funding of almost 2 million rand, on condition the kit would be made available at a nominal cost of R200 to keep people out of debt.
Davids said the Ecoboxx would help entrepreneurs in townships and rural areas "electrify" their homes, and set up businesses to generate income for their families and communities.
At first, it was targeted at individuals who find it hard to break into the mainstream economy, like African migrants and communities where small businesses lack access to electricity.
The solar device, which retails for R4 000, is manufactured by a technology company that also supplies to retail stores in South Africa.
So far, Amandla has distributed 300 kits – almost a third of the planned total – including 50 to foreign nationals.
Spreading the light
"After spending a month in Pollsmoor prison for selling pirated DVDs and CDs, I was determined to sustain myself through legal means," said Papy Shereza, 31, a bio-chemistry dropout from a Congolese university.
After enrolling in the Amandla programme, he was given an Ecoboxx, which he uses to run his own barbershop in the community of Du Noon.
"On weekends I make good money, but during the week I have to supplement my income by selling other hair products for women," he said.
He also charges cell phones, and in a good week, he can earn up to 1,000 rand.
In the sprawling community of Gugulethu, Janet Bete, who came to South Africa from Zimbabwe in 2007, is equally happy. Her son, 24, uses an Ecoboxx to power a family barber shop.
"In my neighbourhood there is a man who runs a spaza (tuck shop) but has no electricity, so I hire out the solar lights to him daily from 5am when he opens, to 7am when it's no longer dark," said Bete.
The enterprising woman, who also manages a crèche, rents out the solar lights for evening church crusades and parties too.
"Whenever there is a funeral in my community and there is no power, I donate my lights – it's my way of paying (people) back for living well together," she added.
In Milnerton, Kassongo has adopted a different approach.
"I don't own a barbershop, but I hire out my kit to local South Africans who do. We share the proceeds," he said. "It helps put something on the table."
Joe Pereira, head of strategy for Community Chest, said the Amandla project aimed to expand its opportunities to all "deserving" South Africans.
"Being creative around renewable energy will benefit many people," he added.
Munyaradzi Makoni for Reuters