A black 4 x4 rolls down a driveway to the sound of D'banj's Oliver Twist and stops outside the palatial triple storey residence. The cast's names unfold: Desmond Eliott. Rita Dominic. Mike Ezuruonye. The driver turns off the engine. As he opens the car door, D'banj declares:
I have a confession
See, I like Beyonce!
I like Rihanna, she dey mek me go gaga
I like Omotola, cos people like her….
…Oliver, Oliver Twist!  
The young man — played by Mike Ezuruonye — steps out of the car. With calculated chill, he adjusts his trendy aviator sunglasses. The camera zooms in on the Gucci logo, then lingers on the trendy haircut that would get a nod of approval from the Kinshasa's sapeurs; those gentlemen whose renowned stylishness is encoded in their very name: Societe des Ambianceurs et des Personnes Elegantes (Society of Ambience-Makers and Elegant People). A beautiful young woman in impossibly high heels emerges from the passenger side, as D'banj declares his liking for Genevieve. Her makeup alone is worthy of a Vogue magazine cover. The man puts his hand around her waist, and looks into her eyes with a loving enchantment that would be perfect for a John Legend video. The couple walks into the opulent lounge, boasting the requisite plush lounge suite, thick carpets, huge flat-screen TV, and artworks on the walls. Seated alone is a well-dressed older woman, her turquoise head-wrap intricately folded like an origami. "Good-morning mama," the young man greets cheerfully, arm still around his lover.  The camera zooms in on the origami head, as she gives him 'The Look.' We sit back and wait, knowing what is coming seconds before it is delivered: the multi-syllabic Nolly-sneer….
*         *        *
Hi. My name is Grace and I own a TV.
As a lapsed Catholic, I know a thing or two about confessions. You know what they say: Catholic guilt, like Catholic marriage, is truly a for-better-or-worse situation. You can take the Catholic out of mass but you cannot take the guilt out of the Catholic. So, like D'Banj, I have a confession to make: I watch the news and sports, but my main TV viewing diet is soapies and Nollyflicks. Yes, including 7 de Laan, Rhythm City and Nollyflicks with titles like Adam's Apples and Daughters of Eve. I realise this is a dangerous confession for a wannabe Kleva Black, because we are supposed to have our noses perpetually buried in Slavoj Žižek's or Cornel West's latest thoughts, as fantastic jazz plays in the background. Naturally, we are not supposed to know who Sarkodie is; never mind the latest ghetto kids' choreography of Ugandan hitmaker Eddy Kenzo's Jambolee.  And we definitely aren't supposed to be pondering how to transcribe that trademark Nollywood sneer-and-click combo, which has inspired an entire range of memes.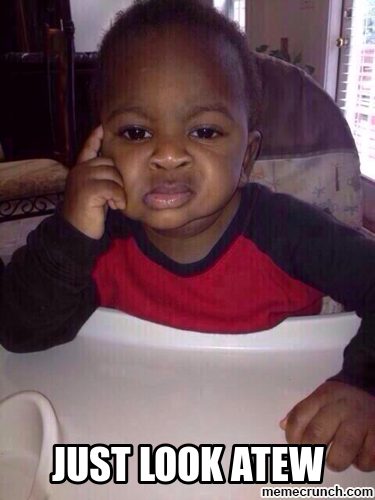 Look, in my defence, in between trying out these Jambolee moves and Nollywood sneer-clicks, I read books and listen to jazz, in the interests of keeping peace with the jazz snobs and literati in my life. I am currently bonding with Ahmad Jamal and reading Kenyan Caine Prize winner Yvonne Owuor's Dust. But I remain guilty of owning and watching a TV. This is a serious indiscretion, which might explain why a few second dates never materialised in my dating past. Perhaps I should not have betrayed such enthusiastic knowledge of Jason Malinga's marital problems on Generations, or such passionate irritation at Gita McGregor's perpetual scheming on 7 de Laan. Or maybe it was my sincere puzzlement at the murder mystery in Thathe, implicating the Great Warthog of Luonde, He-Who-Says-Die-and-I-Perish.
While we are at it, what's the deal with the duplication of stories across South African soapies? I see now the missing Malaysian plane that first resurfaced on Rhythm City with Siyabonga Twala's stylish character, DH Radebe's private jet disappearing, has now reappeared and disappeared again on Isidingo. Yes, it is another stylish black businessman's private jet: Vusi Kunene as Jefferson Sibeko, disappeared somewhere off the Angolan coastline. I am guessing the scriptwriters don't know this, but some of us are equal-opportunity viewers (to borrow a phrase from my friend who once defended his polyamorous tendencies by explaining that he always made it clear to the women in his life that he was an equal-opportunity lover). Unlike my bank which recently demanded financial monogamy from me, by declaring they wouldn't handle some of my transactions unless I stopped 'seeing' my other bank; some of us  have dispensed with LSM monogamy, and we are now equal-opportunity viewers who gallivant across SABC and DStv's audience Bantustans.  And I can tell you this much: when you start on an amnesia and stolen identity story-line in Diepkloof at 18h30, by the time you get to the Thathe flavour of this amnesia on Muvhango at 21h20, you have just about had it with the amnesia angle, in all its manifestations. While we are at it, I am this close to organising a Red October campaign in protest against Paula van der Lecq's (Diaan Lawrenson) use of the word 'phantasmagoris' on 7 de Laan, and KK Mulaudzi's  trying-too-hard-to-be-hardcore  robotic laughter on Muvhango.
But I must distance myself from The Bold and the Beautiful. There is a way in which if you started watching The Bold from episode one, when you were six sizes smaller, the sight of Brooke Logan Jones Forrester (x7) walking down the aisle with her daughter's husband's father for the umpteenth time is harmful to your health. It is not so much the many tribes of primary, secondary and tertiary incest involved, but the deep shame that you ever nursed a committed teenage crush on Ridge Forester. As did half your school. The other half was busy ogling the NBA's Dennis Rodman and his peroxide-blond head. I wasn't a Rodman fan, but I supported the San Antonio Spurs with the same passion I now dedicate to the Super Eagles of Nigeria, the Ghana Black Stars, the Indomitable Lions of Cameroon, the Desert Foxes of Algeria and the Elephants of Côte d'Ivoire. What? Too many teams? No, friend. When it comes to soccer, I am an equal-opportunity Pan-African. Sure, I got that memo about all my Foxes, Eagles, Elephants, Lions and Stars being whipped out of Brazil before they even finished unpacking.  This, despite the fact that many of Europe's soccer leagues would have a crisis of SA platinum-belt proportions if all their players of African descent decided to go on a prolonged strike.  Like all matters Pan-African, supporting African soccer is not for part-time Africans. It takes the loyalty of an Arsenal or Bafana fan, and the patience of biblical Job.
So, you can see why I have no energy for an anti-TV brigade which has somehow convinced itself  that not having a TV makes it a special breed of really clever, studious, intellectual people. I am generally able to ignore this lot with the same indifference I reserve for those who think my Christianity is questionable because their limited imagination cannot process the idea of a dedicated Christian who does not go to church and is partial to Windhoek lager. What I can't ignore though, are people who build careers studying popular culture or producing content for these platforms while simultaneously holding TV, radio, and magazines in such contempt. What brand of dishonest schizophrenia is this?
But I digress. The moral of this open letter is really an appeal to my people in Nollywood. Listen: That situation of sunglasses indoors? E no fine oo. E shady.  Abeg, mek we stop this nah.
Sincerely,
A TV-owning equal-opportunity Nolly-fan
Grace A. Musila is a Kenyan who studied in South Africa.