As the great and the good of the world's film industry prepared to descend on Cannes last week, a very different film festival was coming to a climax deep in the Sahara desert. Far from the red-carpeted Mediterranean opulence of the Croisette, the Sahara International Film Festival – known as FiSahara – took place in a sun-baked refugee camp deep in the Algerian desert. What it may have lacked in glittering VIP premieres and champagne-fuelled yacht parties, FiSahara made up for in spades with dune parties, camel races and multiplex-sized screenings beneath the stars.
Now in its 11th year, the FiSahara film festival attracted over 300 international actors, screenwriters and cinephiles, alongside thousands of Saharawi refugees exiled from their native Western Sahara for nearly four decades. Festival guests flew by chartered plane to the remote desert outpost of Tindouf where they boarded a convoy of buses and 4x4s and drove the dusty 100m to Dakhla refugee camp, in an area known locally as the Devil's Garden.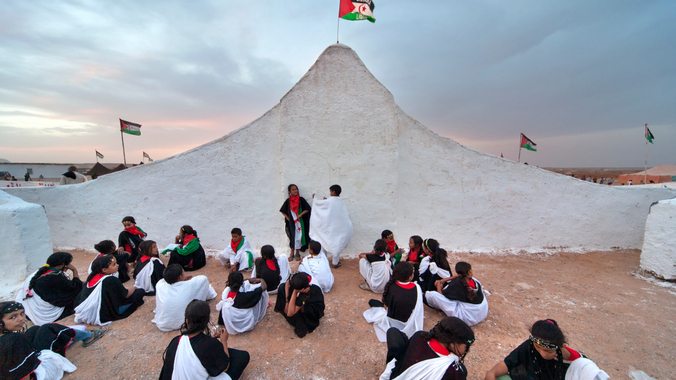 There they were met by refugee families, with whom they lived for five days, sleeping in their stucco-and-tented homes and sharing their simple couscous meals and copious glasses of sweet tea. With midday temperatures topping 100 degrees, most activities were scheduled for mornings and late afternoons with screenings taking place after dusk, in makeshift cinemas or projected onto a giant screen attached to the side of an articulated lorry.
Experience of Saharawi students
The festival programme included over 30 films from around the world including documentaries, animations, short films and blockbusters as well as several made by refugees themselves in the newly established refugee camp film school. While some films such as the Oscar-nominated Egyptian film The Square, reflected stories of hope and struggle, others were purely intended to entertain offering the refugees a glimpse of what lies beyond their desiccated desert horizons.
"The cartoon about the boy who plays table football was so funny," said 12-year old Liman Mohamed referring to the Argentinian 3-D comedy-animation Foosball by Oscar-winning director Juan Jose Campanella, which had filled the desert night with laughter.
The documentary Raíces y Clamor (Roots and Noise), which premiered at the festival explores the heart-wrenching experience of the Saharawi students who move to Spain to get an education. Fati Khadad, a 27-year-old Masters student who appears in the film was at the festival and explained how she was "adopted" by a Spanish family aged 10.
"I am slowly coming to terms with life in exile" she tells me. "Some people say I am lucky to have escaped the refugee camp and got an education but the reality is that I have spent my life apart from the people I love. We all suffer whether in the camps, whether in the occupied territories or whether in exile."
The festival's first prize – an actual white camel – was awarded to Legna, an evocative documentary about the traditions of Saharawi poetry. Second prize went to Clint Eastwood's Invictus, screened as part of this years' festival tribute to Nelson Mandela. The third prize for the documentary Dirty Wars was collected by the film's scriptwriter, David Riker who also led a screenwriting workshop for refugee filmmakers.
"I have taught similar workshops for many years in many parts of the world, but I have never had such an exceptional group of students," Riker said. "I think the reason is simply this – that the Saharawis have an overwhelming need to tell their stories."
Cultural activities
As well as films and workshops the festival also offered cultural activities, children's activities led by a team of clowns and evening concerts by renowned world music star Mariem Hassan and legendary musician Jonas Mosa Gwangwa who flew in from South Africa with his nine-piece band.
Gwangwa, who wrote the Oscar-nominated score for Richard David Attenbough's Cry Freedom, was just one of large South African delegation invited as part of the festival's tribute to Nelson Mandela. "Culture can replace the gun. It can be much more powerful," Gwanga told an audience at a roundtable discussion which also included 88-year-old iconic anti-apartheid fighter Andrew Mlangeni, imprisoned with Nelson Mandela for 26 years. Together with Gwangwa, Mlangeni drew parallels with the Saharawi struggle for self-determination and South Africa's own liberation struggle and highlighted the importance of culture as a weapon in freedom struggle.
"The South African experience is very inspiring and holds many lessons for the Saharawi," said Jadiya Hamdi, the Saharawi government in exile's minister of culture. "Creating our own film culture is important in the nation-building process because culture can carry an audience far beyond any political speech.
"The atmosphere in the camp during the week of the film festival is fantastic," 70-year-old Abaya Ambarak Asalak says despite not having seen any films herself. "Why should I sit on the sand at watch a film when my life has been like a film?" she asks. Abaya has lived in the refugee camp since 1976 after fleeing Western Sahara ahead of the advancing Moroccan troops. "One night a plane dropped bombs from the sky," she says describing a napalm attack that killed her young son and daughter. "The scars on my body may have faded but the wounds in my heart are still raw."
And it is stories like these that David Riker feels need to be told. "Film can serve the Saharawi struggle both in helping to express a collective reflection on their circumstances, and by bring their unique story to the world" he says. "Unlike most things planted in the desert, the FiSahara film festival has taken root and continues to grow and flourish" actor said Javier Bardem ahead of this year's festival. "It is increasingly attracting great films and great film-makers from around the world and in doing it sends a signal to our political leaders that this crisis that can no-longer be ignored and a signal to the Saharawi refugees that despite their isolation, they have not been forgotten.
Stefan Simanowitz is a journalist and the international co-ordinator of FiSahara. This post was first published on the Mail & Guardian Online.