I moved with a spring in my step, a bunch of fresh red roses in my hand from the city market, and a heart-shaped chocolate bar. It was Valentine's Day and I had the proverbial 99 problems but the lack of someone special to spend it with was not one of them. I passed a few women in flowery red dresses on the city streets, but in my neighbourhood – Tena estate, Nairobi – it was only the employees at a hairdressing salon who were dressed for the occasion. For most, it was just another humdrum day.
There's an increasing cynicism about relationships among young men and women in the city. Women are sick of the traditional role society has expected them to play over the ages, and they're fighting back by becoming more independent. It's unsettling to some men, who feel threatened by their partners' careers and independence. A common, blunt refrain among women is: "All men are players" while men retort: "A girl is yours only when you are with her."
If love is in the air in Nairobi, it's a very suspicious kind of love.
On Valentine's evening, my girlfriend Karen and I joined my buddy and his girlfriend at Tribeka, a popular club in the city. The atmosphere was romantic and electric; everyone here had come to celebrate. Across the table, a guy had swept his girlfriend off her feet and they were kissing like there was no one else was in the room. Another guy near our table wasn't so lucky – all he got on this special night was a thunderous slap from his partner.  She probably found out that the rose he'd given her wasn't really from him.
You see, it's silly season in Kenya: election time. The front-running Jubilee party took the opportunity to hand out free roses to Nairobi residents – which guys readily passed on to the girls they had their sights set on, relieved that they didn't have to fork out for them. Most people are still recovering from the Christmas shopping sprees that have left holes in their wallets.
Meanwhile, women expect men to woo them on Valentine's Day – and every other day. My male friends blame the barrage of Mexican soap operas on our television screens for creating unrealistic expectations of them and their budgets. We would never be caught dead watching The Power of Destiny with our girlfriends, so we're totally clueless about how to be a knight in shining armour, Don Juan and Bill Gates all rolled into one.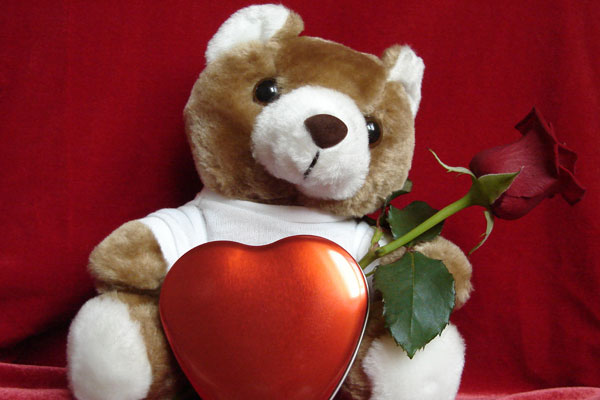 Earlier that day I stopped at the supermarket for ice cream. The store was draped in red, and two women in red T-shirts were managing a stall at the entrance, selling teddy bears, chardonnay, whisky, cards and chocolates. I bought chocolates – but they told me I was only the second guy to have purchased something from them that day. They'd received most of their support from women.
I learnt that some women had a trick up their sleeves for this day. They run to the shops before work to purchase expensive flowers and fine wines. At noon, the delivery man arrives at their offices to deliver a "surprise", while their colleagues ooh and aah at their treats. These women are paying for their own gifts if only to keep up appearances.
The night before Valentine's, I went to the local pub to watch the Real Madrid and Manchester United game. One guy left early, saying he promised his partner he'd be home by 7pm. Another lamented having to budget for school fees and a special gift for his wife. An older guy said his wife of nine years, who'd never demanded gifts or expressed interest in celebrating Valentine's before, was now expecting him to come home with something big.
I consider myself lucky then, to have a girlfriend who was sincerely happy to receive just a bunch of red roses and chocolates on February 14. In return, she gave me a single red rose and a big smile. No matter how cynical I am about love, I think I may have found the rare woman most of my friends are searching for.
Munene Kilongi is a freelance writer and videographer. He blogs at  thepeculiarkenyan.wordpress.com