In 2012, as civil war loomed – and with just a quarter of the South Sudan's population able to read and write – Awak Bior's decision to found a bookshop may have seemed risky. But for Bior it was a necessity.
"Literacy rates are very low in South Sudan," she says, sitting on a wooden bench at Leaves bookshop in the capital Juba. "It's to create a way for people to see that reading is a pleasurable thing; it's something that can give you some advantage personally and professionally."
Bior had been a frequent traveller between South Sudan and the UK, where she grew up, with her bags stuffed full of books. Her own love of reading was nurtured by regular visits to her local library with her parents. Now, aided by a small but enthusiastic team, she runs South Sudan's leading bookshop.
The country's few other book stores mainly sell religious books or textbooks; Leaves' wooden bookcases are lined with the latest novels and non-fiction from the UK, east Africa and elsewhere, while also promoting a culture of reading through public debates and book launches.
The small bookshop with big ambitions has already attracted devoted customers. Dhieu Williams, a radio presenter, is a regular visitor. He recently picked up a copy of Fidel Castro's autobiography, My Life. "It's not only me reading the books I buy, it's my cousins and brothers as well," he says.
Peter Biar is an even greater advocate for reading, a passion he traces back to stumbling across a quote by Cicero – "A room without books is like a body without a soul." Biar, like many young men in South Sudan, was a child soldier "educated in the struggle". Now he treasures every book he owns.
Leaves has more male customers than female, a reflection of the fact that only 16% of women can read and write, and even fewer have the kind of income which allow them to buy books, which can cost over 100 South Sudanese pounds, around £13.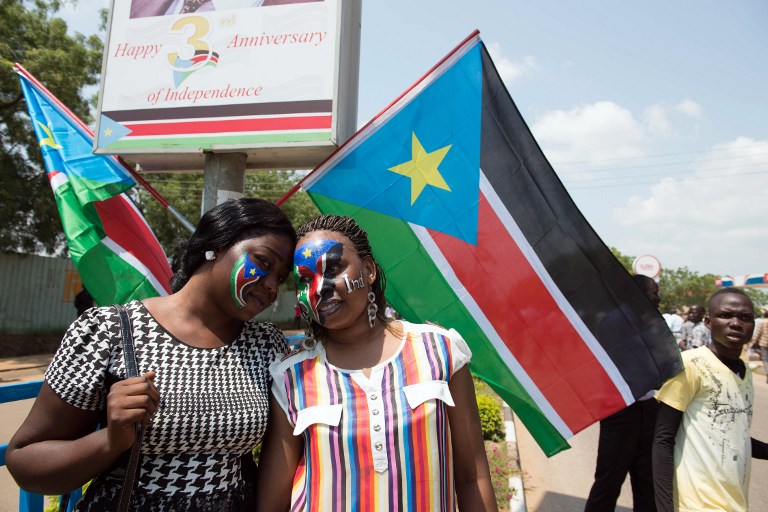 In December 2013, civil war broke out once again in South Sudan. Thousands have been killed and nearly two million displaced. This makes Leaves even more relevant, the bookshop's manager, Yohanis Riek, believes.
Speaking to a local radio station, he says that "now more than ever we need books. Self development is key to resolving the South Sudan crisis." The fighting, largely carried out by young, illiterate soldiers, has also pushed South Sudanese citizens from every walk of life to consider what sort of state they wish to live in.
The rebel leader, Riek Machar, prominently displayed a copy of Why Nations Fail, by political scientists Daron Acemoglu and James Robinson, in his bush headquarters. Machar and other politicians have been calling for federalism, and there is increased public criticism about the political failures that led to war.
"We have more South Sudanese customers now than we did during the time of stability," Leaves' manager Riek says. "Maybe they are interested in knowing more about politics, and how they can live together."
The government, led by Salva Kiir, is also being accused of clamping down on dissent, at one point indicating there should be no open public discussions of federalism. So far, Leaves' public debates have not been affected.
Founder Bior says freedom of expression is vital for South Sudan's future. "What we are trying to encourage is an environment where people can exchange ideas, debate and be able to come to solutions together. I think when you look at different countries that are successful, one of the things they have in common is that you can access information. If censorship starts to become more common in South Sudan, that would be a disaster, because it would hinder development and social improvement."
Bior says the next goal is to move out of the current small premises into a bigger bookshop, to create a refuge for readers. "Most people do not read even if they want to read, because their houses are crowded, they don't have private space.
"Electricity is another issue. In Juba in the evenings, children gather around security guard compounds just so they can read and study. We'd love to be able to fill that gap in providing a place for people to read, whether for pleasure or for study."
James Copnall for the Guardian Africa Network