Photographer Samuel Fosso, whose renowned self-portraits have made him one of Africa's most popular artists, is exhibiting for the first time in Nigeria, where he grew up in the grip of the brutal Biafran war.
Fosso, a Cameroonian national, is known for taking chameleon-like photos of himself dressed as a range of figures from black African and American life – from musicians to pop-culture icons to political leaders.
Nicknamed the "Man of a Thousand Faces", his pictures have been shown in major museums across Europe, in a career that has taken him far from Nigeria, his mother's homeland.
"It's very emotional for me to be here," the 51-year-old told AFP as he premiered his latest work at the fourth edition of Lagos Photo, an international photography festival.
Fosso's appearance is a major coup for organisers of the annual festival, which began last week and this year brings together some of the greatest names in contemporary photography, including Britain's Martin Parr and Spain's Cristina de Middel.
"When I suggested bringing Samuel Fosso, everyone told me, 'You're too late', or 'He's too well-known'," said the founder of the exhibition, Azu Nwagbogu.
"Then I contacted him via Facebook and he spoke to me in Igbo. I was shocked! I didn't know about this part of his life with Nigeria."
Fosso needed nearly a year of preparation to produce "The Emperor of Africa", his piece for the exhibit – a collection of five self-portraits in which he dresses as former Chinese Communist Party chairman Mao Zedong and through which he explores the relationship between China and Africa.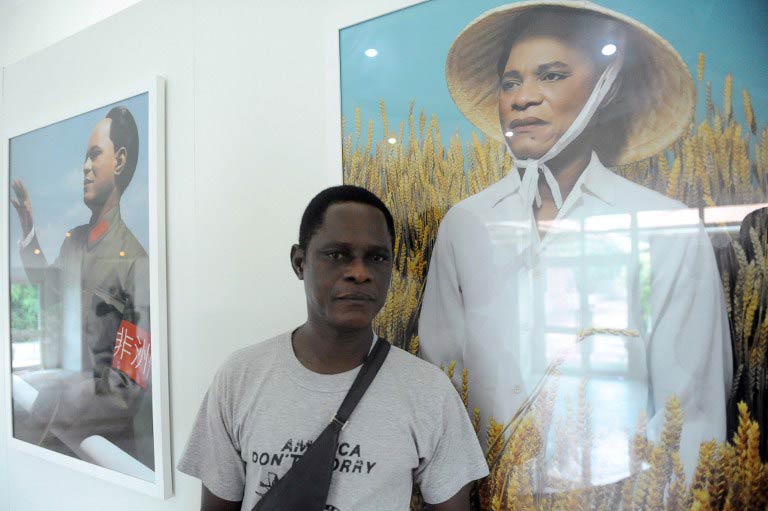 He also needed a production director and about 10 other people, including make-up artists, technicians and a costume designer for a day's shoot in the French capital, Paris.
This is a far cry from Fosso's first studio, in the Central African Republic, where at the age of just 13 he began photographing himself using the unused ends of the rolls of film brought in by his clients.
"But it was already a major production at the time," said gallery owner Jean-Marc Patras, who has represented him exclusively since 2001.
"Even in the 1970s, Samuel left nothing to chance, be it make-up, costumes or lighting."
Uprooted by Biafran war
Fosso has no photos from his own childhood but says he has never forgotten the traumatic images of the Biafran war, which claimed nearly one million lives between 1967 and 1970 after the southeastern region broke away and declared itself a republic.
Aged barely five, Fosso lost his mother and found refuge in the forest with his grandparents, both of them from the Igbo ethnic group at the centre of the conflict.
"Thank God I had a robust constitution," he said.
Fosso was the only child of his age to survive from his entire family. The images of burnt and disfigured bodies, the bloated stomachs and twisted limbs of malnourished children and hunger have remained with him, he says.
Aged 10, Fosso left his village in Nigeria, Ebunwana Edda, to work in his uncle's shoe-making shop in Bangui, the capital of the Central African Republic.
Three years later, in 1975, he opened his first photographic studio with the motto: "With Studio National, you will be beautiful, stylish, dainty and hard to forget."
Once the shop shut in the evening, he made himself up and got in front of the camera.
Inspired by magazine cuttings, Fosso imitated his idols – black African and American musicians.
He bought himself a pair of two-tone platform leather boots to dress up as Cameroonian-Nigerian singer Prince Nico Mbarga, whose Highlife-style song Sweet Mother was then a radio hit.
Fosso took the photos for himself and as a lasting memory for his as-yet unborn children and his maternal grandmother still in Nigeria, who repeatedly told him when he was a child that he was "the best-looking in the village".
Until 1993, that is, when French photographer Bernard Descamps, on the hunt for talent to show at a new African photography festival, arrived in Fosso's studio.
Impressed by his self-portraits, Descamps asked Fosso if he could take the negatives with him back to Paris. A year later, Fosso received an Air Afrique ticket for Mali, where he would win his first award at the Bamako Encounters, a photo show that has become a major biennial exhibition.
Six-figure price tags
Today, Fosso's self-portraits have been included in collections at London's Tate Modern and the Pompidou Centre and Quai Branly museums in Paris.
The wealthy Congolese entrepreneur Sindika Dokolo, a major collector of contemporary African art, bought three series of self-portraits from Fosso, including "African Spirits", a homage to major figures of the pan-Africanism movement and the fight for civil rights in the United States, which carry a price tag of at least $135 000.
But Fosso has not altogether left his studio in the Miskine district of Bangui.
Despite his success and daily hardships in the Central African Republic, which is riven by instability after rebels overthrew the previous government in March, he said simply: "I've got my own way of doing things there."
And if he ever leaves, he says, it will not be for Europe but for his village in Nigeria, where his wife Nenna, mother of their four sons, was born.
Cecile De Comarmond for AFP