At 7am on Monday morning, 45-year-old Maurice Otunga wheeled his wife, Nelly, into the Moi Avenue Primary School polling station in the heart of Nairobi.
Nelly sat patiently in her wheelchair. There was a huge smile on her face. She was eager to cast her vote in Kenya's first general election since the promulgation of a new Constitution in 2010.
Nelly embodies the hopes of a country at a crossroads – a peaceful election in Kenya opens up new and enticing possibilities, but a chaotic poll could unleash immense suffering. Having voted in the 2007 general elections and witnessed the bloodshed that followed the disputed results, she is well aware of this. Some 1300 Kenyans died in the post-poll fighting, and hundreds of thousands were uprooted from their homes.
Nelly doesn't want a repeat of that devastation. She's more concerned about a peaceful election than about which candidate wins.
"I want peace even if my candidate of choice loses," she tells me after casting her vote.
She hopes that Kenyans will remember that the country is bigger than any of the eight candidates who have presented themselves for the top job in the country. The heavy presence of police officers at the polling stations gives her hope that any incidences will be dealt with.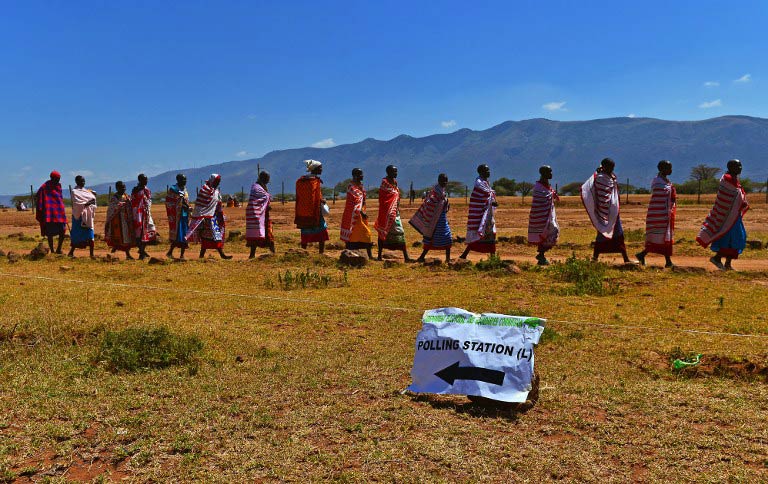 Nelly makes a living from hawking. She wakes up at 6am to prepare her kids for school and then she heads to city centre to sell her wares. On a good business day, she makes KES2000 (approximately R200).
This morning she opted to come to the city from her home in Banana Hill, just 20km north of Nairobi, not to hawk but to make a date with destiny.
Unlike the scores of voters already waiting their turn at the polling station, Nelly was able to jump the queue because of an arrangement put in place by the Independent Electoral and Boundaries Commission for people with disability.
"I am voting for the sake of my three children so that they don't end up being a hawker like me. They [must] get an education. I am doing this for their future," says Nelly. "I have never had hope like today because the new Constitution recognises people with disability and guarantees our rights. For the first time we will have representatives in Parliament. I hope our leaders will implement this Constitution fully."
Polling stations across the country opened at 6am. Queues stretched for kilometres and it's likely that voting could go on past 5pm, which is when the polling stations are scheduled to close. Since the government declared Monday a public holiday for voting, the usually bustling city of Nairobi was a ghost town. Streets were deserted and supermarkets, chemists, coffee houses and restaurants remained closed.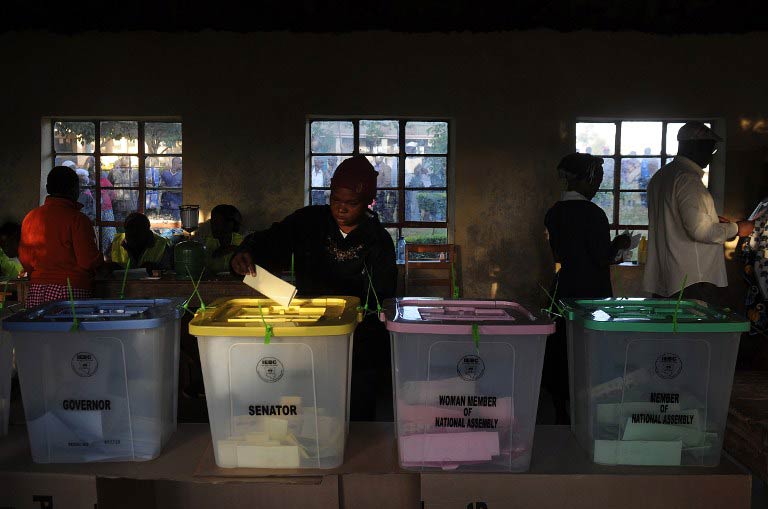 With a few hours to go, many polling stations are still teeming with people. A voter takes up to seven minutes each to cast his/her vote. Each person is issued with six ballot papers – they are expected to vote for a president, governor, senator, MP, women's representative MP, and a county representative.
When it comes to the presidential seat, the battle is between two of the eight contenders. Uhuru Kenyatta, the son of Kenya's founding father Jomo Kenyatta, is slugging it out with Prime Minister Raila Odinga. Uhuru and his running mate William Ruto are among four Kenyans facing charges of crimes against humanity at the International Criminal Court. They were reported to The Hague after a commission led by appeal court judge Philip Waki named them as those who bear the greatest responsibility for the post-election violence in 2007 that Kenyans are still recovering from.
Back in her home in Banana Hill, Nelly is hoping that this election will result in a better country instead of more violence.
Jillo Kadida is a Kenyan journalist based in Nairobi.