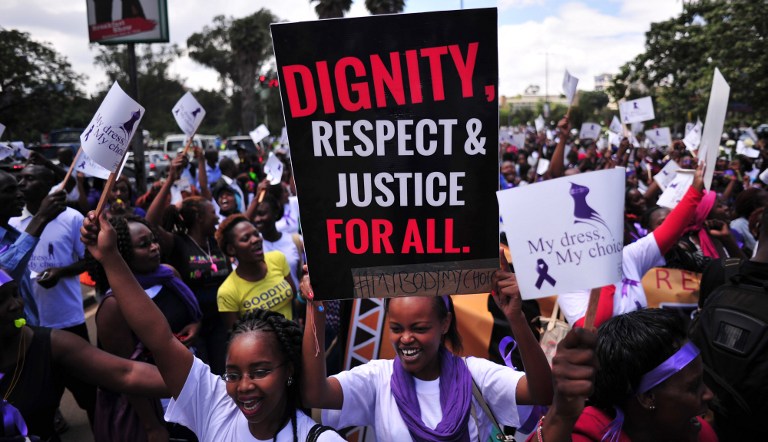 As we mark the annual 16 Days of Activism against Gender-Based Violence Campaign, Kenyans are reeling from yet another assault on a young woman, which occurred in Nairobi on Sunday. The 16-year-old school girl was attacked by four men, one of them a police officer, who tried to strip her naked.
Welcome to Kenya, a country where some men with questionable logic want to strip women who are dressed in short skirts in order to made them 'decent'. Yes, stripping for decency.
This incident follows the earlier attacks on three women (two in Nairobi and one in Mombasa) who were assaulted and stripped of their clothes for being 'indecently' dressed. The incidents shocked Kenyans and videos of the attacks were shared online, prompting mass outrage which resulted in the #MyDressMyChoice protest on November 17.
These recent acts of violence against women are a reminder of the bitter reality we have to live with. As a woman, I have to endure street harassment, cat calls, being groped, awkward stares, winks and worse. As a woman, I have to explain why I choose to wear a ring despite not being married. Or I have to explain why I am not yet married. I have to justify my actions or inactions. I have to hear stories of women who have been beaten up, burnt and maimed by their lovers, neighbours and strangers who picked on opponents who could not stand up for themselves.
Like the women of Kilimani, I have bought pepper spray and a Taser, because I need to protect myself from men. That is a reality.
I was one of the many protesters who marched in downtown Nairobi to vent my anger against the stripping and attacks on women. Last Monday, we women literally put our feet down, raised our fists in the air, and demanded our rights of freedom and protection. But the irony of it all unfolded as we slithered our way into the town.
As we surged forward in the protest, we were met by men in the area where one of the women was stripped. They immediately began to taunt us.
"Are you wearing any panties?"
"Why didn't you come here naked so that we know that you are serious?"
"If you keep talking, we will strip you to teach you a lesson!"
They had no fear in the world, not even of the cameras recording their taunts and vulgarities. The shoved and booed us and no one stopped them.
The women in their numbers drowned out their abuses with more chanting and feet-stomping. The level of lawlessness was absurd. It was clear: stripping was one of the many things they would do to a woman if they decided she was indecently dressed.
As I retreated home after the protest I accepted, sadly, that there are hooligans and perverts in suits and on social media. I was scared that day. I am still scared, because I realise that the attackers do not need reason to decide their actions. They behave like the law, dishing out judgment and punishment as they please. They will strip and pat their 'brothers' on the back for a job well done.
This blatant impunity affirmed in me that this is not about what women chose to wear. There were pertinent concerns of violation of women and it is worse if some police officers are involved. Our authorities are not swift enough in bringing to book those responsible. There were no arrests after the first two stripping attacks. For the third attack, 100 people were arrested but it's unclear what happened to them.
Who decides what is decent or not? After these recent events, I have to check the hemline of my dress or skirt before leaving my house. I have to check how revealing my shirt is. I have to consciously weigh whether my outfit would pass the decency scale. Because for as long as these hooligans and perverts roam the streets of Nairobi and other towns, deciding on who to punish for what they are wearing, I am not safe. Provided that these groups of jungle judges are walking around in their flowing robes of decency with some invisible tape measure to determine how short a skirt is, no woman is safe.
While it's commendable that we have dedicated 16 days to raising awareness of violence against women, it's not enough. We ought to have a mind-set of everyday activism because this is an everyday occurrence. We need to make this everyone's business. The men who abuse women in public or in their homes or from behind their keyboards are all liable. We need to realise, men as well, that we are all safe only when we are ALL safe. If one person is in pain, violated or abused, it will flow back to the rest of us.
Eunice Kilonzo is a journalist in Kenya.