Have you ever considered what a culinary tour through Africa would be like?
My curiosity to find out led me to start my own African cuisine and travel blog, Chef Afrik. Since 2011, I've been indulging in exciting gastronomic adventures. Food from the continent is unimaginably diverse. The flavours we enjoy have been passed from mother to daughter (and sometimes son), mixed with influences from foreign sources. While African cuisine may not be all the rage in major international cities and gourmet magazines, you will always find it within the warmth of every African home.
I've discovered:
the sumptuous olives and olive oil monoculture of Tunisia
a sweet cup of mint tea in Morocco
the peanut butter flavour of maffe tiga in Senegal and Guinea
the aphrodisiac oysters of Namibia
the cocoa beans of Côte d'Ivoire
the incomparable palm oil flavors of Nigeria
the fragrant spices of a cup of Somali tea
the hot and fast life of the Ugandan street food "rolex"
the mysterious Mopani worm dishes of Zimbabwe
and the internationally recognised South African wines.
And this is barely a glimpse of the continent's offerings. Starting with this inaugural foodie post for Voices of Africa, I'll be exploring the history, culture and lifestyle of a country through the cuisine eaten there.
Take, for example, the strong Vietnamese culture in Senegal. With both countries colonised by the French in the early part of the 20th century, Senegalese men were sent to Vietnam as soldiers. A number of them took Vietnamese wives and brought them back to Senegal.  You will find Vietnamese influences in Senegalese food, or even in the streets of Dakar where the oldest Vietnamese restaurant is called "Le Dragon".
Or how about the Arabic influences in Somali cuisine? All one has to do is look at the number of spices used in Somali tea – nutmeg, cloves, cardamom, cinnamon, ginger and black tea. No surprise that these spices made their way to Somalia from the Arabic peninsula through trade and, at times, empire domination.
What is not included in a country's cuisine is just as important. In Côte d'Ivoire, the world's largest grower and exporter of the cocoa bean, chocolate doesn't feature much in traditional cuisine. What does this say about the country and its relationship to the cocoa bean? You'll have to keep reading this blog to find out.
I'll also be sharing a recipe with you in each of my posts. This time I've chosen a recipe from a country that was in a region the Romans named Africa in ancient times. The word eventually came to describe the immense continent beyond this country's borders. I'm talking about Tunisia.
Harissa, an all-purpose condiment and marinade, is a red hot sauce Tunisians commonly eat with bread as an appetiser. To me, it tastes very similar to the East African chili sauce kachumbari. These sauces are usually much hotter than Tabasco sauce.
I used Aliya Lee Kong's recipe but adapted it to my liking. If you're trying this out and want a sauce that's a deep red in colour, use sun-dried tomatoes instead of regular ones.
Ingredients
3 New Mexican / Anaheim medium-sized dried red chilies
4 Guajillo medium-sized chilies
2 tsp crushed red pepper or Urfa Biber chilies (If you can't find this, use any two types of hot chilies)
1 tsp caraway seeds
½ tsp fennel seeds
Pinch of saffron (optional)
1 ½ tsp ground coriander
½ tsp turmeric
1 tsp salt
2 sundried tomatoes, packed in oil or rehydrated (I used a regular tomato)
2 garlic cloves
Olive oil
Lemon juice
Remove seeds and ribs from the dried chilies and place in a heat-safe bowl. Pour boiling water over chilies and let them soak for 15 to 20 minutes until softened.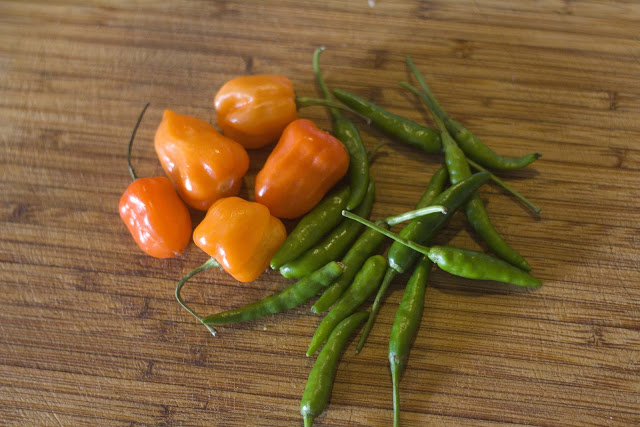 (Though Aliya recommends removing the seeds in the chilies, I leave them in because my mum reckons that's where the flavour comes from. I also did not soak the chilies as I did not want to dilute the heat.)
Blend the crushed red peppers or urfa chilies, caraway seeds, fennel seeds and saffron. Add ground coriander, turmeric, salt, sundried tomatoes, and garlic cloves. Add chilies from water and blend. (Mash and mix if you do not have a blender).
Pulse adding olive oil, a tablespoon at a time, until a thick paste is achieved and all of the chilies have been ground up. Add lemon juice to taste and adjust seasoning as necessary.
Transfer to a jar and cover the harissa with a layer of olive oil to preserve it. Keep refrigerated. It will keep for up to a month in the fridge.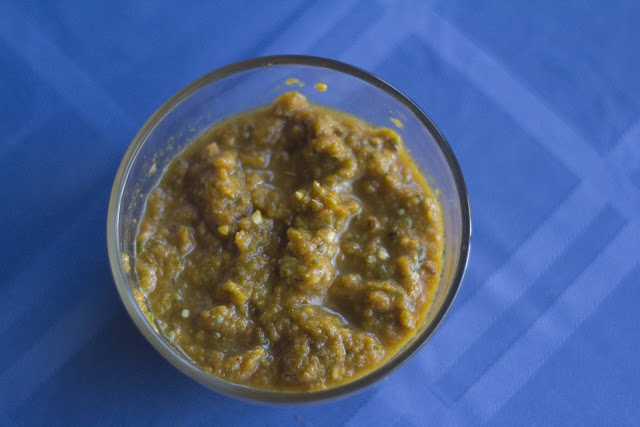 Adhis runs the Chef Afrik blog which focuses on African food, travel and culture. She is currently preparing for 'Eat, Pray, Africa', a food tour starting in 2014. Follow her adventures and connect with her on Twitter.