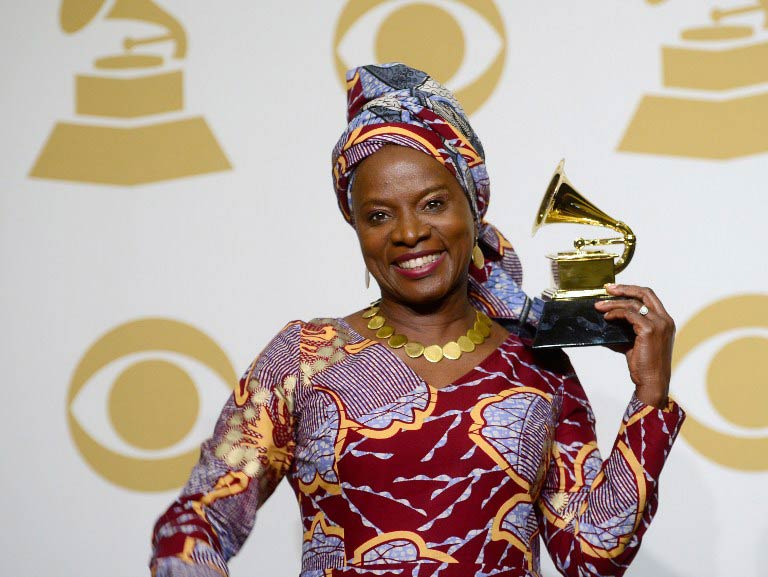 The annual Grammy Awards took place last week, and the usual happened:  selfies were taken, everyone raved about the dresses and some stars possibly got wildly drunk at the after party.
There were also prizes, some possibly deserved and some not.
The Grammys, like the Oscars, is fixed and it's been called out more than few times for not being serious about recognising real talent. See: Kanye West pulling a 'Taylor Swift' after Best Album was announced.
West then went onto speak in an interview about how the Grammys could not expect to attract proper artists if it did not respect them.
Alas, it continues to. One can only be happy that Iggy Azaela left empty handed.
But other than the perceived injustice of Beck stealing from Beyoncé, the greater institutionalised injustice is the bunching of all music coming from outside American shores as 'World Music'.
What, pray tell, is World Music? And how is it that the entire world is said to seemingly make one genre of music despite the eclectic array of sounds our globe produces?
This year Africa managed to scoop the elusive title with Angelique Kidjo winning the Grammy for her album Eve, her eighth studio album. Joining her in the Best World Music Album category were artists Sergio Mendes, Anoushka Shankar, Wu Man and Toumani Diabete.
Even Sergio Mendes, who has collaborated with artists such as the Black Eyed Peas, could not escape the 'World music' curse.
From the names alone one can see that the sounds of these artists will not be similar in any way, shape or form. Surely to bunch them together is a cacophony rather than a symphony?
This all speaks to the constant 'othering' of anything that is not American.
Then again, what can we expect of the same people who consider the World Series in baseball to be an international event – that includes only their 51 states?
Despite the array of music within Africa (let alone the world), we remain all bunched into one category. Try as we might to be as diverse or as similar, we only have one shot at the crown in a realm that is said to be the highest marker of musical achievement: World Music. And we are competing with over 7-billion other people.
What this implies is that music that can be feasibly judged as falling into the categories of Jazz, Rock, Country, New Age, Pop or any other Grammy-defined category can only come from US shores.
This is problematic as the Grammys are considered the ultimate musical dessert and we are all made to share one slice of the pie.
It may be time to find another maker, or at least another slice of pie.
Not only because the Grammys are essentially American awards but also because awards like the Grammys disallow the nuance of artistic brilliance that exists globally and within Africa.
Within our borders we can cover every single genre of the Grammys without breaking a sweat.
In Kenya, there is a growing rock scene with bands such as Rash Band who draw inspiration from ancients such as AC/DC . Hip-hop is pretty much covered in every single country – one only has to look at our intercontinental love with the track All Eyes on Me by AKA ft. Burna Boy, JR & Da LES, which brought together South Africa and Nigeria.
You want some pop? You can find it with artists from Ghana to Lesotho to Zambia. And if you prefer some good ol' tapping country I am sure there is a sokkie treffer an Afrikaans person can dig up for you.
This does not even speak to the host of other sub genres such as Lingala and sounds from Ethiopia. And we can also not forget our booming Christian music industry, with videos often filmed on beaches or in local public gardens.
If you doubt the musical prowess in Africa, you need only look at the range of musical festivals we have.  There are numerous ones on offer every year, yet year after year the 'standard for music' does not recognised this.
Kenya has the Safaricom Jazz Festival where Richard Bona from Cameroon headlined; the Sauti za Busara (along with the fringe events in Basura Xtra) held in Zanzibar each year is a celebration of East African music. There is the Oppikoppi, the Cape Town Electronic Music Festival and Cape Town International Jazz Festival in South Africa. Others include the Festival au Desert (Mali), Bushfire (Swaziland, Lake of Stars (Malawi) and Gnaoua World Music Festival (Morrocco).
The options are endless, I am sure we could find something to submit.
As it is a great honour to win a Grammy or other international award, we are simply getting the scraps. This is tragic considering we are offering a full-course meal.
It may be time to value a MTV Base or a Channel O music award more than a Grammy.
It may be time to consider going the European route and having our own continental awards be the highlight of the year and the Grammys be merely a nice holiday to LA where you may or may not be able to make out with Rihanna.  Or suffer extreme jet lag. Whichever comes first.
Maybe we should no longer consider the Grammys as the standard of musical success, because the only category we qualify for is 'World Music'.
Kagure Mugo is a freelance writer and co-founder and curator of holaafrica.org, a Pan-Africanist queer women's collective which engages in activism and awareness-building around issues of African women's identity, experiences and sexuality. Connect with her on Twitter: @tiffmugo