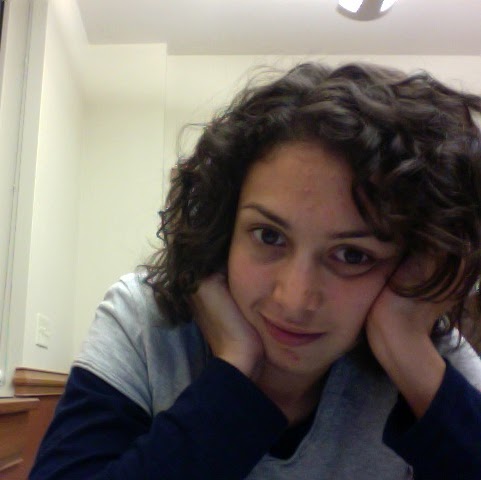 I write this as a feminist activist whose highest values include freedom of expression, freedom of choice and freedom of association. It scares me that we still live in an age where those freedoms can be taken away from us in an instant, and that anybody who places his or her head above the parapet can become a target for state repression. State violence can be found everywhere, whether in Ferguson, Accra or Cairo. You and I, should we choose to step out of the norm, can be subjected to the full force of the state. That is what has happened to Yara Sallam, an Egyptian feminist activist who is currently in prison for participating in a peaceful protest.
I first met Yara in 2012 in Cape Town, South Africa, at the Open Forum organised by the Open Society Africa Foundations. She was a speaker on a panel dubbed, 'Are women occupying new movements?' Yara spoke about the Egyptian people's revolution, and the active role that women were playing in that process. Yara was one of thousands of Egyptian women who had been out in the squares and streets protesting the corrupt Mubarak regime. She knew that overturning the Mubarak regime was not a silver bullet for revolution.  During her presentation on the panel she stated, "…we see the overturn of the Mubarak regime as the spark of revolution, not the completion of it. The Egyptian people's revolution has just started."
Her comment that day – May 24 2012 – seems prescient today as Yara and hundreds of other Egyptians lie behind bars imprisoned by the very people who are in power because of the revolution that she and millions of other Egyptians fought for.
Yara's struggle and the struggle of Egyptian women for a better Egypt began long before the North African springs. In a webinar I convened in December 2012, she shared how Egyptian women had used online technologies to complement their community-based activism. I remember that just before the webinar started Yara had dashed inside from the streets where she had been part of a protest in progress. I thought then, as I do now, "That's a real activist."
Yara works as a women's rights manager for Nazra for Feminist Studies. On June 21 this year, she along with Sanaa Seif, Hanan Mustafa Mohamed, Salwa Mihriz, Samar Ibrahim, Nahid Sherif (known as Nahid Bebo) and Fikreya Mohamed (known as Rania El-Sheikh) were arrested during a peaceful protest against the Protest and Public Assembly Law.
On June 29, Yara and her colleagues appeared before a judge who, without notifying her lawyers, adjourned her case by postponing it to September 13. By then Yara would have been in jail for 83 days. 83 days in prison without trial for the simple act of taking part in a peaceful protest. 83 days in prison for wanting a better Egypt. An Egypt in which Yara, Sanaa, Hanan, Salwa, Samar, Nahid, Fikreya and all those who sacrifice so much for the rest of us can live in peace and with dignity. It's time for the Egyptian authorities to do the right thing and #FreeYara and all the human rights defenders in Egypt.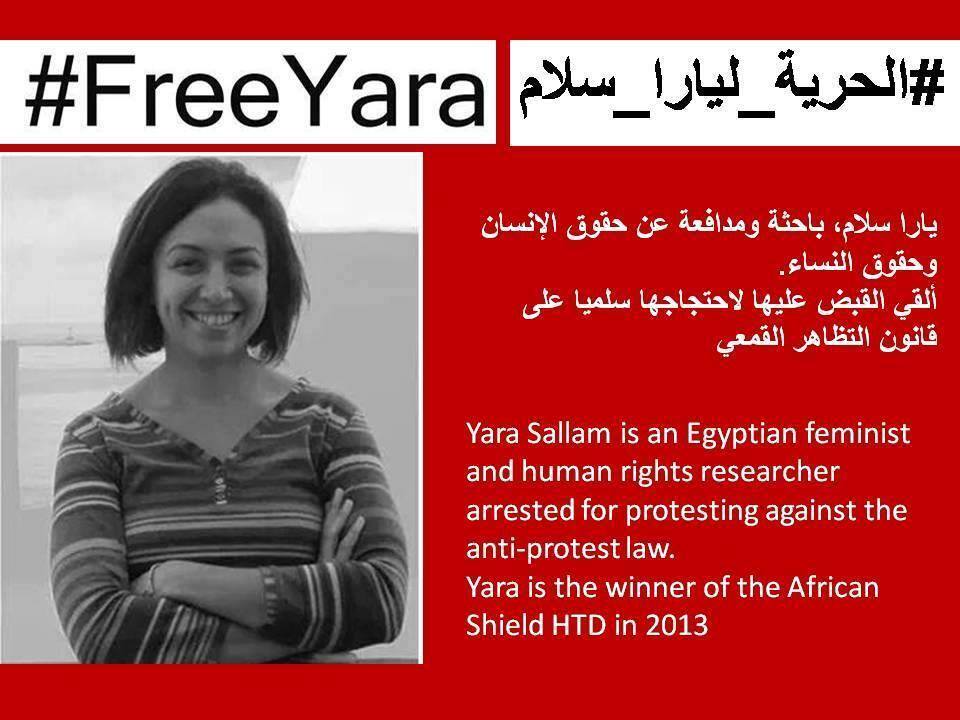 UPDATE – September 15: The trial of Yara Sallam and other defendants has been postponed to October 11. They remain in prison.
Nana Darkoa Sekyiamah is a communications specialist who currently works with the African Women's Development Fund in Ghana. She is a feminist writer and co-founder of the award-winning blog 'Adventures from the Bedrooms of African Women'.