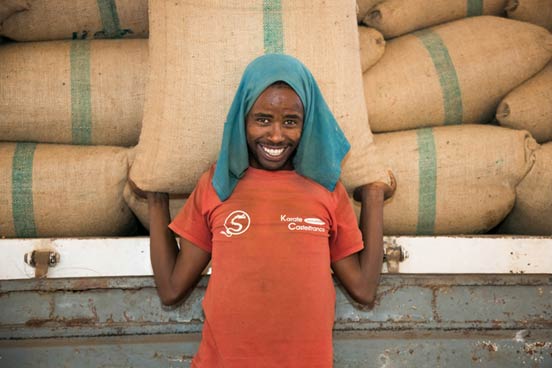 The African Union has declared 2014 the Year of Agriculture and Food Security, recognising that this is the issue of our time.
In January 2014, ONE and its partners launched the "Do Agric, It Pays" campaign at the AU Summit in Addis Ababa. Through this campaign we are asking African leaders to invest in our farmers, our food and our futures.
The 2003 Maputo Declaration was supposed to ensure that Africa could feed itself and that poverty was reduced through investment in agriculture. However, only eight countries have so far met their commitments by spending 10% of their national budgets on agriculture.
In sub-Saharan Africa, agriculture growth is 11 times more powerful in reducing poverty, according to the Food and Agriculture Organisation's director general, José Graziano da Silva. By investing in agriculture, we can lift hundreds of millions of Africans out of poverty, provide jobs and boost the continent's economy by 2024.
We know that this is achievable, as Africa holds 60% of the remaining global arable land and so can potentially not only  feed itself but the rest of the world too. While smallholder farmers produce 80% of the continent's food, it is ironic that this sector of the population also bears the brunt of rural poverty. Our governments can facilitate access to the resources that smallholders need to thrive by implementing smart targeted policies and public spending designed to benefit those who derive their livelihood from agriculture.
Improved irrigation, farming equipment, storage, market access, and women's land rights would mean brighter futures for millions. Equally key to their success is access to credit, quality inputs and extension services and training. Public investment in agriculture – as in Europe, the United States, Brazil and China – not only allows for inclusive development as it promotes the development of the value chains but is also a catalyst for private investment and participation in the agriculture sector.
Farmers' stories
Over the past months, ONE has been working with like-minded partners including farmers organisations and associations across the continent to mobilise and collect signatures from hundreds of thousands of African citizens who are demanding that their leaders step up to the Maputo challenge and "do agric". We are therefore listening to what farmers are saying, and relaying their stories to governments across the continent.
Adam Yakubu, a cocoa farmer from Ghana, says that transportation has to improve. "You will harvest your product and it will stay at the roadside for a week. Sometimes the food perishes before it gets to the market. And when you get to the market, the pricing kills your soul," he says.
"It's not easy. You don't get income daily, sometimes it's a yearly affair. Sometimes you have to go on borrowing so [that even] before production begins you are already in debt."
Maria, a sweet potato farmer from Tanzania, was able to receive training in soil irrigation, crop multiplication, and dividing vines. As a result, she has been able to grow orange sweet potatoes, which are high in vitamin A. "I work happily knowing I will be getting out of poverty by doing what I am doing. I am now a leader in my farming group and teach others what I have learnt," she says.

In Benin, a high-level agriculture policy forum was organised by ONE and the Beninese National Platform of CSO Actors (PASCiB) in order to boost dialogue between government, farmers' representatives, civil society organisations, donors and the private sector. This resulted in the Cotonou Consensus ,a policy strategy plan signed this year and already  implementing action to the identified national priorities according to the agreed action plan and timelines.Benin seeks to become an agriculture champion and the rest of Africa should too.
We've also launched one of Africa's largest musical collaborations to date, Cocoa na Chocolate, featuring 19 of the continent's top recording artists. D'Banj and Femi Kuti from Nigeria, DR Congo's Fally Ipupa, Côte d'Ivoire's Tiken Jah Fakoly, Kenya's Juliani and Victoria Kimani, and South Africa's Judith Sephuma, among others, have come together to help rebrand agriculture and tell African youth that their future lies beneath their feet and in their hands.

Their voices, in support of African agriculture, are sending a powerful message to the young generation: it's time for African leaders to scale up public investments in agriculture and ensure policy interventions are targeted to benefit smallholder farmers.
Be part of ONE's campaign to transform agriculture in Africa by signing the Do Agric petition.

Dr Sipho S. Moyo is Africa director for ONE.