Bikelordz is an upcoming documentary that sheds light on the small but buzzing BMX flat-ground scene in Accra, Ghana. The film dives into the lives of several young Ghanaian riders who've been called by the BMX lifestyle, showcasing their passion for the sport with all types of surreal stunts and tricks. Through their exploits, a familiar story unfolds: they struggle to live life on their own terms and the triumphs along the way are small but sweet.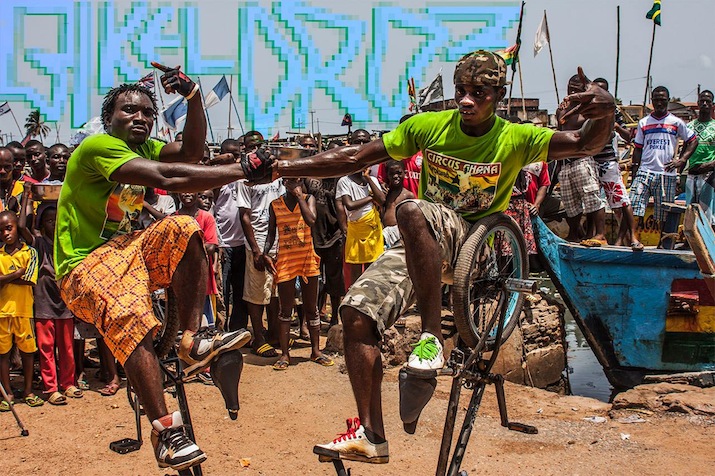 Bikelordz producer/director Mikey Hart gave us a little background on the project:
Bikelordz first entered the world as a short film, edited by director/cinematographer Tobias Arturi from handheld camera footage shot by myself while living in Accra in 2006-7. The short premiered in the Bicycle Film Festival, resonating with audiences from Hong Kong to San Francisco, and inspired us to go back to Ghana with proper equipment, a shoestring budget, and some collaborators: NOLA artist Sam Feather-Garner, BK musician Charlie Ferguson of Zongo Junction, and SF photographer Quincy Cardinale.

With riders showing us around we were able to go places no tourists and many locals would never go – from sound system parties to funeral parties. The film will feature a soundtrack of original music by a variety of American and Ghanaian artists as well as some high-life favorites.
From handstands to back flips, these young innovators are doing things on wheels that we wouldn't even try in a yoga studio. Check out the trailer below to see a preview of the documentary and experience first hand a fresh, groundbreaking lifestyle.
Bikelordz Teaser Trailer from Bikelordz on Vimeo.
Follow Bikelordz on Facebook,  Twitter or Tumblr to keep updated.
A Malik. McPherson for Okayafrica.com. With more than half the population in many African nations under 25, the bright continent is currently undergoing an explosion of vibrant new music, fashion, art and political expression. Okayafrica is dedicated to bringing you the latest from Africa's New Wave.