Lupita Nyong'o, winner of the best supporting actress Oscar on Sunday, stunned Hollywood in her big-screen debut with her searing turn as an abused servant in 12 Years A Slave.
The Kenyan actress and Yale School of Drama graduate, who turned 31 on Saturday, has risen in a year from relative obscurity to Hollywood's A list, winning plaudits for both her efforts on screen and her impeccable fashion sense.
Nyong'o has already picked up the Screen Actors Guild and Critics' Choice awards for best supporting actress for her turn as Patsey, a slave brutalised by her sadistic owner, played by Michael Fassbender.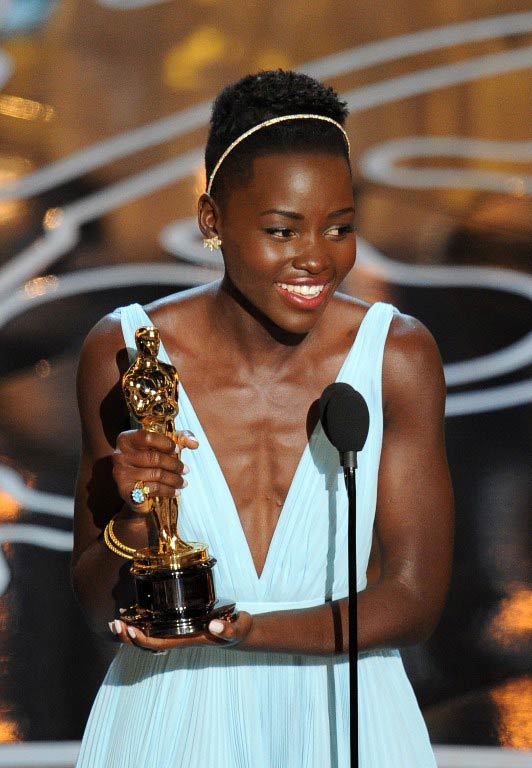 "It doesn't escape me for one moment that so much joy in my life is thanks to so much pain in someone else's," a tearful Nyong'o said Sunday upon accepting her award, after receiving a standing ovation from the audience.
"When I look down at this golden statue, may it remind me and every little child that no matter where you're from, your dreams are valid."
12 Years a Slave, by British director Steve McQueen – won the coveted best picture Oscar, beating eight fellow nominees –  American Hustle, Captain Phillips, Dallas Buyers Club, Gravity, Her, Nebraska, Philomena, and The Wolf of Wall Street.
Unusual career choice
Born in Mexico – the source of her Spanish name, and where her father was teaching political science at university – Nyong'o grew up in Kenya as the second of six children.
Acting is hardly a common career in Kenya for the child of a powerful politician, but her father, one-time health minister Peter Anyang' Nyong'o, said the family had always supported her dreams.
"She started acting very young, right from kindergarten, and even at home with just the family, she would come up with make-believe stories and perform them for us," he told Kenya's East African newspaper.
"She was always imaginative and creative."
The career of Nyong'o – who now lives in the United States after studying at Hampshire College in Massachusetts and later at Yale – has been avidly followed by the media in her home nation, who remember her first major role on a television show.
She was inspired to follow an acting career after working as a production assistant on the 2005 drama "The Constant Gardener." Actor Ralph Fiennes then told her only to get into acting if she couldn't live without it.
"It's not what I wanted to hear, but it's what I needed to hear," she told Arise Entertainment in a recent interview.
First time lucky
She struck gold with her first major role in 12 Years a Slave – a role she says she almost did not get because director Steve McQueen thought she "might be too pretty."
Critics have hailed her turn in Patsey, which included some very difficult scenes, including one in which she is viciously whipped while tied to a pole.
"Acting is an exercise of deep trust in yourself and an exercise in letting go: Do [all of your preparation] and then trust that when the [filming] day comes, and you're in the room with Michael Fassbender, what you need will come through," she told Entertainment Weekly.
Nyong'o – who is now appearing in the thriller Non-Stop, starring Liam Neeson – faced many challenges at the start of her career.
"She told me there were already actors and actresses in the US, and the odds were against her. Her dark skin tone, her short hair, her Kenyan accent, her name," recalls Kenyan actor Antony Mwangi, who worked with her in Nairobi.
Ahead of her triumph on Sunday night, Nyong'o said she hoped to inspire a new generation of black actresses.
"In many ways, me being on the scene is doing for little girls everywhere what Oprah Winfrey and Whoopi Goldberg did for me," she told Entertainment Weekly.
"My world exploded by them being on screen. Hopefully I will inspire and be meaningful to other people. But I can't take on other people's dreams for me. I can only dream for myself."