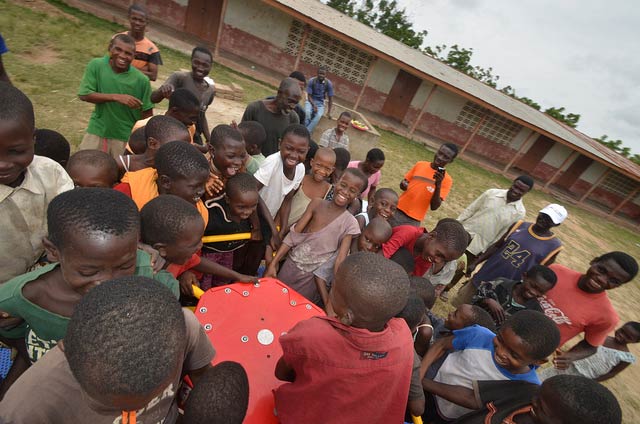 The southeastern island of Pediatorkope is one of rural Ghana's poorest places, with most people living from farming mussels on the Volta River.
But despite being cut off from the national grid, Pediatorkope is relatively well-off compared to the capital Accra and the rest of the country when it comes to power.
How? It uses the natural energy of children to generate enough electricity to power lanterns every time they use specially adapted roundabouts.
When children play on the equipment at the Pediatorkope Basic School, their effort turns a turbine connected to a rechargeable battery that powers LED lanterns.
The children use the lanterns at home, bringing them back to the school when they need recharging, teacher Gerson Kuadegbeku told AFP. "So it is helping the students to learn."
Kuadegbeku said the scheme – the brainchild of US-based charity Empower Playgrounds Incorporated – has been a success, allowing children to study at home, when previously it was impossible for lack of electricity.
"Formerly the performance of the children in the school was very low," he told AFP.
Energy crisis
Ghana is in the throes of a crippling energy crisis, which is slowing down economic activity and raising fears about its effect on the emerging economy's overall development.
Most homes receive electricity for 12 hours but can then be without power for the next 24.
The government, criticised for failing to maintain economic growth after the country began commercial oil production in 2010, recently signed new contracts with external power suppliers.
While Ghanaians wait for those new facilities to begin producing power, demand for generators is increasing.
Some businesses have threatened to leave the country for places with more regular supply. Others said they are being forced to downsize their workforce.
The main opposition New Patriotic Party (NPP) and its supporters last month took to the streets, claiming that President John Dramani Mahama has crippled business by not resolving the problem.
"If you are running a factory and you have to power a generator before you can produce, then there's a real problem," said Isaac Osei, an opposition member of parliament.
Power through play
If the situation is acute in cities such as Accra, then it is even worse in rural areas, with schoolchildren among the hardest hit by the lack of electricity.
George Thompson, the project manager at Empower Playgrounds Inc., said the system was helping to improve the chances of rural children continuing their education beyond junior school.
"So far we're in 42 schools and what we do is that any school that has… junior high, we assess them by their final year examinations," he said.
"It has really brought improvement in the lives of these children's education.
"All that we expect from the community is to ensure that when the kids bring these lanterns home, they (use them) to do their home studies."
Small price to pay
A separate scheme using solar power is also running on the island, where residents pay 500 cedis (about $150) to buy a battery, which is recharged by the sun via roof panels at a "charging station".
Local man Humphrey Teye Ayeh said he decided to enrol because of the increasing cost of kerosene previously used to provide light.
The sustainable energy system – which can be used to power electrical devices such as mobile phones – has got people more connected, he said.
For Thompson, the decision to come to Pediatorkope made sense because it would take time for the island to get onto the national grid.
"We thought it wise to come to this island and ensure that the people in this community also have a little life here," he said.
"Our objective is not to make any money or profit from this but we need to get the system, the centre sustainable or the project sustainable, so we ask them to pay 500 Ghana cedis to be hooked up to the system and then each time they bring the battery for recharge, they pay five cedis for that."