In the face of inadequate provision of power by the Sierra Leonean government, companies are stepping in to provide solar electricity systems that ordinary Sierra Leoneans can afford.
Since the 1980s Sierra Leone has been unable to reliably provide electricity to its citizens. Its capital Freetown, once dubbed "the world's darkest city", experiences daily power cuts. Outside the major cities the situation is far worse, with just one in 10 Sierra Leoneans having access to the national grid. That figure drops to 3%  in rural areas, according to government and World Bank figures.
For now in much of the country it is only the privileged few who can afford to run costly and breakdown-prone diesel generators. Instead, for light, most people rely on kerosene lamps, candles or cheaply made battery powered plastic lights shipped in from China.
But in recent years the country has embarked on something of a solar revolution – at least for lighting and mobile phone charging. Main roads in the larger towns are now lit by solar streetlights. A Laos-based firm, Sunlabob Renewable Energy, is building 13 off-grid solar plants to supply lighting to universities and other community facilities.
Up to 60 health centres now get their lighting and power some electrical equipment thanks to "solar suitcases" installed by We Care Solar, who aim to reduce maternal mortality – Sierra Leone has the world's highest maternal mortality ratio – by lighting hospitals and clinics. Meanwhile, in February Mulk Energy won a contract to construct a 6MW solar park in Freetown, which is set to be West Africa's largest. It aims to provide electricity to hospitals, schools, and to 3 000 households by the end of 2014.
Solar energy still supplies a small fraction of Sierra Leone's energy needs but the Advanced Science and Innovation Company, involved in setting up the solar park, hopes that in two years time one quarter of the country's electricity can be supplied through renewable sources.
Indigo pay-as-you-go system
But one particular project has found a way to make solar energy affordable to individual households using a pay-as-you go system. Azuri Technologies (who have partnered with rap musician Akon's 'Akon lighting Africa' project) describes the product, Indigo, as "solar-as-a-service" and says it can cut energy bills by as much as 50%. To avoid the prohibitively high costs of buying the system outright, Indigo customers use scratchcards to buy it over time. They pay an initial US$12 to have the unit installed, and then 10 000 leones ($2.30) weekly for 18 months.
All those spoken to by IRIN said the Indigo lights were saving them a significant amount of money.
"Yes, we have been saving a lot," said Aminatta, whose shop selling fabrics, a few rough cut diamonds and cigarettes remains open long after dark.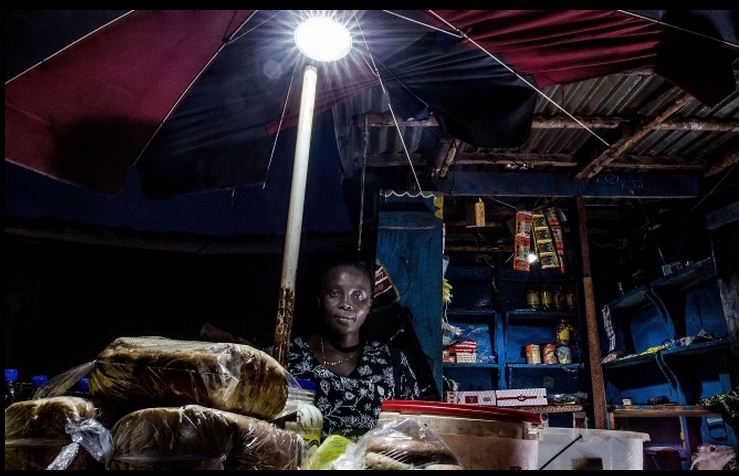 She was the first of 300 people in the fishing village of Tombo in western Sierra Leone to invest in the device. In five months her weekly payments will cease and her shop will be lit for free.
Mr Benga, also from Tombo, bought two. "Now my children can study here at night," he told IRIN, pointing to a covered courtyard with a large Indigo LED light dangling against one wall. "I even gave one to my daughter to use in the dormitory at school."