More than 15 000 women in Addis Ababa make their living from illegally collecting fuelwood from the protected eucalyptus grove atop Entoto Mountain. Every day they travel around 30km to collect and carry branches, twigs and leaves. They sell the fuelwood door-to-door, on street corners or in the many open markets in the city.
Amarech Dorota (52) has been collecting fuelwood for the past twenty years. After her husband died, she had to single-handedly provide for her kids, two of whom are now in high school. "It was challenging to feed the children, so I had to go to the forest every day except on Sundays," she says.
Dorota is little over five feet tall, sturdily built, with deep wrinkles on her face and hands that testify to a hard-working life. She has no tools so she uses her hands to pull the branches. Once she's collected enough, she carries the weighty load on her back, strapped to her body by a harness made of cloth which runs over her shoulders and across her chest, and uses a stick for support.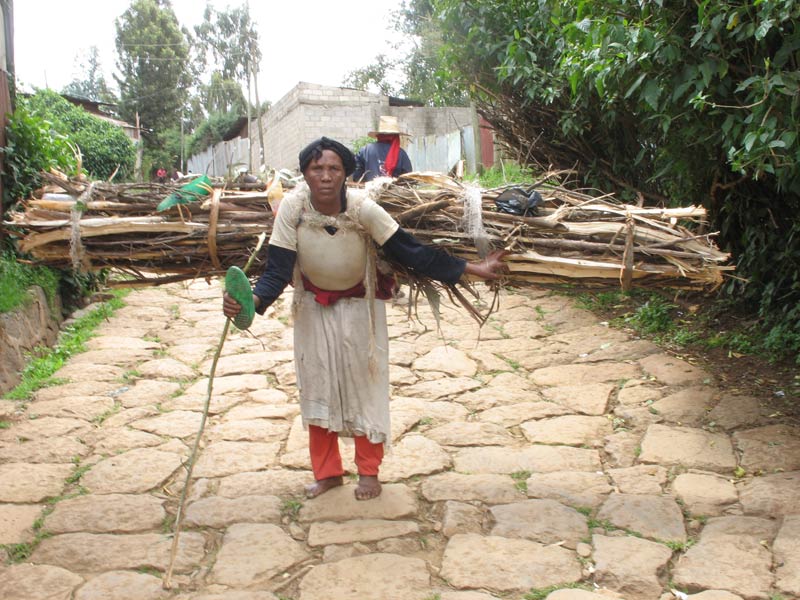 Dorota is part of the Dorze ethnic group in Ethiopia who are known for their weaving of intricate, colourful borders on Ethiopian traditional dresses. She has lived in Dorze Sefer, which is above the Addis Ababa University and home to many other low-income families, for most of her life. Their houses are made of mud, with wooden doors that open directly onto the street.
Ethiopia now has one of the fastest growing economies in Africa. Despite recent gains in education and health, it still ranks 173 out of 187 countries listed on the Human Development Index. The cost of living and inflation in Ethiopia remains cripplingly high. This makes it harder for Dorota and her family to survive.
"I have now worked for around 20 years. It is not an easy job. It does not pay a lot either. But I am grateful that it helped me support my family without the need of external help. It is very small money. But we don't complain. We survive," she says.
Dorota earns about 60 birr ($3) a day selling fuelwood in the local market. She uses this money for food and her children's school fees.
The eucalyptus plantations in the Entoto area are not privately owned and the women can't buy the fuelwood legally. This means they often have to endure harassment from authorities. They are  vulnerable to beatings and rape at the hands of roving guards, and they often have to pay bribes to them so they do not lose their bundles.
"We encounter a number of problems," says  Emebet Abera, a younger woman who also travels to Entoto to collect fuelwood. "Sometimes we are chased by the forest guards. Sometimes we fall down and break our legs.When the sun is hot, we get really tired and thirsty. Returning home takes longer because the wood is very heavy and we have to stop often to rest.  I wish I could have small amount of land around my house so I could sell vegetables and not have to walk all the way to the mountains for wood. But that is not easy," she says.
Beletech Zewde from the area's women affairs bureau says that the women are examples of hard work and diligence. "They have shown great courage and strength in dealing with their difficult lives, and their acceptance of adversity is remarkable," she says. Her bureau, she says, is supporting the Former Women Fuel Wood Carriers Association (WFC) that has existed in the area for nearly two decades.  WFC is trying to provide a growing number of women – currently 790 – with alternative sources of income by teaching them skills such as weaving, embroidery, knitting and various handiwork.
The organisation has similar projects in the Yeka, Keranyo and Kolfe areas and is set to expand its reach, targeting an estimated 30 000 women across Addis Ababa who collect fuelwood. They'll be offering a broader range of skills to them, including forestry management and the marketing of crafts and portable stoves.
Back at Dorota's house, her daughter is preparing genfo (maize flour) that her mother bought with the money she earned that day from selling fuelwood. It's nothing fancy, but Dorota says she is proud of being able to take care of her family without having to ask for help.
Arefaynie Fantahun is a blogger based in Addis Ababa. Follow his posts on fashion, art, travel and photography here.