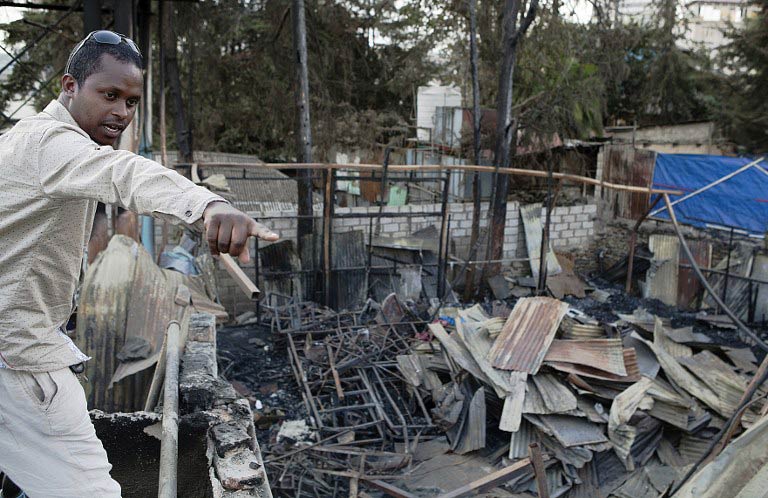 Heaps of twisted iron, piles of ash and a charred microphone are all that remains of Jazzamba, the iconic Addis Ababa nightclub that revived Ethiopian jazz after it all but disappeared under communist rule.
The fire that destroyed the venue in January has left Ethiopia's vibrant and growing jazz scene in disarray.
"I still do not believe it," said musician Misale Legesse, a regular performer at the wood-pannelled club inside the Taitu Hotel.
The century-old hotel, one of the most historic buildings in the city, gained fame as the setting for Evelyn Waugh's 1938 satirical novel about foreign correspondents Scoop .
But the Jazzamba bar inside brought prestige of another sort as it fostered a resurgence of the Horn of Africa's unique jazz style – a genre created in the 1960s by music legend Mulatu Astatke, who fused jazz with traditional Ethiopian music.
"For me, it was not just a club, it was my school, where I learnt everything and played with the greatest," Misale said.
Three nights a week, the young musician would play with the big names of Ethio-jazz, such as Alemayehu Eshete or Bahta Gebrehiwot.
Resurgence after military rule
Jazzamba only opened its doors four years ago but swiftly became the capital's landmark jazz club, run and managed entirely by the musicians themselves.
"Musicians from all walks of life came to play with each other, we had up to 300 or 400 people huddled in the room, and that really helped create a movement," said Henok Temesgen, a bassist and one of the founders of the club.
Then the accident happened, a blaze officially ruled accidental due to "electrical overload" and confined mainly to the jazz club.
While the fire came as a shock, Ethiopia's jazz musicians have weathered adversity in the past. They survived decades of suppression under military rule and show no sign of slowing down now.
Jazzamba also played a key role in the international rediscovery of the Ethio-jazz genre, forgotten by many during the hardline communist regime of Mengistu Haile Mariam, whose 17-year rule of terror ended when he was ousted in 1991.
During Mengistu's rule – including the "Red Terror" purges in which tens of thousands were executed – Ethiopia's music scene all but died.
The clubs closed and many musicians fled into exile.
"Apart from songs in praise of the regime and some nightclubs, there was nothing going on," said Henok.
Iconic club, full of history
It was not until the late 1990s that the Ethiopian jazz scene started getting back on its feet.
"People no longer had the habit of listening to instrumental music, it was necessary to have a live singer," Henok said. "Today, thanks to radio stations and clubs such as Jazzamba, the public is much more open to improvisation and experimental music."
Jazzamba was the first club in Addis Ababa to offer concerts every evening and to promote jazz as more than background music.
Since then, interest in Ethio-jazz – with its distinctly un-Western scale – has grown.
"The Ethiopian music scene is very dynamic," said Girum Mezmur co-founder of Jazzamba. "The local public is interested more in Ethio-jazz and traditional music, and more and more people came to the concerts."
Since the fire, musicians have taken refuge at Mama's Kitchen, a new restaurant in town that offers several concerts a week and aims to become a centre of the Addis music scene.
The Coffee House, one of Addis' earliest jazz clubs, has also just reopened after being closed for years.
Convinced that Ethio-jazz has a bright future, Girum and Henok founded a music school near the capital three years ago, so far teaching some 70 students.
Income from Jazzamba paid for the school, but with the venue gone Ethiopian wine producer Awash has stepped in to fund the school for a year.
"We lost an iconic club in a place full of history, it's true, but the music scene in Addis is not limited to Jazzamba," Girum said.
"I am very optimistic about the development of Ethiopian music."