Namibian artist Elemotho G.R Mosimane is the first musician from his home country to win the 2012 RFI-France 24 Discoveries Awards, among a list of more than 500 African, Indian and Pacific artists.
As part of the singer and songwriter's prize, he received a promotional tour around Africa to 25 countries  and an exclusive concert in Paris. Later this year he'll be touring India, Malaysia and Nepal in a bid to raise his music profile.
The artist, who grew up in the Kalahari, plays acoustic guitar and blends the sounds and rhythms of his home country with folk influences. He sings in his mother tongue Setswana, English and other Namibian languages.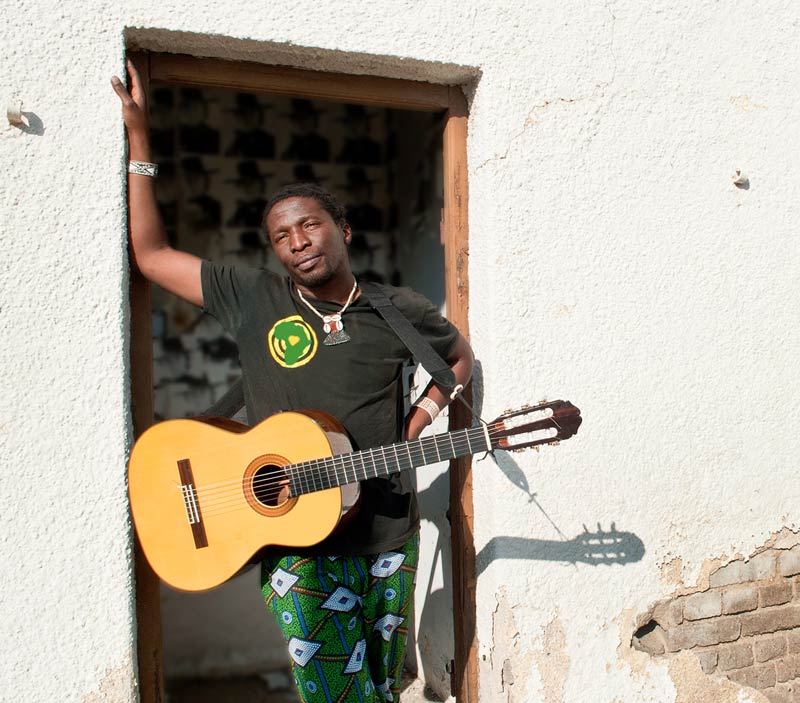 The RFI-France 24 Discoveries Awards is a contest open to singers in Africa and the Indian Ocean islands since 1981. The awards have helped launch the international careers of many artists, among them Ivorian reggae singer Tiken Jah Fakoly, Malian music duo Amadou & Mariam and artist Rokia Traoré, also from Mali.
Since scooping the award in October last year, Elemotho signed a worldwide distribution deal with UK-based record label ARC Music and has just released his third album, Ke Nako (It's time).
He doesn't classify his music under a specific style. "I see myself as a performing artist and musical activist; I like to throw reality around, thus exploring the depth of the human spirit."
From rural boy to modern lyricist, Elemotho stands out from the usual commercial and easily consumable sounds by using experimental ideas and delivering his own vision of music.
Rhodé Marshall caught up with him for an interview ahead of his South African tour this week.
How did your love affair with music begin?
I have always had music and storytelling around me growing up as a farm boy around the fire with my grandmother. It was not until University while studying African philosophy and psychology that the music bug bit me.
You compose, record and play your own music. That's quite a feat.
For me, music is a spiritual thing. Sometimes the songs come to you, sometimes you have to look for them. Recording music is like a pregnancy. I don't do too many records, because it takes time to live the stories, and even more time to tell them. The acoustic guitar just does it for me. I cannot truly explain the many hats I wear, I guess in the end every artist is after something.
Describe your music.
I do not like to describe the music I do, but if I have to I would say it's Afro-fusion. The new sound of the Kalahari, melodies of meditation with messages for our modern times.
What are your thoughts on the Namibian music industry?
Namibia has a small population and an emerging arts scene. There is much potential for us. Many people do not know Namibia, let alone the music. But I believe it's bound to change.
What genre of music is currently trending in Namibia?
There is an emerging Namibian folk trend with a number of female singers/guitarists, something to look forward to.
Which other Namibian artists should we be looking out for?
There are a number of them – Ras Sheehama, Erna Chimu, Ngatu and Big Ben to mention a few. I recommend a CD called A handful of Namibians that's a compilation of different Namibian musicians and genres.
What is different about your latest album compared to your previous two?
With Ke Nako it's the first time I worked with a producer, Christian Polloni. He brought out the best in me. It's a very timely album, and I feel that being a father and a family man does a lot for me in terms of perspective and approach.
You've been touring Africa for the past three months. What are the most interesting things you've encountered in the countries you've visited? 
First and foremost I would like to say that Africa is a very diverse continent. Each country and region is producing an amazing patchwork of music, foods, history and more. Dakar, Senegal is quite something – an amazing city that rarely sleeps, a constant flow of culture, local and international. I found St. Louis to be magical –   the river and sea, the new and old town, Wolof, Arab and French-fused fashions. Cotonou, the capital of Benin, is a port side city with thousands of motorbike taxis and amazing people. It's the land of Angelique Kidjo and the land of voodoo!
What's next for you?
Only the sky is the limit.
How can fans interact with you?
I'm on Facebook  and my website is www.elemotho.com
South Africans can see Elemotho live this week:
Johannesburg
June 6 2013, 5:30pm
The Grove esplanade
Braamfontein
Pretoria
June 9 2013, 2pm
Alliance Francaise
Rhodé Marshall is the Mail & Guardian Online's project manager and unofficial entertainment reporter. She started as a radio reporter and producer in Cape Town, before jumping into online news. With one hand glued to her phone and the other to a can of Coca-Cola, she is a pop culture junkie. Connect with her on Twitter.