Boys of Soweto is the vividly shot tale of a dapperly-dressed circle of gentlemen, a group of suave-conscious South Africans known as Boys of Soweto. The short film, shot in just a day's work, runs like a high-end fashion spread set to jazzy tempo, a love letter to both style and township beauty, a union perhaps most colorfully represented by Boys of Soweto. Alyssa Klein interviewed director Meja Shoba for Okay Africa.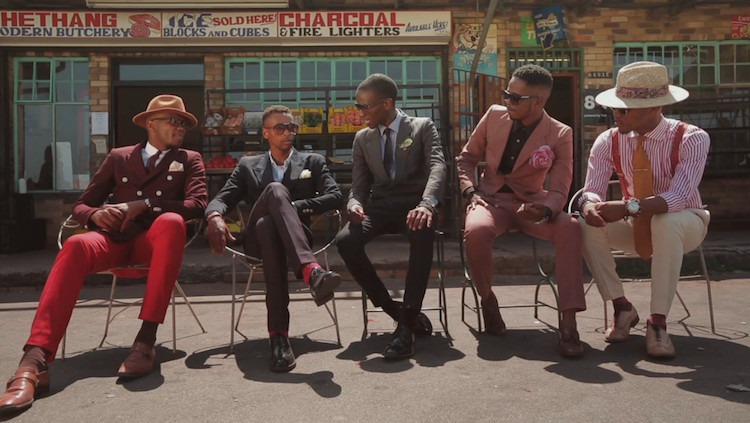 What's the concept behind the film? What's the story?
The concept is about six well-dressed men who make a point to look good in order to vie for the attention of a beautiful young lady who routinely passes their way. One of the gentlemen fortuitously gets close to her, and they all quickly learn that her affection is won by a simple and sweet gesture.
Is it your first short film?
I'm in UCLA's graduate film program studying directing, so I have shot a few short narrative films already, as well as a short documentary on South African kwaito-electro duo Dirty Paraffin.
What is the most important aspect of the film? The fashion, the guys or the story?
After meeting and plotting with the guys of Boys of Soweto, we all decided to organically integrate fashion and township elegance as part of the narrative, not as independent entities. I wanted to let the sensibility of story be the core of the film, and let all other elements such as the guys' chemistry and rapport with each other, the fashionable suits, the beautiful young lady, and the Soweto location all enhance the look and feel of the film.
Who are the Boys of Soweto?
Boys of Soweto is a South African fashion and style group consisting of Bobo Ndima, Mbali Bangwayo, Pirates football player Manti Molemo Moholo, Kronic Bonisiswe Nhleko, and Morgan Kgobane. The group has an urban sophistication to their gentleman style. They are lovers of all things fashion and are quite known in the Johannesburg scene.
What do you guys have upcoming?
At the moment I'm scripting an African inspired Charlie's Angels-esque heist film that I wish to shoot in Johannesburg. And as for Boys of Soweto, they recently were commissioned by Palladium boots for a photo shoot and continue to keep pushing their group to the public. I have a strong feeling I will be working with the guys very soon! It was fun collaborating with them.

Alyssa Klein for Okay Africa
With more than half the population in many African nations under 25, the bright continent is currently undergoing an explosion of vibrant new music, fashion, art and political expression. Okayafrica is dedicated to bringing you the latest from Africa's New Wave.