They call them the sub-seventies: those few people on earth that can run a half marathon (21 kms) in less than 70 minutes. Japhet Kiplagat is a sub-seventy and a friend of mine.
His last half-marathon time on the international circuit was 62 minutes 11 seconds, his personal best, and it took him to the winner's podium in last year's Spark Marathon in the Netherlands.
In the recent Nairobi Marathon, Japhet took eleventh place, running among some of the best in the world. In the 1500m trials for the London Olympics, Japhet came fourth, but failed to achieve a qualifying time. "It's okay," he says. "I'm a marathon runner!"
Japhet is 29 years old, so the time to make his name on the international scene is running out. He laments the fact that Kenya's government supports only the very best and he knows he could be among them if he didn't have to hustle a living every day from friends and willing supporters. It detracts from his ability to take running as a serious career.
Japhet lives in a modest house, on a very modest budget, at the top of the Ngong Hills outside Nairobi. Here, the altitude ensures that the air is thin and lungs have to strain beyond what they would at sea level in London, Boston and New York marathons. Japhet is among the "elites" for the Vancouver Marathon in May 2013 and has set his sights on gold. To achieve it, he aims to become a sub-sixty.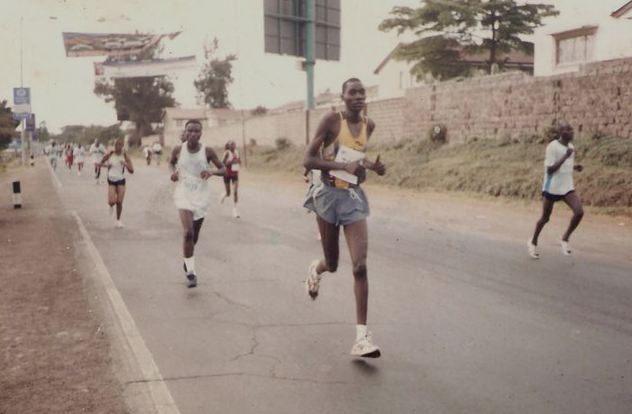 Japhet's next-door neighbour is a marathon runner and so is Maureen, who lives in the house behind his. Maureen is running in Paris in the spring. Their training regimen has them up at 6am and back in the house by 8am, following a rigorous schedule of stretching, running, stretching and running. If they can make the time, they do it again in the evening.
They are all from Kenya's Kalenjin community, reputed to have the 'running gene' that is shared by the best of Kenya's long distance runners. The Kalenjin are notable for their very dark complexions, slim build and long limbs. Japhet is 6 feet 2 inches tall and his legs seem to make up two-thirds of his body, ending in an ever-present pair of Nike trainers.
Ngong is their training ground, but 'home' to Japhet is a small village at the top of Morop Hill, one of the highest points at the edge of the Rift Valley. I was invited to join Japhet and a few of his friends for Christmas. On our way up to the heights, Japhet excused himself from our entourage at Nakuru, still in the southern part of the great Rift. Japhet stayed overnight in Nakuru while we soldiered on up the heights.
He had arranged an appointment with Curtis Pittman, an American marathon trainer who has been funded to train Kenyan runners. They met, and Japhet came beaming up the hills for Christmas, bearing news that Curtis agreed to take him on for 2013.
That Japhet is aiming for greatness is obvious, and, despite the distance, there's a very good chance he'll get there. Running is Japhet's life, and Japhet can run.
Brian Rath was born and raised in Cape Town. He now lives and writes in Kenya, and has a novel due to be published shortly.