A pair of second-hand, suede, black, six-inch boots arranged on the pavement catches her eye as she walks to the nearby bus stop carrying her mid-month household shopping from the Tusky's supermarket a few meters away. In the shopping bag she has a packet of baking flour, a kilogram of sugar, four packets of milk and four toilet rolls. She pauses to admire the shoes and the man, sensing an opportunity to make a sale, leaps up to serve her.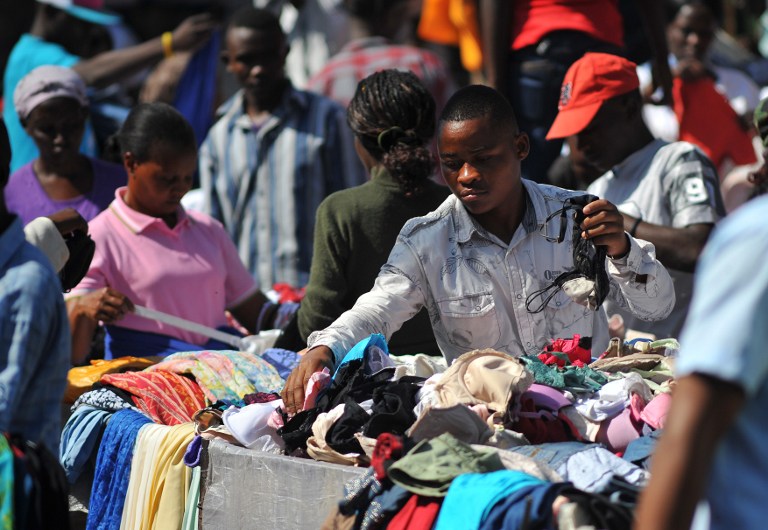 "Ni size gani? [What size is it?]" she asks.
"Forty shillings," the street hawker responds.
"Kujaribu ni bure [Trying it on is free]," he says.
Before she can resist the hawker has reached out to help. He puts her shopping bags in a safe place and helps her put on the boots she has been admiring. It is a perfect fit.
"Ni how much?" she asks as she walks a few paces to get a feel for the shoes.
"It's 800 shillings ($9)."
"What? That's so much," she retorts.
"Bei ni ya kuongea [The price is negotiable]," the hawker replies.
The haggling goes on for a while and she finally settles for a price that she can manage. This woman is a reflection of others in Nairobi who rely on second-hand clothing and shoes to ensure they look good despite the harsh economic times.
Escalating prices
The escalating price of commodities is straining the life of the average Kenyan, especially those living in the city, who are already struggling to survive.
Kenya's GDP growth rate stood at 5.2% during the first quarter of 2013 and the unemployment rate in the country stands at an estimated 40%. The cost of living has also greatly increased. A litre of milk today costs about 90 shillings ($1). Ten years ago the same litre of milk cost about 50 shillings. Mortgages, car loans and food budgets are increasing and many are left with the bare minimum from their monthly salary to cater for expenses, like buying clothes and shoes, that are expected to go with one's social image.
But at the thriving second-hand businesses, located in open-air markets and small stalls in town, one can haggle over the price of anything, from shoes and clothes of all types to undergarments and bags. The hawkers that sell these items stay open up much later than regular clothing shops. The more adventurous hawkers are known to come to the downtown streets of Nairobi with their wares at night, when the regular businesses have closed and the nightlife is just beginning.
This presents an opportunity for those who work late and do not have an opportunity to shop during the day. It also targets people who did not think they had a budget for clothes or those who suddenly find themselves desperately in need of an item of clothing.
I myself have benefitted from the convenience of a roadside hawker. On one occasion my supervisor sent me to a meeting across town. City traffic in Nairobi can turn a 10-minute walk into a half-hour commute by car, so taking a taxi would not have made sense. Instead I opted to walk there in my impractical high heels. That evening, as I was making the painful 30-minute walk to the bus stop, leaning heavily against a colleague, I came across a hawker selling shoes on the pavement.
There was only one pair of sandals among the many closed shoes and high heels on offer. Without waiting for the hawker to offer to help, I picked up my heels, asked him to pack them into a paper bag for me and slipped my feet into the sandals. I did not waste time haggling, as I desperately needed the sandals. But they were so cheap that I didn't feel cheated – they cost just 250 shillings ($3).
A boon for women
Second-hand clothes and shoes have been a boon to Kenyan women looking for clothing at an affordable price. Retail shops charge high prices. A blouse at Mr Price, considered to be an upmarket shop in Kenya, may cost up to 2 000 shillings ($24). The same blouse could be had second-hand for 800 shillings ($9). If one is really good at haggling, the prices could be as low as 600 shillings ($7).
Some savvy shoppers have even found ways to capitalise on the demand for second-hand clothing. Twenty-something Akisa Mathenge has made a business out of second-hand clothes shopping. Her unique selection of the clothes from second-hand stalls has many people asking if she could be their personal stylist and buy them second-hand clothes for wear at the office, church or home.
"I really enjoy dressing people up. When I find a client who wants me to buy them second-hand clothes, my first question is always to find out what they like wearing. I also suggest changes to their wardrobe to style them up. When I see a customer happy then I feel fulfilled," Mathenge adds.
Her service includes bringing the range of clothing that she's selected, carried in large bags, to her clients homes. But this has become more difficult as her business has expanded. With business picking up, she's now considering getting her own stall so she can stock more clothes. Even though her paycheck does not always come on the expected day, she is able to meet all her expenses through this side business.
As luxury goods like clothes and shoes becoming more expensive for ordinary Kenyans, the second-hand clothing business is set to thrive for a long time to come.
Mary Itumbi is a journalist based in Nairobi.