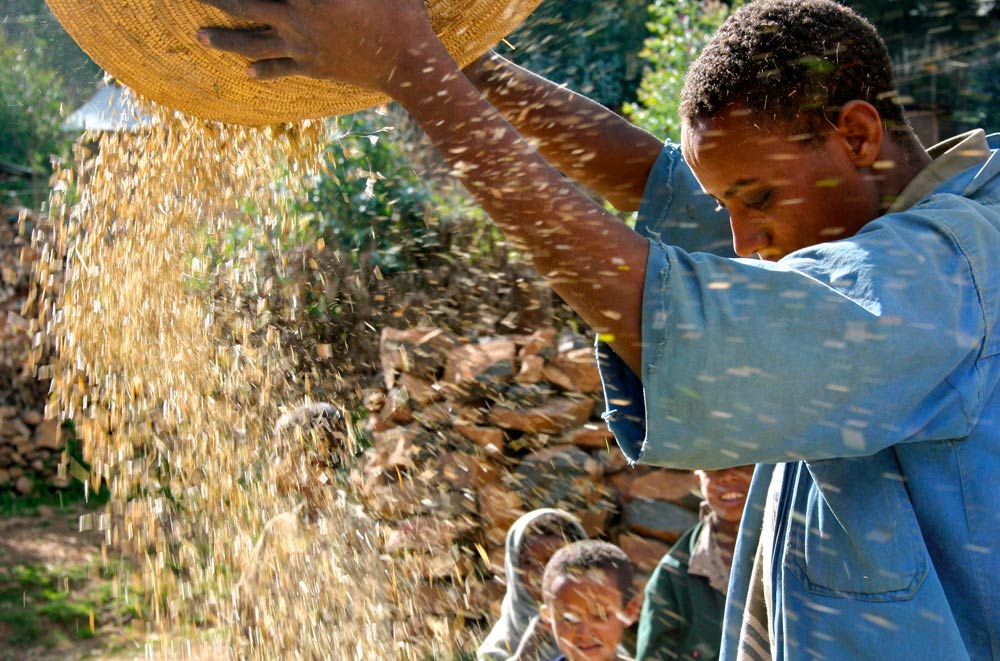 One reason farmers in Africa mostly produce so much less than those in other parts of the world is that they have limited access to the technical knowledge and practical tips that can significantly increase yields. But as the continent becomes increasingly wired, this information deficit is narrowing.
While there are other factors, such as poor infrastructure and low access to credit and markets, that have helped keep average yields in Africa largely unchanged since the 1960s, detailed and speedily-delivered information is now increasingly recognised as an essential part of bringing agricultural production levels closer to their full potential.
In Ethiopia, which already has one of the most extensive systems in the world for educating the 85 percent of the population who work the land for a living, this recognition has driven the development of a multilingual mobile phone-based resource centre.
The hotline, operated by the Ministry of Agriculture, the Ethiopian Institute of Agricultural Research, and Ethio Telecom, and created by the Ethiopian Agricultural Transformation Agency (ATA), has proved a huge hit. Since its July launch and still in its pilot phase, more than three million farmers in the regions of Amhara, Oromia, Tigray and the Southern Nations, Nationalities, and Peoples' Region (SNNPR) have punched 8028 on their mobiles to access the system, which uses both interactive voice response (IVR) and SMS technology.
"On average we get approximately 226 new calls and 1 375 return calls per hour into the system," Elias Nure, the information communication technology project leader at ATA, told IRIN. When the number of lines doubles from the current 90, he said, "these numbers should significantly increase."
More than 70 percent of users are smallholder farmers, he said.
Timely, accurate
Ethiopia has the largest agricultural extension system in sub-Saharan Africa, the third largest in the world after China and India, according to the UN Development Programme.
This system has led to the establishment of about 10,000 Farmer Training Centres, and trained at least 63,000 field extension workers, also known as development agents. It facilitates information exchange between researchers, extension workers and farmers.
However, the reliance on development agents means that sometimes agronomic information reaches farmers too late or is distorted.
Push and pull factors
The agriculture hotline was proving popular due to its "pull" and "push" factors, according to ATA's chief executive officer, Khalid Bomba.
Farmers could pull out practical advice, while customised content could be pushed out, such as during pest and disease outbreaks, to different callers based on the crop, or geographic or demographic data captured when farmers first registered with the system.
Recently, it warned registered farmers about the threat posed by wheat stem rust.
"These alerts and notifications were not available to smallholder farmers in the past and could greatly benefit users of the system by getting access to warnings in real-time," said ATA's Elias.
According to Tefera Derbew, Ethiopia's minister of agriculture, ATA should boost its content to meet more needs.
"The IVR system offers users information relevant to the key cereals and high value crops, but I envisage that in the near future there will be the opportunity to upscale the service to include content relevant to all of the major agricultural commodities in the country, including livestock," said Tefera.
The hotline currently focuses on cereal crops such as barley, maize, teff, sorghum and wheat, but plans are under way to provide agricultural advice on other crops, such as sesame, chickpea, haricot beans and cotton, while incorporating farmers' feedback on needs.
For Ayele Worku, a teff farmer in Gurage zone of Ethiopia's SNNPR State, the system's benefits outweigh the frustrations of a patchy mobile network.
"The way of farming, especially for row-planting for teff is kind of new for me although I heard rumours about its advantage a while ago," he told IRIN.
This break with tradition in the way teff is sown has seen yields increase by up to 75 percent.
An agricultural extension and rural development expert working at Addis Ababa University, Seyoum Ayalew, said: "The new service could build a synergy with the previous approaches of the public extension system, which is largely based on trickle down approach of communication."
Seyoum noted that within the traditional extension system, "where information passes through different channels before reaching the farmers, [it] is subjected to distortion through filtering and translation errors."