"I just hope we won't go back to 2008. That is my only wish."
With just two days to go before Zimbabweans go to the polls to cast their votes, this is becoming a refrain one hears more and more of when the topic of elections is raised in offices, homes, kombis and at social gatherings alike.
View the Mail & Guardian's special report on the Zimbabwe election here.
If you know anything about Zimbabwe, you will appreciate the dire situation that was 2008. In short, our nation was imploding with political unrest and violence, an ailing economy, a cholera outbreak, runaway inflation and widespread food shortages chief among our challenges.
The spectre of that year – its challenges remedied, albeit incompletely – returns to many Zimbabweans as a point of memory, sometimes even a point of jest.
But rarely do we consider it a reality that could be relived.
A few weeks ago, resilience that had not been asked of me for quite some time was tested as I went through the voter registration process. Having arrived at about 2pm at the designated site for my constituency and ward, I figured the process wouldn't last more than a couple of hours at best.
How wrong I was!
As the hours chimed forward and wintry shadows grew longer, I felt as though I had been transported back to the time of snaking queues for basic commodities; the spectre of 2008.
My five hours waiting patiently in line however did not yield a loaf of bread, or a bag of sugar.  When 7pm hit, the head of the Zimbabwe Electoral Commission (ZEC) voter registration unit callously told us that they were closing up and that we ought to return the next day if we wanted to register.
A disbelieving and angry hush came over me and the rest of the people in line, now steeped in early evening darkness.
"If you don't want us to vote, then we won't," shouted one of the frustrated people in line. "That's what you wanted all along, after all!"
A few other people murmured their disapproval and with that, we forlornly dispersed, reminded that just as with basic commodities, basic rights can be scarce to come by.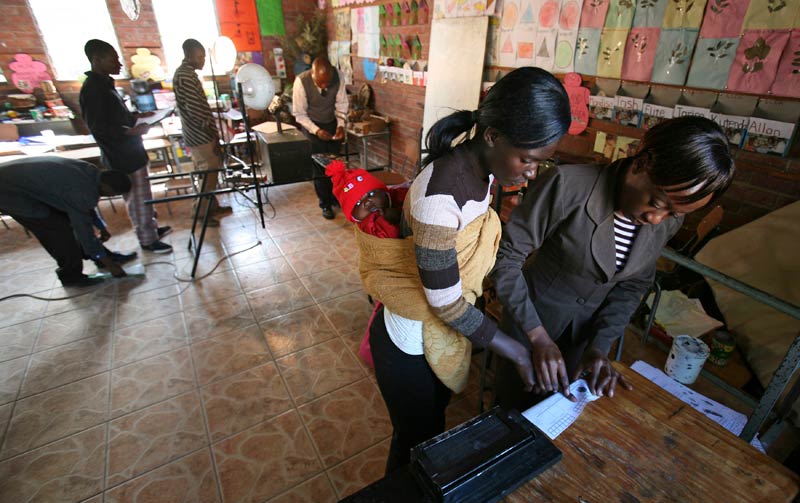 While we stood in that line, I had been reminded of the Zimbabwean brand of perseverance, mixed with a healthy dose of innovativeness that we call kukiya kiya. This strategy – of finding creative ways to survive the direst circumstances – is one that we have all had to employ in our recent past, and one which has come to define us in many ways.
There was the stocky woman with a shrill voice who everyone had taken to calling 'Moms'. She kept engaging one of the police officers in charge of the line in idle conversation, which disconcerted him and caused us to peal with laughter. A Rastafarian in the bright colours of the movement, and whom we nicknamed 'Dread', offered general political commentary which aroused much emotion and discussion. And the softly spoken women with the six-month-old baby on her back, who had been denied the right to go to the front of the queue, became our symbol of silent strength.
It was cruel to be turned away from that place, but it was also a reminder of the fact that come what may, Zimbabweans hold strong.
I returned to the line the following day to find that most of the people who had promised to return were nowhere in sight. Justifying taking one day off from work for registration would probably have been hard enough; a second day would have seemed indulgent.
I watched as teenage first time voters took to the line with zeal and enthusiasm, sadly whittling away in their numbers as the morning sun reached its peak in the sky. In my mind, I took stock of how the past five years of relative economic stability, of no queues and rare long waits for basics, may have been the reason these young people could not withstand the wait; because they did not have a reference point from which to remind their bodies how to stand in the same spot for hours.
After six and a half hours, I finally managed to register my name to vote in my constituency. A white handwritten slip was given to me detailing all the facts that would be important for me on election day.
Relief overtook me. And ironically, a sense of achievement also.
How could the accomplishment of a mere single task – over two days and almost 12 hours – make me feel so accomplished, I wondered.
Was it normal to celebrate this?
Given the circumstances, yes. But I do not want to make it the norm to find comfort in hollow victories like buying a packet of milk or a cake of soap or getting certification to vote.
I do not want to return to 2008 with all its dehumanising elements.
My resilience – Zimbabweans' resilience – is much better used for something more progressive than this.
We cannot  go back to 2008.
Fungai Machirori is a blogger, editor, poet and researcher. She runs Zimbabwe's first web-based platform for women, Her Zimbabwe, and is an advocate for using social media for consciousness-building among Zimbabweans. Connect with her on Twitter.