Department of Coffee sits in the middle of the chaos of Khayelitsha Mall and the train station. This up-and-coming coffee spot prides itself on being the only one that operates in Khayelitsha, one of the largest townships in South Africa. Three years ago, a trio of young entrepreneurs – Wongani Baleni, Vusumzi Mamile and Vuyile Msaku – who hail from the community approached the Ministry of Service Delivery, an investment vehicle that supports social entrepreneurs, to make their dreams of opening a coffee shop come true. They secured a loan from the organisation and set to work on the building, branding and development of what is now a promising enterprise.
Department of Coffee opened its doors in July 2012. To celebrate its first anniversary, the owners recently hosted a coffee-tasting event for the public. Baristas effortlessly kept four different kinds of cappuccinos flowing, while we tasters sipped on each and cast a vote for the one we preferred most. The excellent green cappuccino earned my vote.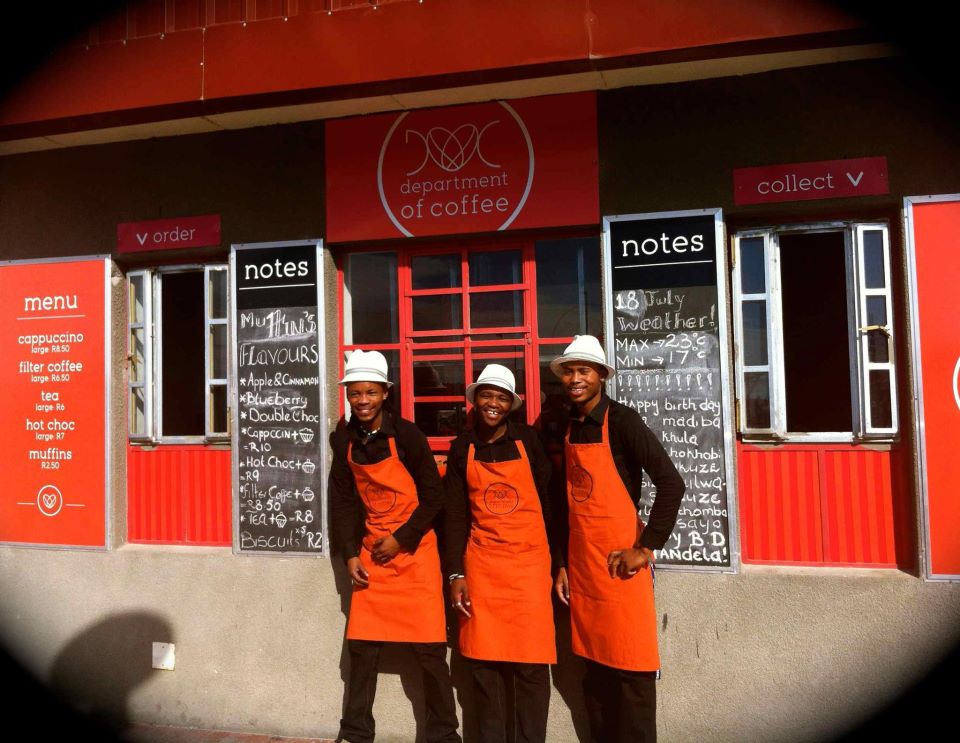 Near the staircase, an architectural drawing of the coffee shop's future hangs on the wall, slightly skewed. Once the building expansion plans are complete, Department of Coffee will have a covered seating area facing Ntlazane Street while the current seating in front of the shop will be barricaded. This is great news –  sitting outside with the chaos of people walking through the row of tables, smoke from the women braaing chicken feet next door and the cacophony of the train station is a little distracting.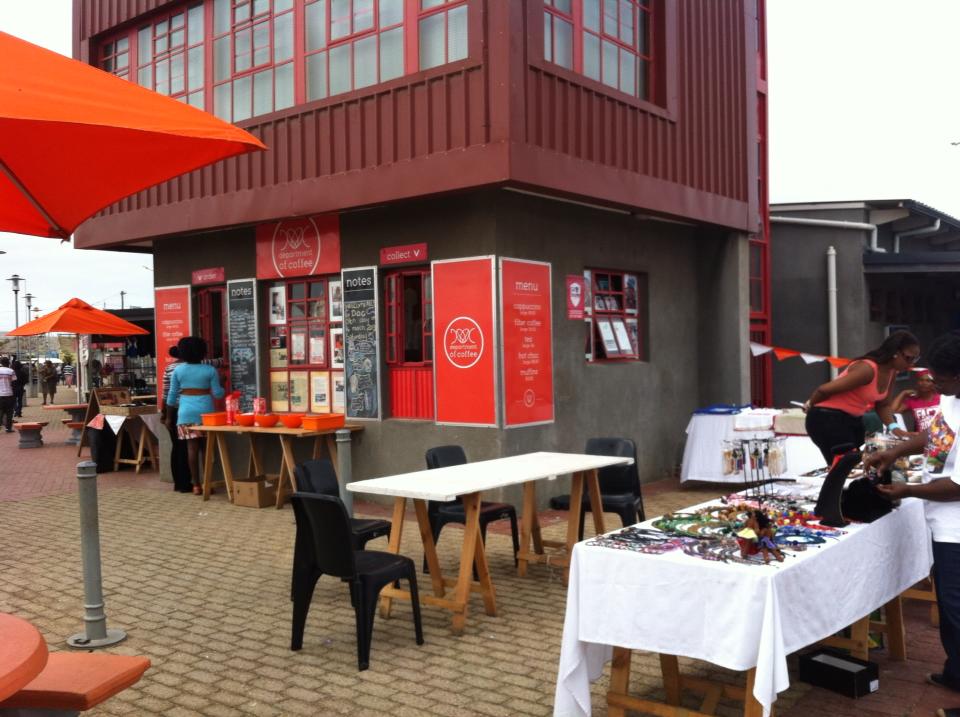 Department of Coffee has a lively, bustling vibe compared to the quiet energy of the coffee shops in the CBD where the loudest thing you hear is a spoon dancing inside a cup. The ground floor is literally a stage to showcase local talent every last Saturday of the month. Local artists perform for an often packed and excited crowd.
There are also crafters, their heads bowed, all at work, some weaving beads and some carving wood into human faces. Mgadi, a local artist, carves his signature shacks onto an A4-size canvas. "I have clients in Sweden, Denmark, Netherlands and for those I make large-sized artwork," he tells me.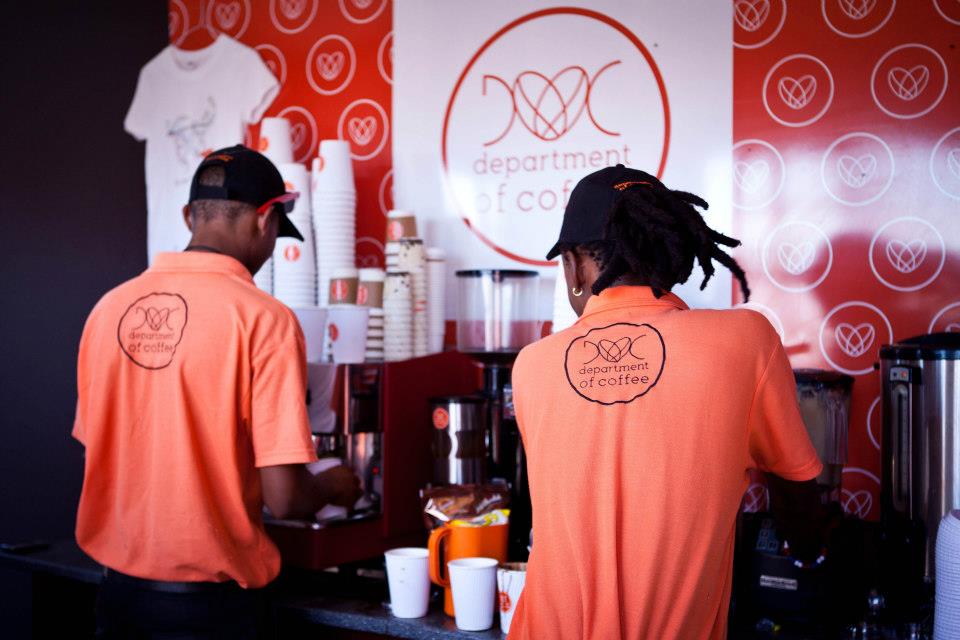 Baleni, Mamile and Msaku are determined to convince Capetonians in the city that Department of Coffee is the place to escape to. However, the other challenge apart from attracting a wider customer base is to carve one from the society in which they are located. Just 14 months on, they appear to be doing this really well. They sell an average of 200 cups of coffee a day at an affordable R8.50 each. This is a lot cheaper than coffee shops in the city, where you can expect to fork out up to R20 for a cuppa.
I am at Department of Coffee every other day, not just for their coffee but for the convenience and the vibe. The location is perfect for me –  it is in the marrow of the township, allowing me to absorb the energy of the streets and the people in between sips of my cappuccino. Across from where I sit, the ladies selling braaied corn, cow intestines and chicken feet fling me back to my childhood in the remote Transkei village of Zikhovane. And for these 20 minutes, I exist contently in two worlds at once.
Department of Coffee is located at 158 Ntlazane Street, Khayelitsha. Opening hours: Monday – Friday 5am to 6pm; Saturday 8am to 3pm.
Dudumalingani Mqombothi is a film school graduate who loves reading, writing, taking walks and photography. He plans to write a novel when his thoughts stop scaring him.