Libya's foreign minister has warned that it will need foreign help to defeat an alliance of Islamist militias who seized the Libyan capital on Sunday, announcing a breakaway regime, and who are "now stronger than the government itself".
Mohamed Abdel Aziz stressed he was not calling for direct foreign military intervention. But he said Libya's government, which has fled to the eastern city of Tobruk, is now unable to safeguard key state institutions by itself, and called for "arms and any other equipment … that could ensure the possibility of protecting our strategic sites, our oil fields, our airports against militias "who are now stronger than the government itself, and who do now possess arms even more sophisticated than the government itself".
Aziz's call came as the new militia leadership in Tripoli appointed a former guerrilla commander as head of a reconvened Islamist-led Parliament, formally breaking with the country's elected government which has escaped to the east. Omar al Hasi, a former commander with the Libyan Islamist Fighting Group, which fought against the late dictator Muammar Gaddafi, was announced as "prime minister" of the officially defunct general national congress by Islamist leaders meeting in a city hotel.
The move, a direct challenge to the elected Parliament, came amid a wave of attacks across Tripoli the day after it was captured on Sunday by Libya Dawn, an alliance of Islamist militias and their allies from the city of Misrata.
Gangs of armed men ransacked and burned homes of government supporters and residents from tribes sympathetic to the government. Misratan militias who captured Tripoli International Airport set it ablaze. Vigilante patrols swept the streets demanding to see identity documents, and many people feared to leave their homes. Several reported being chased by militiamen.
"They have now started burning houses and property belonging to people from Zintan, Warshafana, Warhafal and the east," one resident tweeted. "Street fighting in different places, not safe."
Tens of thousands flee
Speaking to the Guardian in Cairo, Aziz ruled out requesting for foreign air strikes against the insurgents in the short term – but hinted that they were likely should negotiations with the rebels fail. "Once we cannot achieve a serious or meaningful dialogue among all the factions, perhaps we can resort to other means afterwards," said Aziz, who was at a Cairo conference for regional foreign ministers about the future of Libya.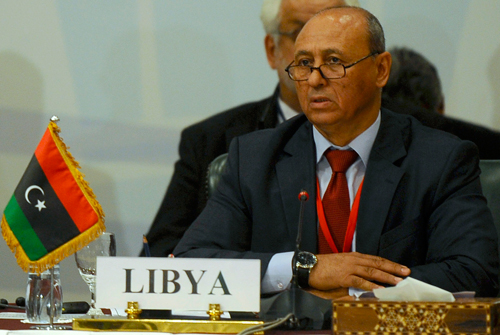 But Aziz said immediate foreign assistance was essential to the future of the country. "Without this protection, without the expertise to enable the government to be able to deliver goods to the people, it will be difficult to talk about smooth transition from the revolution to building a state with a rule of law and viable government."
On Monday the rule of law had all but collapsed in Tripoli. A government official claimed tens of thousands had fled the capital. A BBC correspondent in the city, Rana Jawad, tweeted: "In past 48hrs many – if not majority – of apartments of Hay el Zohour compound on airport road have been ransacked acc. to witnesses."
Journalists have also been singled out. There were attacks on the nationalist TV station, Al Asima, while the home of a correspondent for TV channel Al Arabiya was set ablaze. Villas of government officials were set alight and gunfire erupted in several districts of the city.
Islamists have replaced the editors of the two state TV stations, with the government responding by blocking their satellite signal.
A resident tweeted: "Tripoli is only safe if you are Muslim Brotherhood or Misratan. If anyone speaks out they will face the Gaddafi treatment, lose home and possibly life."
Parliament denounces attacks
In Benghazi, another Islamist militia, Ansar al Sharia – blamed by Washington for the killing of its ambassador Chris Stevens in the city two years ago – called for Libya's Islamists to form a united front: "Proclaim that your struggle is for sharia (law) and not democratic legitimacy, so the world unites under the same banner."
Libya's legitimate Parliament, the House of Representatives, met in the eastern city of Tobruk, appointed a new chief of staff, and denounced the attacks: "The groups acting under the names of Fajr (Dawn) Libya and Ansar al Sharia are terrorist groups and outlaws."
US ambassador to Libya Deborah Jones, evacuated along with most foreign diplomats in July, warned of "real consequences" for groups that did not renounce violence.
Yet there is little appetite abroad for military intervention. The outside world is focussed on conflicts in Gaza, Syria and Iraq, and Western nations are waiting to see how much support the Parliament, elected in June, will garner. – Patrick Kingsley, Dan Roberts and Chris Stephen for The Guardian.