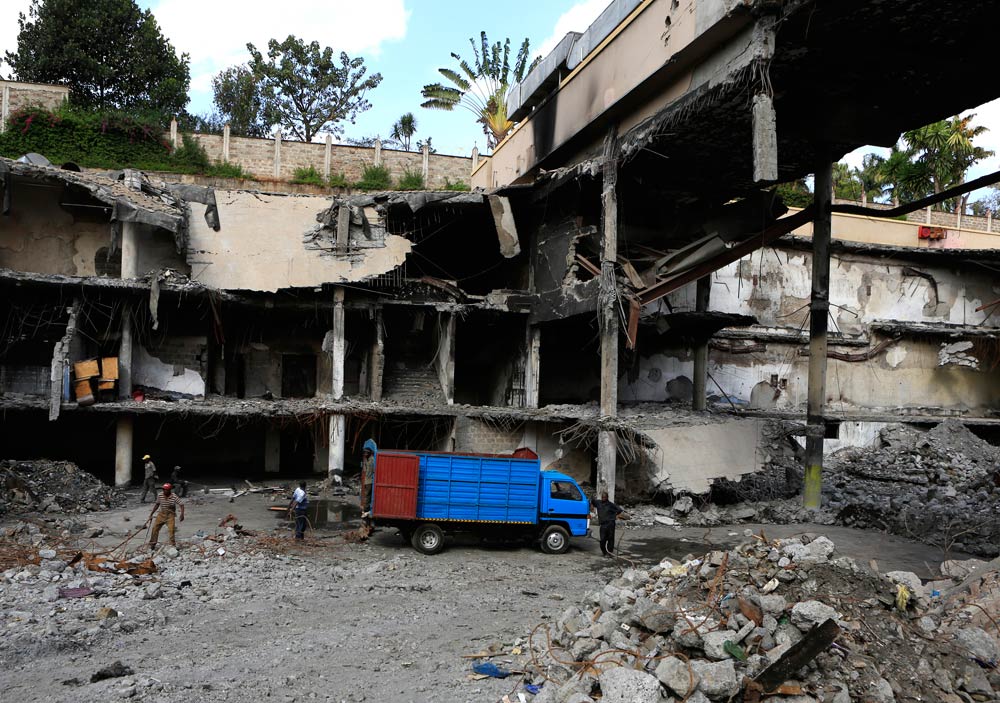 Kenya began emotional commemorations on Tuesday to mark the first anniversary of Nairobi's Westgate mall massacre, remembering the 67 people killed by Somali Islamist gunmen and those who risked their lives to stop them.
In a speech at a memorial site opened at the capital's National Museum, First Lady Margaret Kenyatta said the East African nation had been "seriously scarred" but was not broken by the attackers from the al-Qaeda-affiliated Shabab rebels.
"This is a time that brings much pain and sorrow to many, and is still a time of healing, [we] having also lost members of our family in this senseless massacre," said Kenyatta, whose nephew and his fiancee were among those killed.
"The nation may have been seriously scarred but we shall never be broken as a people," she said.
A week of memorial events opened with an emotional film called Our Nairobi, which included testimonies of those caught up in the attack.
Our Nairobi – Rama Manikumar from Arete Stories on Vimeo.
The four Shabab gunmen stormed the upmarket mall on a busy Saturday afternoon on September 21 2013, hurling grenades and shooting scores in cold blood with automatic rifles.
"We saw people panic, running and screaming everywhere all around the mall," said Rama Manikumar, who was having a drink in a cafe when the shooting started, and whose testimony was featured in the film.
"It was like a battlefield, the whole place was in smoke, there were no lights… a lot of broken glass and ammunition on the floor," she said.
The shopping centre was crowded with hundreds of shoppers, friends meeting for a meal, as well as a children's cooking competition.
"I want Kenya to be back to itself, to have peace, harmony, love, and things like terrorism to never happen to us again," said Kennedy Mungai, who had been working as a waiter at a cafe when the shooting erupted.
Shoppers were hunted down in supermarket aisles and killed, in what the Shebab said was revenge for Kenya's sending of troops to fight the extremists in Somalia as part of an African Union force.
Kenyans, however, are hoping that the commemorations will also show how people were brought together in face of the horror.
Ranju Shah recounted how she and others had hid themselves in a storage area for two hours as fighting raged, with Kenyans from all ethnicities comforting each other.
"The whole incident has brought the people of Kenya together," Shah said. "Everybody tried to help everybody, they didn't care about what caste, creed or religion they were following, they were all helping each other."
Prayers will be held on Sunday, exactly one year after the attack, with a memorial concert and candle-lit vigil for the following three nights.
"As a country we stand in solidarity with the victims and survivors of the attack," First Lady Kenyatta added. "We will never be cowed by such acts of cowardice."
Although Kenyan security forces were criticised for looting stores during and after the attack, The Standard newspaper said the country should pause to honour those who risked their lives to enter the gunfight in the mall to try to save lives.
"Some of the officers who went into the mall to engage the terrorists carry deep physical and emotional wounds… we need to celebrate them all," it said in an editorial.
All four gunmen are reported to have died in the mall, their bodies burned and crushed by tons of rubble after a major fire sparked by the fighting caused a large section of the building to collapse.
Al-Shabab remain a major threat, and continue to launch attacks despite advances by African Union troops inside Somalia, and a US air strike killing its chief earlier this month.
The extremists have launched a string of subsequent attacks in Kenya, including a wave of massacres in the coastal region, which has badly affected the country's key tourist industry.
Reuben Kyama for AFP