Johnson Amenume (45) and his son Kingsley, (14) busily sort through a scrap heap. With their bare hands and a couple of large stones, they break open a television set.
Next to them smolders a pile of cables they have set on fire in order to burn off the plastic coatings. Thick black smoke billows, but father and son go about their work unperturbed, caked in soot and dust.
They work on one of world's largest electronic garbage dumps, located in Agbogbloshie, a slum near the central business district in Ghana's capital Accra.
More than five million pieces of second-hand electronics arrive in the West African nation annually, mainly from Europe, the United States and China, according to a 2012 report by Ghana's Environmental Protection Agency (EPA).
Those not in working condition – about three-quarters of the shipments docking at Accra's main port – are dumped at Agbogbloshie, the EPA says.
Over the years, the landfill has morphed into a toxic graveyard containing tens of millions of discarded electronics, or e-waste.
It has also become a source of income for the poorest of the poor who search for recyclable metals, like aluminium, copper and iron, that they sell to scrap dealers for a few cents.
Environmental and health risks
More than a quarter of Ghana's 25-million people live under the poverty line of 1.25 dollars a day, according to World Bank data.
About 40 000 of them, including young children, live in the slum next to the dump and eke out a living from toxic e-waste.
"I lost my job as a security guard five years ago. The only way I can feed my family is by sorting through scrap. My son stopped going to school to help me," explains Amenume, who hails from the village of Alakple, in the country's north-east.
"We know we can get sick from the smoke. But if we stop working here, we won't have anything to eat," he adds.
Burning the plastic off wires and cables releases dangerous chemicals that pose serious environmental and health risks. Some of the toxins interfere with sexual reproduction, while others can cause cancer and hamper development of the brain and nervous system.
John Essel, a medical doctor at the Tano clinic just two streets from Agbogbloshie, says he examines at least a handful of people who work on the dump each day.
"They report with skin rashes, abdominal pain, sleeplessness and fatigue. We also see cardiovascular diseases," he says.
Ghana is a popular high-tech dumping ground because it has no laws that prevent the import of e-waste.
It usually enters Ghana marked as second-hand goods for resale or donations, but "some foreign traders label broken goods as second-hand to avoid high recycling costs in their home markets," the UN Office of the High Commissioner for Human Rights warned in July.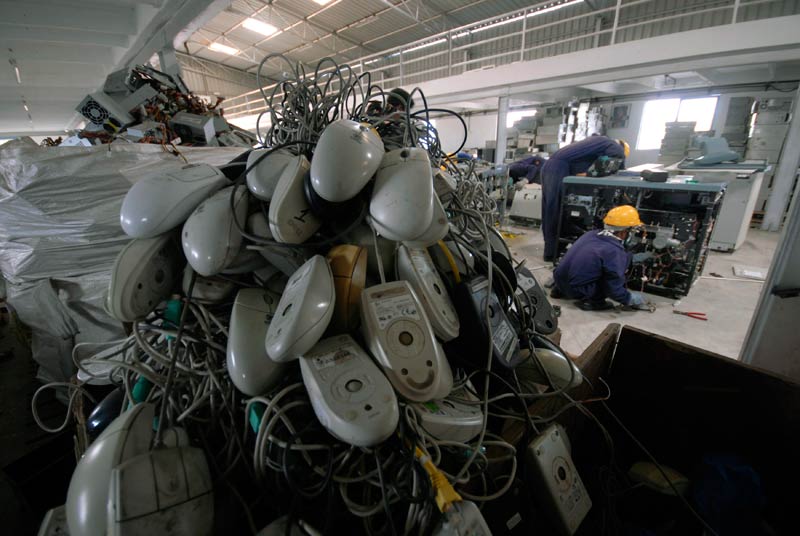 Legislation
Ghana's EPA is now demanding the practice be halted.
"We are lobbying government to pass a law to make the import of e-waste illegal," says EPA deputy director Lambert Faabeluon.
The Bill has been tabled in Parliament. Deputy Environment Minister Adiku Heloo said it might be passed into law before the end of the year.
"We are hoping to find a lasting solution to the menace," he says.
The idea is not only to regulate e-waste imports but also set up sustainable e-waste management systems that will create long-term employment.
Until then, Ghana's poor will continue to hunt for scrap metals that earn them a mere 25 dollars per 100kg.
"On a good day, I make about 30 cedi [10 dollars]," says Kofi Adu, while digging in a heap of broken computers.
The 18-year-old dropped out of school two years ago to support his ailing mother. Even if a law was passed later this year, Abu knows it's too late for him to realise his dream: "I wanted to become a medical doctor, but now it's totally impossible. – Sapa-dpa