An open letter to South African President Jacob Zuma from a young citizen.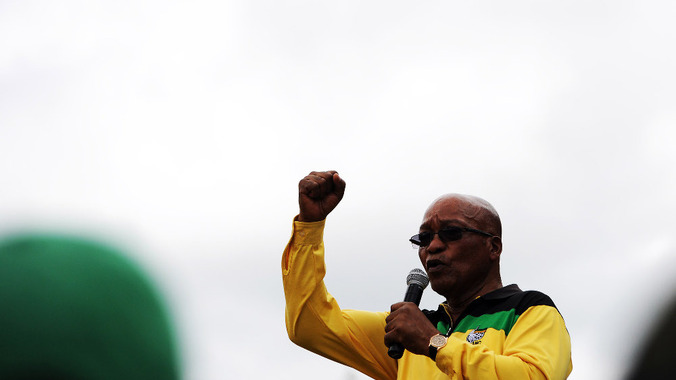 Dear Mr President
I hope you are well today and thank you for taking the time to read my letter (just practising). I can only imagine how busy you are. It's the big day, election day. I have been waiting for this day for so long. You see, I love politics and I cannot express enough in words or actions how honoured I feel to cast my vote. It is my second time voting, but it feels like my first.
As a country, we need to just breathe and be grateful. Twenty years of democracy is an achievement, don't you think? Yes, we have a long way to go but let's think about what we have now that we didn't have 20 years ago. I know some people give you a hard time and say that nothing has changed, but I want to believe that deep down in their hearts they are telling a different story.
But Mr President, I write this letter with a broken heart and a deep frustration. I look around and see young people graduating, but the minute they get off that stage they become a statistic that contributes to the unemployment figure in this country. Luckily South Africa's unemployment rate eased to 24.1% in the fourth quarter of last year from a revised 24.5% in the third. According to Stats SA, the number of jobs had increased by 141 000 in the quarter, largely because of an increase of 123 000 jobs in the informal sector and 64 000 jobs in the formal sector. Quite an achievement, Mr President. But I must say things feel like they are becoming unbearable.
The cost of living has become too high. I recently discovered that there are people out there who earn a salary of R2 500. I am not referring to internships here, I am talking about people who have worked for years in a particular company. I was once that person but I had the advantage of living at home, therefore I did struggle much to survive.
The second thing that breaks my heart is the allegation of you spending more than R200-million on your private property. Really? R200-million, Mr President? No disrespect towards you or your family, but if this is true, did you really need that much to build and upgrade your own property? Whatever your reasons were, in the process of planning did you think about those who don't live life but are forced to survive because of extenuating circumstances? I don't want to believe that you upgraded Nkandla without considering the service delivery that still needs to be attended to more than ever. RDP houses still have to be built and the education system is shocking, from textbooks to children still being taught under trees. Yes, things have changed, but there is still more to be done.
This country is angry, Sir. Young people have a growing anger in them and I fear for the future. I feel as though one day our people will release their anger and it won't be pleasant. The Egyptian people in 2012 came together, walked down the streets and voiced their concerns. Violence erupted and suddenly it was the people who were fighting back. They overthrew the government, living by the rule that says the people shall govern. I don't want that to happen to us, I don't want my people to resort to violence to be taken seriously by those we thought could rule this country better. If that happens, innocent people will be hurt and we won't be moving forward as a country.
Mr President, you talk a lot but let's try something new for a change. Listen to your people, we did put you in the position that you are in. We listened to you when you were campaigning for our votes and you became the president of South Africa. Take a minute of every day of your life and listen to the cries of the people. We don't feel politically cheated by your actions, but I for one feel socially and emotionally cheated. I trusted you but I feel as though you have broken my trust. People are painting you as a selfish leader and no matter how hard I try to defend you and convince myself that's not true, my heart breaks.
I hope these allegations about you are wrong because if they are true, I fear voting for the ANC because you will win and be the president again. Will you spend R200-million for your personal use again? Can you promise me that? I don't want to vote for another political party other than the ANC but I fear, I fear that you will remain as the president and you will continue not to listen to my people.
My only plea to you is that if the ANC wins the election, please step down and give someone else the opportunity to rule this country. You have done well, Mr President, but I feel your time is up.
Kind regards,
Sindiswa Nene
This article is published in partnership with inkulufreeheid.org – a non-partisan, youth-led organisation that innovates engagement and ignites action on democratic, social and economic issues in South Africa with the aim of advancing the implementation of solutions to those issues.