Chased by a lynch-mob, a young man runs for his life – closely watched by director Philippe Lacote who is shooting the first feature film on the bloody chaos that rocked his native Côte d'Ivoire from 2002 to 2011.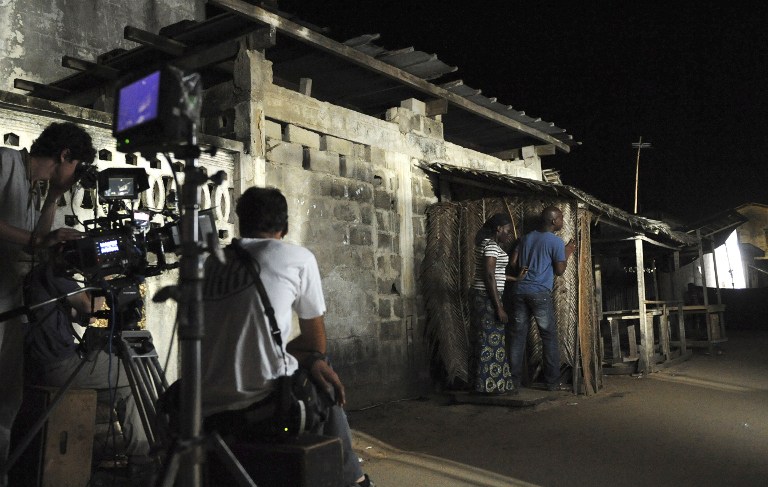 Run, both the film title and the main character's name, chronicles the slide from innocence to violence and crime in this resource-rich country that was once a beacon of stability in west Africa. Today, the wounds of war remain raw, politicians still trade crude insults and the former president awaits trial for crimes against humanity.
"The film's main question is, 'How did we come to such violence?'" said the Franco-Ivorian director, lamenting the thousands of people killed during a decade of rebellion, civil war and post-election violence.
Lacote, who finished shooting in September, hopes his film will be both cathartic for victims of the crisis and instructive for younger Ivorians, but also revive cinema in a country where only two of the 80 movie houses are still in use.
His project drew attention when presented in pre-production at the 2012 Cannes film festival. And while the film has touched some nerves at home, the state has agreed to finance seven percent of its €1.8-million (R24-million) budget, with the rest coming from France and Israel.
The buzz has also brought native son Isaach de Bankole – who appeared in the 2006 James Bond thriller Casino Royale and Lars von Trier's 2005 film Manderlay – back home for the first time in 17 years to play a role in Run.
Based on real events
The story centres around a peaceable teenager who is on track to become a village "rainmaker" or sorcerer but instead joins the Young Patriots, followers of the former president Laurent Gbagbo who are capable of extreme violence.
"When I was filming the Young Patriots, I asked one of the youths how he came to join them," says the 42-year-old Lacote of an earlier documentary. "He answered, 'I have three lives!' – and that became the basis for writing the film."
Although fiction, Lacote's film is grounded in real events. "There are scenes that remind me exactly of what I lived through during and after the war," says Abdul Karim Konate, 32, who plays the role of Run.
Some 3 000 people lost their lives in the violence triggered by Gbagbo's refusal to admit defeat in 2010 elections to his arch-rival Alassane Ouattara, who finally took office in May 2011.
"I was there in Yopougon (a Gbagbo stronghold), there where things really got hot," said Konate. "We are telling the story. We need to tell it to those who have not seen it."
Run is Lacote's first full-length feature film. He calls it "indirectly political" and asserts his "right to approach the subject matter via fiction" while admitting that he finds himself on "slippery ground".
Starting from scratch
"We have already had problems," the director conceded. "We were filming in a former headquarters of the FPI (Gbagbo's Ivorian Popular Front party) occupied now by the Ivorian army. The FPI press accused us of making a film to gather evidence against Laurent Gbagbo," who is jailed in The Hague awaiting trial by the International Criminal Court.
"My objective is not to say who is right or wrong. It is to recount the crisis seen through an individual prism," Lacote said.
Officials in charge of the country's film industry also hope Run will help get Ivorian cinema back on its feet.
The film business here is currently "flat on its face", said Mamidou Coulibaly-Diakite, who manages public funds earmarked for Ivorian cinema. Prominent Ivorian directors such as Henri Duparc, Gnoan M'Bala, Yeo Kozoloa and Fadika Kramo-Lancine have either died or have not worked in more than a decade.
"We have to start everything again from scratch," he said.
In the long run, Coulibaly-Diakite said he dreams that Côte d'Ivoire, formerly the economic and financial hub of west Africa, can rival Nigeria's thriving cinema scene.
Run is due to be released in 2014 and distributed in France and Germany, and to be screened at several festivals, according to the film's French producer Claire Gadea.
Christophe Koffi for AFP