"We, the teachers, we try to make the violence and the war that we have experienced disappear," says Nguinissara Rita, a primary school teacher at the St. Charles Louanga Missionary displacement site in Bangui, capital of Central African Republic.
It is almost an impossible task in a country in the grip of a humanitarian crisis that affects some 2.3-million children.
Nevertheless, Ms. Rita takes the challenge head-on. In the overcrowded mass of tents, people, bags and mattresses in this makeshift camp, the classroom serves many purposes: For her pupils, it is a form of protection against potential recruitment and abuse; for her, it is a place to help lay a foundation for reconciliation in a conflict with no end in sight.
"We teach forgiveness to our children because we need to forgive the others," she explains.
Temporary learning spaces
The school year in the Central African Republic has been disrupted for the better part of two years, and since 2012 most schools have been closed. To help provide educational opportunities to children, Unicef has supported international and national partners in setting up about 118 temporary learning spaces, covering more than 20 displacement sites in Bangui and other areas affected by conflict. As a result, over 25 000 children are back in a learning environment.
These temporary spaces are meant to operate only until schools reopen. "In the meantime, at least these children, who are living in difficult circumstances in the displacement camps, will regain some sense of normalcy and routine in a safe environment," says Celeste Staley, chief of education at Unicef Central African Republic.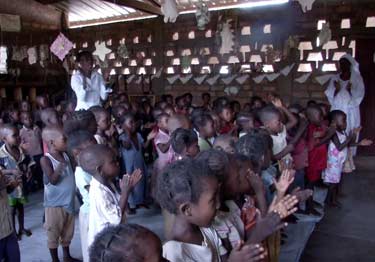 There have been efforts to reopen schools, but the process is slow and full of challenges. Many schools have been looted and damaged in the conflict. And given the continued insecurity, getting teachers back into classrooms is extremely difficult. Additionally, staff salaries are in arrears, which discourages teachers from returning.
Rebuilding and strengthening
Unicef supports the education cluster, a group made up of the national Ministry of Education along with NGOs and UN agencies engaged in the education sector. The cluster supports coordination among partners, joint assessments, identification of funding opportunities and sharing of information.
To support the reopening of schools, Unicef is providing basic school materials, light school rehabilitation, teacher training, and catch-up classes for children who have missed several months of classes.
The cluster is working with the transitional government to rebuild and strengthen the education system, which even prior to the crisis was among the least developed in the world.
"We know that it will be difficult to rebuild what was already a broken education system," says Judith Leveillee, Unicef deputy representative in the Central African Republic. "But we must do what we can to get children back to school. This is where they should be. They have already lost so much."
Back at the Louanga displacement camp, an energetic and passionate Nguirissara is teaching her young pupils a song. "Maybe it is my destiny; I don't know," she says. "But teaching children is something I like doing – and this way I can help them and my country."
Suzanne Beukes is communications officer at Unicef's Africa Services Unit.