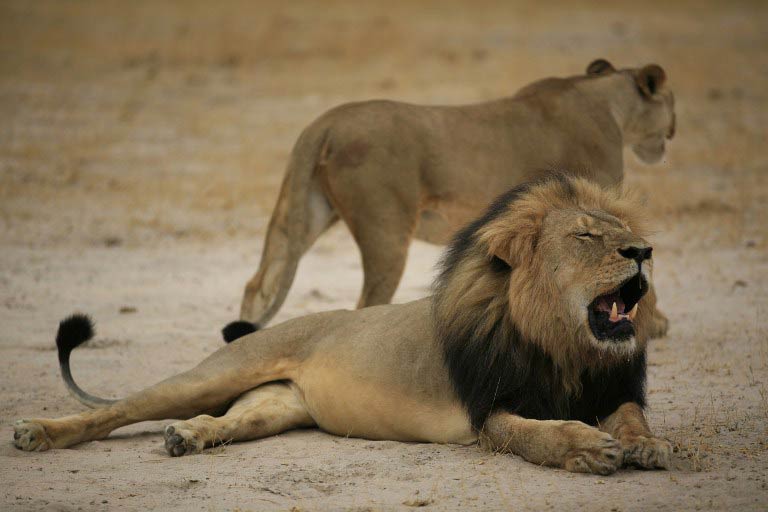 Not since the unprecedented political and economic crisis of 2008 has Zimbabwe made consistent international headlines. Punctuated by a free-falling currency, extreme food shortages, a contested presidential election and the outbreak of cholera, the small nation of 13-million became a regular international media feature as its cumulative woes led to general disintegration.
What anyone who lived through this time of turmoil – myself included – might never have believed is that it would take the death of a lion to once more locate Zimbabwe within the world narrative.
Within days of news breaking of the murder of Cecil the lion, a global petition calling for justice for the cat – said to be the largest lion in Hwange National Park– has garnered over 300 000 signatures. International media has diligently reported the latest news on the situation with updates on the American dentist, Walter Palmer, who is responsible for the trophy hunt coming in thick and fast. Additionally, #CeciltheLion has trended on Twitter, with #JeSuisCecil also featuring prominently.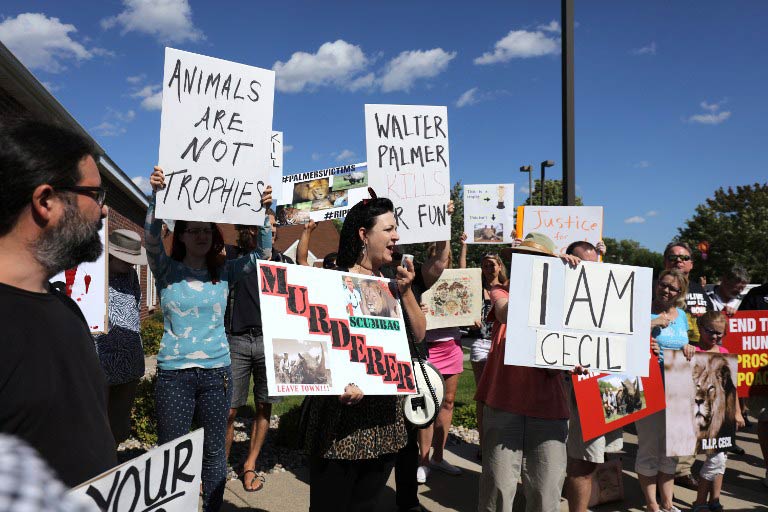 For many Zimbabweans, international focus on Cecil stands in stark contrast to the barely audible attention paid to Itai Dzamara, a local anti-state activist who has been missing for over four months. Or to the precarious status of unregulated local street vendors as police mount a crackdown on their activities. Or to Sangulani Chikumbutso, a high-school dropout who has become the first Zimbabwean to design and manufacture a hybrid helicopter and electric vehicle. It is the deepest irony that in a time when the #BlackLivesMatter movement continues to gain traction in highlighting the differential scales used to value human lives, the world should cast its eye on Zimbabwe for its wildlife, with no thought or concern for its people.
This is not to say that black Zimbabweans do not have any affinity for, or pride in, wildlife. The historical totemic heritage of the Shona people, which is still practiced today, is premised upon peoples being classified into different clans named after animals and wildlife common to local terrain, including the lion. Such groupings, by clan, foment kinship and solidarity and are instructive on marriage patterns; for instance, it is not advised that two members of the same clan marry as this is considered a sort of incest.  Additionally, the pre-colonial legacy of the mhondoro  – protective spirits said to reside within lions when not visiting a human host or spirit medium – still endures.
In her article, 'The white man's dog', Gillian Schutte challenges the idea that black people generally have no relationship to animals and states, that the "the black man's dog" in many instances is used for protection and hunting; functions more inclined towards utility than a humanised relationship. She also brings to discussion the economic challenges to many of maintaining animals as pets.
Many Zimbabweans, if not most, would never have heard of Cecil until Monday. Most Zimbabweans will never have visited any of our tourist destinations such as the Victoria Falls or Great Zimbabwe, let alone gone on a game drive or safari. These are not activities associated with a population generally in survival mode and as a result, little exposed to the culture of travel for leisure. It then follows that  such activities continue to privilege a foreign tourist market and minority local middle class.
In my efforts to learn more about Cecil, I came across YouTube videos recorded by some foreign tourists on safari. In one video, camera shutters go off in paparazzi fashion as the visitors gasp and sigh in awe of the lion's roar.
Indeed, Cecil was a majestic animal. And indeed, he died a senseless and unjust death. But this instance, as with many others, shows who has power to evoke global empathy and amplify select narratives about Zimbabwe.
And it isn't Zimbabweans.
Stereotypes
Even as the global narrative around Africa is said to be shifting, the continent is still generally depicted around two stereotypes: its poverty and its wildlife. And unlike stories of strife and suffering, often leading to general global apathy, it is far easier to quantify – and therefore exotify – an Africa of harsh savannah plains, regal animals and majestic sunsets. And in such depictions, the less African people there are to deal with, the better. Here, I think of productions like the The Lion King, still playing to full audiences around the world and theme parks capitalising on 'the heart of Africa' experience by re-enacting voyeuristic scenes of a perfect animal paradise.
In many ways this shows how the world, particularly the west, continues to interact with Africa; either as expatriates and missionaries (amplifying the poverty aspect of the stereotype) or as tourists (favouring the safari and wildlife experience). As a result, it's an outlook that continues to omit the in-between realities; the rising metropolises, the complex socio-political terrain, the evolution of cultures, the human history.
To entirely denounce this attention, however, would also fail to profit on its potential. Zimbabwean tourism has been on the wane for many years now, and a national discussion on how to conserve and promote our diminishing natural heritage is long overdue, especially in light of the fact that government has taken to selling and exporting local elephants to Asian markets. It would be a shame for any generation of Zimbabweans to grow up without the hope of seeing any wildlife in their own country.
But it would be a bigger shame if this was all the world would ever show its empathy and humanity towards.
Fungai Machirori is a blogger, editor, poet and researcher. She runs Zimbabwe's first web-based platform for women, Her Zimbabwe, and is an advocate for using social media for consciousness-building among Zimbabweans. Connect with her on Twitter.