"God's case, no appeal" is the name of a long-past-retirement-age taxi in Chinua Achebe's novel, No Longer at Ease. This pithy aphorism is right up there with "We mend broken hearts" and "Don't steal, the government hates competition", as freely dispensed taxi-wisdom goes in many African cities. A fan of most things offside, I feel morally obliged to like "God's case, no appeal", which is also a pretty appropriate description of Johannesburg taxi drivers, who are second only to the Gupta family as a law unto themselves.
There are many sins that can be laid upon Johannesburg taxi drivers' heads. Humour is not one of them. Except for this one driver my friend Vuyo told me about: his taxi had the usual sticker asking passengers to refrain from paying with large notes, but somehow one morning there were lots of R50 and R100 notes on board, which left the passenger seated next to the driver – the fare collector – stuck for change. The taxi driver quietly noted the problem.
A short drive on, he casually turned into a garage, parked, and walked into the express shop with the batch of notes. He emerged with a plastic bag filled with random groceries, which he proceeded to distribute along with the respective change to the passengers, deducting the taxi fare and the cost of whatever random item he had bought them. Exclamations flew around as non-smokers received packs of cigarettes and school children got dish-washing liquid. Two of the luckier passengers received a piece of New Lifebuoy Total and a nondescript packet of condoms, which promised total hygiene and total pleasure respectively. "You must read that sticker," he said, easing out of the garage.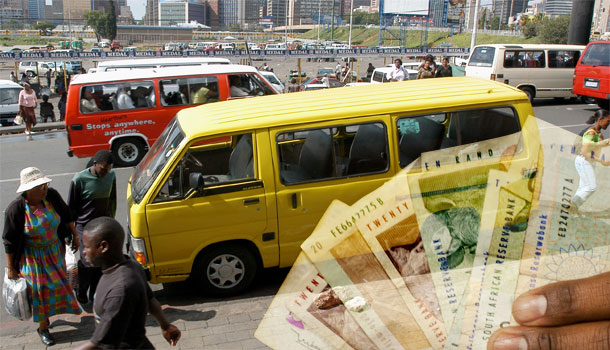 I suppose taxi commuting would be a lot less stressful if all taxi drivers had this dry sense of humour. Sadly, they don't, as I once learnt across the road from Luthuli House in Jo'burg.
Its illustrious history as the headquarters of the African National Congress (ANC) aside, Luthuli House's other claim to fame is that former ANC Youth League president Julius Malema once defended its revolutionary honour with choice expletives – including that classic Malemaism 'tjatjarag' – which sent the revolutionary house trending on cyberspace while klevas churned rib-cracking spoofs and soundtracks to Malema's gallantry on YouTube.
For me though, Luthuli House brings back less-than-revolutionary memories of a taxi ride gone wrong in 2005, which ended with an irate taxi driver screeching to a sudden halt on a street curb near Luthuli House, jumping out and pacing near the taxi as he quarrelled about thieving passengers. I was one of the said thieving passengers. On this day, I learnt the value of one rand. And that a rand is not just a rand.
It was after 11am and I was on a taxi from Soweto to Braamfontein for a noon meeting. As usual, the taxi stopped at edge of the CBD, where Noord Street taxi rank-bound taxis part ways with Bree Street taxi rank-bound taxis. At this point, unless all passengers are going to one taxi rank, taxis generally swap passengers in a loose 'division of labour' arrangement to avoid driving to both taxi ranks. So, the Noord Street taxi rank passengers moved to another taxi, while two of us (myself and a middle-aged lady) were joined by several other Bree Street taxi rank passengers from the other taxi. A short ride on, the middle-aged lady asked the taxi driver for her change.
"How much?"
"One rand."
"Didn't everyone get back their change?"
"No, I haven't received my change."
After repeatedly asking who had the missing rand to no avail, the driver suddenly braked, jumped out and banged the door shut, too angry to drive on. Seemingly, this had happened before and he was simply fed up with this emerging sticky-fingers tendency in his taxi. Some commuters protested about being unfairly delayed, especially as they had switched taxis after the monies had been collected.This left me and the aggrieved passenger as the chief 'suspects'. Except I was certain I hadn't handled any change. And the lady was certain she had not received her change. And she wanted her rand back.
As 12pm drew closer, I contemplated getting off the taxi and walking the short distance to Bree Street taxi rank and over Nelson Mandela Bridge to Braamfontein for my meeting. A second thought crossed my mind as the driver ranted about our theft: maybe I should just offer to replace the damned rand. But something stopped me from making either of these faux pas. It occurred to me that, despite their annoyance, none of my fellow passengers was offering to replace the missing rand or take the short walk to Bree. So, I impatiently watched the spectacle of our 'thieving selves' packed outside Luthuli House, until the taxi driver – apparently deciding he'd rather be rid of us – got back in the taxi, gave the lady her rand, and drove on, covering the short distance to Bree with an angry rant about cheap passengers who stole one rand. What kind of fourth-rate thieves were we anyway? Serious thieves busied themselves blowing up ATMs and hijacking cash-in-transit vehicles for proper monies, not pinching one rand coins from underpaid taxi drivers.
It later dawned on me that my fellow passengers obviously realised – and respected – the fact that there was more than a rand at stake. This was not about a rand. There was a principle at stake, and the potential corrosion of the implicit trust between a taxi driver and his passengers. This explains why, unlike the Kenyan conductor or the Ghanaian driver's mate who collects fares, Johannesburg commuters pass on their fares all the way to the passenger seated next to the driver, who in turn processes the change and gives the driver the total collection for the entire taxi load of people. It wasn't just a rand at stake. This system and its implicit trust were at stake. To date, I still don't believe it was a case of theft; it was more likely an inadvertent mix-up of change. But in such a well-oiled system, there is no room for inadvertent mistakes. Not even one-rand mistakes.
Naturally, I missed my meeting that day. But I learnt the value of a rand.